World Facts
The Northernmost Settlements Of Norway
Ny-Ålesund is the northernmost permanent settlement in Norway.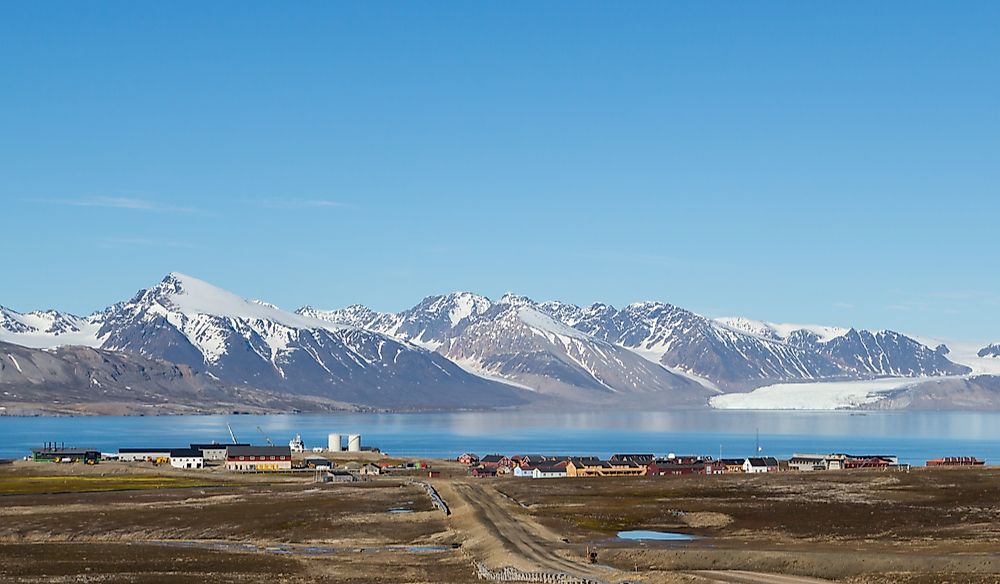 Norway is one of the world's northernmost countries. Located in northern Europe, Norway extends between latitudes 57° and 81° N. The country's territory includes the northernmost part of the Scandinavian Peninsula and several islands. The northernmost point of the European mainland, Cape Nordkinn, is located in Norway. The northernmost point of the entire country including its islands is located at the northern tip of the Rossøya Island at 80° 49′ 44.41″. Due to its extreme location, Norway also has some of the world's most northerly settlements, including the scientific research base at Ny-Ålesund, which have been discussed in more detail below.
The Five Northernmost Norwegian Settlements
1. Ny-Ålesund
Located on the Spitsbergen island in Svalbard archipelago of Norway at a latitude of 78°55' N, Ny-Ålesund is the country's northernmost settlement. It is owned by a company named Kings Bay. 10 countries have been allowed to establish their research institutes in Ny-Ålesund. About 30 to 35 people live there at any given point of time. During summers, the population can be as high as 120. The settlement was established by Kings Bay Coal Mining Company in 1917 for the purpose of coal mining. However, after a brutal accident that killed 21 miners in an explosion in Ny-Ålesund in 1962, mining was completely stopped in the area. Ny-Ålesund was then converted to a scientific research base.
2. Pyramiden
Pyramiden is an abandoned coal-mining settlement in Norway that is now being promoted as a tourist attraction. It is the country's second northernmost settlement. Pyramiden is located at a latitude of 78°39' N in the Spitsbergen island of Norway. It derives its name from a nearby pyramid-shaped mountain. Longyearbyen, the capital of Svalbard, is located about 50 km to the south of Pyramiden. Although it had almost turned into a ghost town by 2007 when efforts to revive it began. By 2013, a hotel had been opened in the area and tourists were encouraged to take a tour of Pyramiden. Currently, about 30 workers live in Pyramiden all year round while tourists visit the place in the summer months.
3. Longyearbyen
The settlement of Longyearbyen is located at a latitude of 78°12' N in the Longyear Valley along the Adventfjorden in Svalbard, Norway. It is home to around 2,144 individuals. Longyearbyen was also founded as a coal mining base but today it is a hub of research and tourism. The Svalbard Global Seed Vault, Svalbard Satellite Station, and other nationally and globally important institutions are located in Longyearbyen.
4. Barentsburg
Barentsburg is Norway's fourth northernmost settlement and the second biggest one on the Svalbard archipelago. It is located at latitude 78°04' N. It has a population of around 435 individuals. Nearly all of Barentsburg's residents are ethnic Russians and Ukrainians. Unlike the other abandoned coal mining settlements in Norway, Barentsburg's economy continues to rely on coal mining activities. Tourism is also currently being developed in Barentsburg.
5. Sveagruva
Located at 77°55' N, Sveagruva is the fifth northernmost Norwegian settlement. It is located in Svalbard at the Van Mijenfjord's head. Although the place lacks any permanent residents, about 300 workers commute to Sveagruva on a daily or weekly basis for work. It is a mining town that is run by the Store Norske Spitsbergen Kulkompani. The Swedes established Sveagruva in 1917. Today it has the Svalbard archipelago's most productive coal mine that generates an output of up to 4 million metric tons of coal every year.
The Northernmost Settlements Of Norway
| Rank | Settlement | Latitude | Population |
| --- | --- | --- | --- |
| 1 | Ny-Ålesund, Svalbard | 78°55' N | 35 |
| 2 | Pyramiden (Russian), Svalbard | 78°39' N | winter 3-4, summer 15 |
| 3 | Longyearbyen, Svalbard | 78°12' N | 2,040 |
| 4 | Barentsburg (Russian), Svalbard | 78°04' N | 435 |
| 5 | Sveagruva, Svalbard | 77°55' N | 200 |
| 6 | Skarsvåg, Finnmark | 71°08' N | 141 |
| 7 | Gamvik (village), Finnmark | 71°03' N | 200 (in 2006) |
| 8 | Mehamn, Gamvik, Finnmark | 71°02' N | 900 |
| 9 | Akkarfjord, Finnmark | 70°79' N | 70 |
| 10 | Honningsvåg, Finnmark | 70°58' N | 2,575 |
About the Author
Oishimaya is an Indian native, currently residing in Kolkata. She has earned her Ph.D. degree and is presently engaged in full-time freelance writing and editing. She is an avid reader and travel enthusiast and is sensitively aware of her surroundings, both locally and globally. She loves mingling with people of eclectic cultures and also participates in activities concerning wildlife conservation.
This page was last updated on April 24, 2019.
Citations
Your MLA Citation
Your APA Citation
Your Chicago Citation
Your Harvard Citation
Remember to italicize the title of this article in your Harvard citation.