World Facts
The 10 Northernmost Settlements In Greenland
Station Nord, which is a scientific and military base, is the northernmost settlement in Greenland.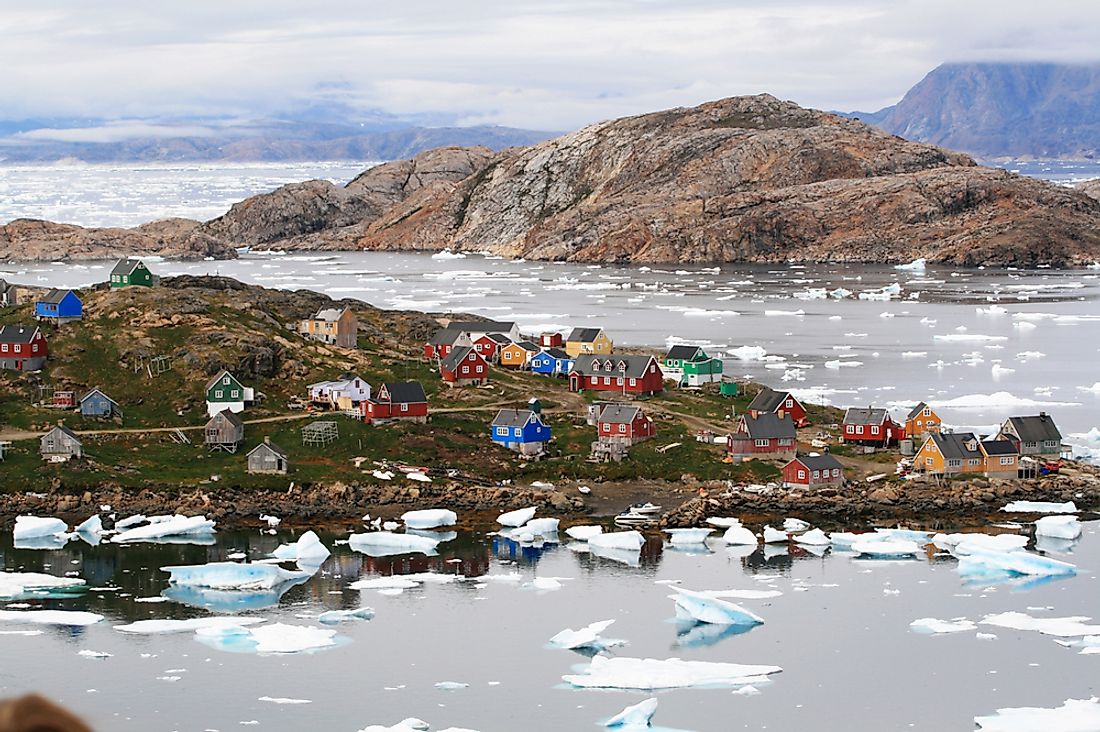 Greenland is an autonomous constituent country of Denmark. As an island country located between the Arctic Ocean and the Atlantic Ocean, Greenland is one of the world's northernmost places and a large section of its territory is located above the Arctic Circle. Therefore, given its location, Greenland is home to some of the world's northernmost settlements.
The Five Northernmost Settlements in Greenland
1. Station Nord
Station Nord is the northernmost settlement in Greenland. The settlement, which serves as a scientific and military station, is located at a latitude of 81°43' N in northeastern Greenland and is only 924 km south of the North Pole. Sometimes referred to simply as Nord, the settlement experiences an extremely cold polar climate, with average temperatures below the freezing point throughout the year, with the exception of the summer months. Station Nord is inhabited by about 20 scientists, five non-commissioned officers of the Danish Defense Command, and a small number of other personnel. The settlement includes about 35 buildings, and is accessible only by air, as frozen waters in the region prevent boat access.
2. Siorapaluk
Siorapaluk is the second northernmost settlement in Greenland and the northernmost that is inhabited by an indigenous population. The settlement is located at a latitude of 77°47' N, within the Qaanaaq area of the Avannaata municipality. Siorapaluk has an estimated population of 87 people, most of whom speak the Inuktun language or the Kalaallisut dialect. The settlement is served by an electric power plant, satellite television and radio, a telephone system, and a well-stocked store. Additionally, Siorapaluk contains a school that also includes a church and library, and a physician and dentist make regular visits to the settlement. Hunting is also common in the area.
3. Qaanaaq
Qaanaaq is the third northernmost settlement in Greenland, located at a latitude of 77°30' N in the Avannaata municipality. The settlement has a population of approximately 640 inhabitants who speak Danish, Kalaallisut, and Inuktun languages. Evidence of human habitation in the area dates as far back as 2000 BC when Paleo-Eskimo people migrated there from the Canadian Arctic. Qaanaaq has a small local school, as well as a boarding school. It is served by the Qaanaaq Airport and various unpaved dirt roads. The settlement also includes a small hospital, but patients requiring treatment for complicated medical emergencies or other specialized care are transferred by air to more advanced medical centers in Greenland.
4. Qeqertat
The village of Qeqertat is a small settlement located at a latitude 77°29' N and has a population of approximately 26. Residents of the village usually access schooling and healthcare facilities available in Qaanaaq. Fishing and hunting are the primary occupations in Qeqertat.
5. Savissivik
Located on Meteorite Island in the Qaasuitsup municipality of northern Greenland, Savissivik has a population of approximately 62. With a latitude of 76°01' N, Savissivik is the fifth northernmost settlement in Greenland.
Life in Greenland's Remote Northernmost Settlements
The northernmost settlements of Greenland often feature challenging conditions. The severe climate makes the region relatively inaccessible, which limits the facilities and amenities available to residents in these settlements. However, the ability to survive in an extreme Arctic climate is passed down between generations, and children are trained at an early age to make decisions according to weather conditions. When the sea becomes open, which usually occurs in August, boats with powerful engines are used for hunting trips. Skis, walking, and dogsleds are the most commonly used means of transportation.
List of the 10 Northernmost Settlements in Greenland by Latitude
| Rank | Settlement | Latitude | Population |
| --- | --- | --- | --- |
| 1 | Station Nord | 81°43' N | 4 |
| 2 | Siorapaluk | 77°47' N | 87 |
| 3 | Qaanaaq (Thule) | 77°30' N | 640 |
| 4 | Qeqertat | 77°29' N | 26 |
| 5 | Savissivik | 76°01' N | 62 |
| 6 | Kullorsuaq | 74°34' N | 448 |
| 7 | Nuussuaq | 74°06' N | 202 |
| 8 | Nutaarmiut | 73°31' N | 32 |
| 9 | Tasiusaq, Avannaata | 73°22' N | 243 |
| 10 | Innaarsuit | 73°11' N | 153 |
About the Author
Oishimaya is an Indian native, currently residing in Kolkata. She has earned her Ph.D. degree and is presently engaged in full-time freelance writing and editing. She is an avid reader and travel enthusiast and is sensitively aware of her surroundings, both locally and globally. She loves mingling with people of eclectic cultures and also participates in activities concerning wildlife conservation.
This page was last updated on April 29, 2019.
Citations
Your MLA Citation
Your APA Citation
Your Chicago Citation
Your Harvard Citation
Remember to italicize the title of this article in your Harvard citation.