The United Kingdom is famed for its innovative spirit and characters through history. If you were to wake up in the morning, brush your teeth, put the kettle on to make yourself a coffee or tea, then head outside to mow your lawn, take a selfie while mowing, and then crack a can of your favorite soda as a reward for a job well done, you would have the Brits to thank for each one of those activities! Commonly used items like the toothbrush, lawnmower, electric kettle, photography, soda, and tin can are all British innovations. 
How Is Innovation Tracked?
The list goes on, and to this day the UK is still known for its culture of innovation. A common way to track innovation is the number of patent requests originating in any one city or region. For the most part, this is a reliable method because if an inventor has something unique, that person is going to want to make sure no one else can legally claim their work. 
What Is A Patent?
The British Library explains a patent as protection granted by the government for a given time period in which no one else can make, use, or sell your invention without your permission. Patent law differs from one country to the next, but the basic principle is the same. Essentially, you're registering an idea that was unique to you and receiving acknowledgment from the government that no one can steal your work. Filing a patent is often cause for celebration, a milestone that as an inventor, your work is recognized and protected. 
Here are the most innovative cities in the UK, by number of patents filed per 100,000 people:
1. Cambridge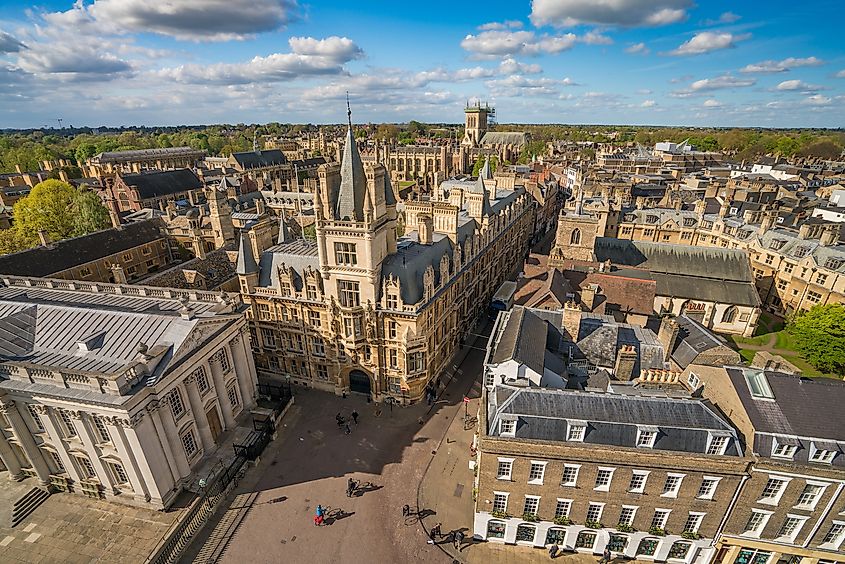 The city of Cambridge, home to the famed Cambridge University, has a proud history of important inventions. Cambridge is in the interior of England, approximately an hour and twenty minutes driving time. With archaeological evidence that there has been some form of settlement in the area since the Bronze Age, there has definitely been time for Cambridge to cultivate that inventive spirit! Alan Turing studied at Cambridge University, an institution that also boasts the largest number of Nobel Prizes of any university. 
Recently published numbers cite 341 patents registered per 100,000 people. This number is more than double that of the second most innovative city in the UK. The birthplace of the reflecting telescope, IVF, and iris recognition (among many other significant inventions), Cambridge has a legacy of impactful innovations. 
Part of the reason behind that history is to be explained by the city being home to Cambridge University, an academic institution famous for its high standards, keen minds, and roster of celebrity alumnus. This culture of invention has permeated the city of Cambridge itself, not only the university. Cambridge is home to a high concentration of engineering and innovation companies, helping boost its' patent numbers significantly. 
2. Coventry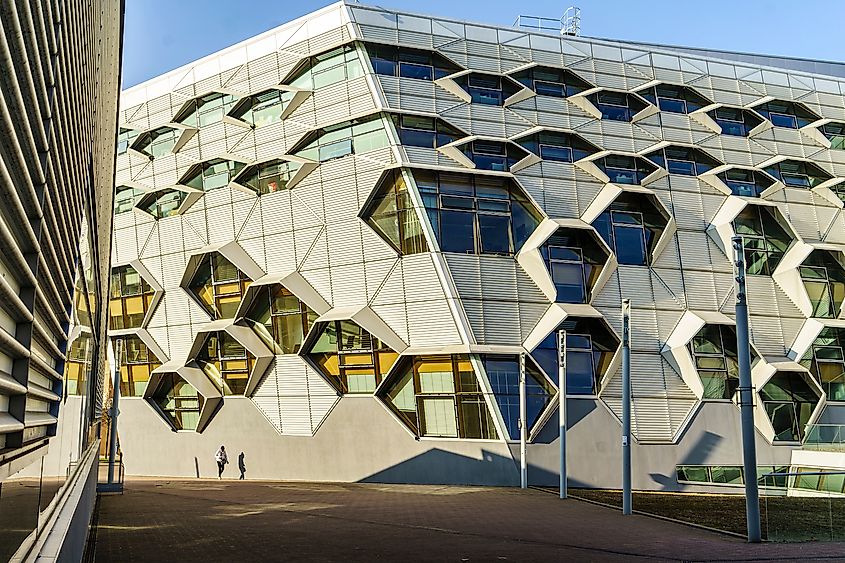 You'll find Coventry in central England, about two hours drive from London. Coventry holds a lot of UK history, and more recent innovations include: the first tank, the first traffic signals for cars, and the first dump trucks. Additionally, the first motorized funeral was held in Coventry - perhaps not the most glamorous of firsts, but certainly, one that carries wide societal impacts.
Cambridge might be the leader of innovation in the UK, but Coventry is no slouch. Academia in Coventry is heavily focused on engineering, manufacturing, and digital studies. Coventry University and Warwick University dominate the academic scene in Coventry, The result of this is 118 patents per 100,000 people filed yearly. 
Local government in Coventry strives to support an environment of innovation with projects like the Coventry and Warwickshire Innovation Programme. 
3. Oxford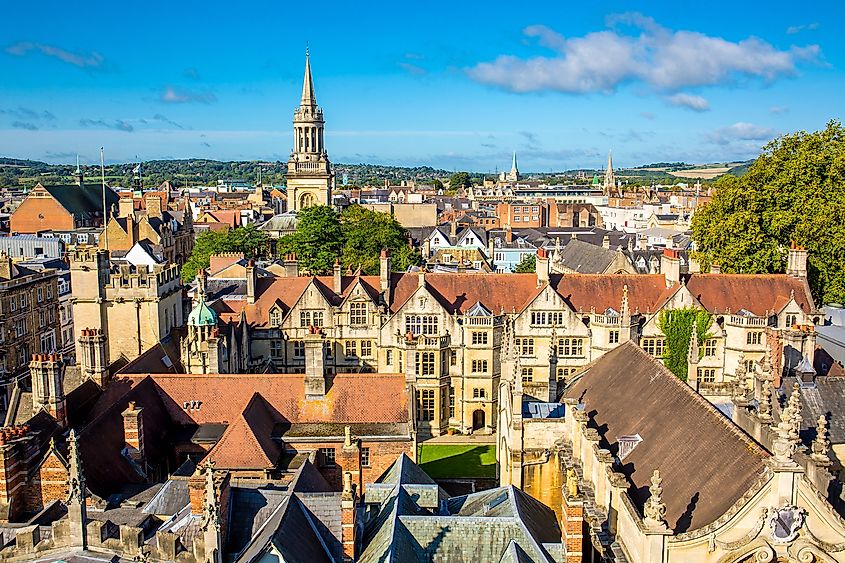 Oxford is located a short hour and twenty-minute drive northwest of London in the English countryside. 80 patents are filed yearly per 100,000 residents in Oxford. Third in the UK for most Innovative cities, Oxford is home to the famous Oxford University, although, like Cambridge, is also a city unto itself. The town of Oxford was named circa 900 CE, and the university was established in the 11th century. In addition to being one of the UKs most innovative cities, Oxford also boasts the highest amount of published authors per square mile in the world! Some of the most notable innovations to come from Oxford are infrared remote sensing, the structure of penicillin, and the beginnings of Lewis Carrolls' Alice In Wonderland.
Innovations in Oxford are of a slightly different bent than the other centers of UK innovation and invention. The type of patents that are primarily discussed in this article are for physical objects; Oxford is more famed for its writers, politicians, poets, and actors. These are people whose work produces results that cannot generally be patented, thus, Oxford falls lower on this list.
Advantages Of Being An Innovative City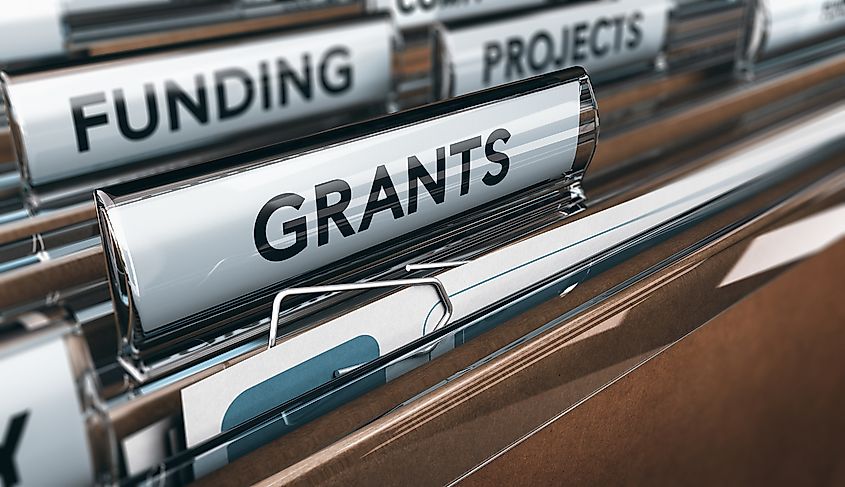 Being an innovative city carries great benefits for several reasons. With great new inventions comes attention on the national or global stage. From this flows tourism, interest from academic institutions, grant funding, and increased interest in living in these areas, among other factors. Cities benefit from innovation by capitalizing on these advantages to increase the overall quality of living for residents, possibly attracting more inventive people, and the cycle continues. InnovateUK is a government-funded organization that strives to foster innovation in the UK by investing in local initiatives. The UK prides itself on fostering a creative and innovative spirit in its people, and the results are evident!
But, Where's London?
You might have noticed that London is conspicuous by its absence on this list. London is a large, respected, cosmopolitan center, and the main reason that the number of patents in London is not higher goes back a long time. Historically in Britain, academic institutions have distanced themselves from the cities. Before the Industrial Revolution, Britain was much less centralized around urban areas and remains more so today than many other nations. The Industrial Revolution made British cities like London busy, dirty, and polluted - far from the kind of idyllic setting that seems fitting for high academia. Universities remained in their pastoral settings, and while urban campuses are more popular now, tradition sees many UK centers of innovation still located in rural areas.