World Facts
What is the Longest Flight in the World?
A direct flight from Auckland, New Zealand to Doha, Qatar is currently the longest flight possible.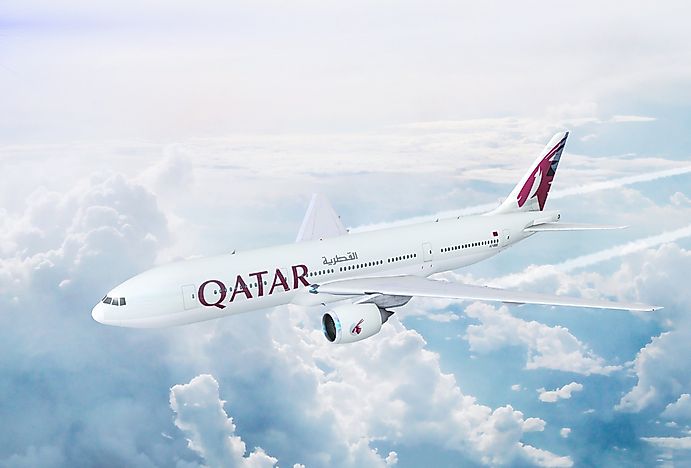 The phrase ''longest flight'' can refer to various things, among them being the distance between the destination and origin airports. In our article, we will be focusing on the longest non-stop flights in the world by flight duration. The longest flight currently available is the Qatar Airways flight that travels from Auckland, New Zealand to Doha, Qatar, a distance of 9,032 miles (14,535.6 km). The flight duration is approximately 18 hours and 20 minutes.
The World's Longest Flights
1. Auckland to Doha - 18 hrs, 20 min
The longest non-stop flight in the world is from Auckland, New Zealand to Doha, Qatar. The flight was introduced on February 5, 2017 by Qatar Airlines and covers a distance of approximately 9,032 miles. The airline uses a Boeing 777-200LR aircraft for this non-stop route to Qatar. 777-200LR (long-range) is a C-market model which is designed to work as a long distance commercial airline. Boeing 777-200LR was introduced in 2006. It takes over 18 hours and 20 minutes to travel from Auckland to Doha making it the longest flight by great-circle distance.
2. Los Angeles to Singapore - 17 hrs, 55 min
The second longest route is the flight from Los Angeles to Singapore. United Airlines introduced this non-stop flight on October 9, 2017, with their main aim being to save about two hours. The first aircraft to fly this route took off on October 27, 2017, and it reached Singapore after 17 hours hours and 55 minutes. The journey is approximately 8,770 miles long. It is the longest non-stop flight from the United States and United Airlines is the only company operating a direct non-stop flight between Los Angeles and Singapore.
3. Perth to London - 17 hrs, 20 min
The first direct non-stop flight from the London, United Kingdom to Perth, Australia is the third longest flight in the world. Qantas airline introduced the flight, and it is three hours faster than the others which involve passengers stopping over in the Middle East to refuel or change aircraft. The duration of the flight is about 17 hours and 20 minutes and their Boeing 787-9 aircraft flew this route for the first time on March 24, 2018. The great circle distance between these two cities is 9,010 miles.
4. Auckland to Dubai - 17 hrs, 20 min
Emirates airline launched the first non-stop direct flight between Auckland and Dubai on March 2, 2016. It is one of the longest scheduled flights in the world and to celebrate their milestone emirates used a double-decker A380 during their first flight instead of the usual Airbus A380-800. It takes the aircraft about 17 hours and 20 minutes to finish the 8,824 miles route.
5. San Francisco to Singapore - 17 hrs, 20 min
Before the introduction of the non-stop direct flight from Singapore to San Francisco, passengers had to take the longer route through one of the Asian countries and then board a direct flight to Singapore. The direct non-stop flight shaved off some few hours on this trip thus making it possible for the aircraft to cover 8,446 miles within 17 hours and 20minutes. United airline was the first to launch their direct flight on June 1, 2016, followed by Singapore Airlines on October 23, 2016, which guaranteed the passengers two aircraft flying this route daily. United Airlines is using a Boeing 787-9 aircraft while Singapore Airlines have Airbus A350-900 model. Currently, this is United Airlines record flight, and it is the longest route operated by an American airliner.
The Future of Long Flight Routes
Direct flights are quite convenient for passengers and many companies are trying to venture into this market. Qantas plans to launch another long route from San Francisco to Melbourne on September 1, 2018, and they believe that their aircraft will cover about 7,855 miles within fifteen hours. Cathay Pacific will introduce a direct flight from Washington to Singapore on September 15, 2018, while Philippines Airlines will launch a new flight from Manila to New York on October 28, 2018.
The Longest Flights in the World By Duration
| Rank | Destination A | Destination B | Flight Duration | Airline |
| --- | --- | --- | --- | --- |
| 1 | Auckland, New Zealand | Doha, Qatar | 18h20m | Qatar Airways |
| 2 | Los Angeles, United States | Singapore | 17hr55m | United Airlines |
| 3 | Perth, Australia | London, United Kingdom | 17h20m | Qantas |
| 4 | Auckland, New Zealand | Dubai, United Arab Emirates | 17h20m | Emirates |
| 5 | San Francisco, United States | Singapore | 17h20m | United Airlines |
| 6 | Dallas/Forth Worth, United States | Sydney, Australia | 17h5m | Qantas |
| 7 | Houston, United States | Sydney, Australia | 17h | United Airlines |
| 8 | Abu Dhabi, United Arab Emirates | Los Angeles, United States | 17h | Etihad Airways |
| 9 | Johannesburg, South Africa | Atlanta, United States | 16h55m | Delta Air Lines |
| 10 | Dubai, United Arab Emirates | Houston, United States | 16h45m | Emirates |
| 11 | Jeddah, Saudi Arabia | Los Angeles, United States | 16h45m | Saudia |
| 12 | Toronto, Canada | Manila, Philippines | 16h30m | Philippine Airlines |
| 13 | Dubai, United Arab Emirates | Los Angeles, United States | 16h20m | Emirates |
| 14 | Doha, Qatar | Los Angeles, United States | 16h20m | Qatar Airways |
| 15 | Vancouver, Canada | Melbourne, Australia | 16h10m | Air Canada |