What Is The World's Longest Flight?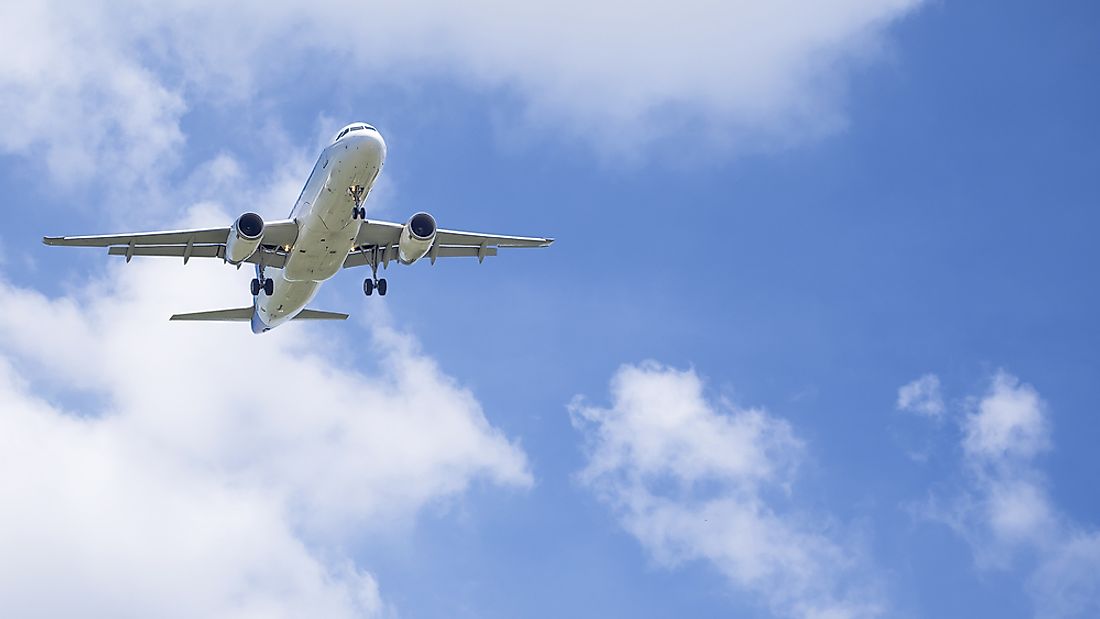 The term "longest flight" is used primarily to mean the distance between the starting point and the destination airport. Sometimes it can also be used to describe the time required by an aircraft to fly from one airport to the next airport. The longest flight by distance is Flight SQ 21 from Newark to Singapore covering 9,534 miles (15,344 km). This flight is also the longest flight by duration with a maximum scheduled flight time of 18 hours and 45 minutes.
Longest Flight By Distance
Flight SQ 21 from Newark Liberty International Airport in New Jersey, United States to Singapore Changi Airport in Singapore is the longest non-stop commercial flight by distance covered and duration. Flight SQ 21 covers a distance of 9,534 miles (15,344 km) and is scheduled to take 18h 30m to 18h 45m. The flight is flown by Singapore Airlines on an Airbus A350-900 which has a fuel capacity of 165,000 liters (44,000 US gal) allowing it to cover a maximum range of 11,185 miles (18,000 km). This route was previously in operation as of June 2004 but was discontinued in November 2013. The flight was relaunched on in 2015 with the first flight taking place on October 11, 2018. It is the longest direct flight departing from the United States.
Distance Traveled
Flight distance can be altered due to weather and flight zones. Flight duration is sometimes decreased due to favorable weather conditions such as tailwinds which save both fuel and time. For example, while Flight SQ21 has an optimal flight route nearer the North Pole, the route instead capitalize on the jet stream over the Pacific Ocean to cut down on flight time and fuel usage. Severe weather, unfavorable winds, and detours around no-fly zones can increase flight distance and duration.
Direct Flights
The most extended direct flights between the origin airport and the final airport have a point of stop. The segments use the same airplane and have the same trip number. Some of these longest direct flights include Air New Zealand Airline that connects London-Heathrow to Auckland with a stop in Los Angeles, Air China from Beijing to Sao Paulo with a stop in Madrid, British Airways and Qantas Airways from Sydney to London-Heathrow with immediate sops in Singapore and Dubai respectively, and French Bee Airways from Singapore to Houston with a stop in Manchester, United Kingdom, among other flights.
Significance of Non-Stop Flights
Longest flights also show comparison among various non-stop flights and direct flights. Most airline companies have created super long routes with the aim of minimizing the number of stops aircraft make at the course of the journey. These non-stop flights significantly reduce the time taken to travel between far-away cities and enhance passengers comfort while traveling.
World's Longest Flights By Distance
| Rank | Destination A | Destination B | Airline | Distance |
| --- | --- | --- | --- | --- |
| 1 | Newark | Singapore | Singapore Airlines | 15,344 km (9,534 mi) |
| 2 | Auckland | Doha | Qatar Airways | 14,535 km (9,032 mi) |
| 3 | Perth | London–Heathrow | Qantas | 14,499 km (9,009 mi) |
| 4 | Auckland | Dubai | Emirates | 14,200 km (8,823 mi) |
| 5 | Los Angeles | Singapore | Singapore Airlines | 14,113 km (8,769 mi) |
| 6 | Houston | Sydney | United Airlines | 13,834 km (8,596 mi) |
| 7 | Dallas/Fort Worth | Sydney | Qantas | 13,804 km (8,577 mi) |
| 8 | New York–JFK | Manila | Philippine Airlines | 13,712 km (8,520 mi) |
| 9 | San Francisco | Singapore | United Airlines/Singapore Airlines | 13,593 km (8,446 mi) |
| 10 | Johannesburg | Atlanta | Delta Air Lines | 13,581 km (8,439 mi) |
| 11 | Abu Dhabi | Los Angeles | Etihad Airways | 13,502 km (8,390 mi) |
| 12 | Dubai | Los Angeles | Emirates | 13,420 km (8,339 mi) |
| 13 | Jeddah | Los Angeles | Saudia | 13,409 km (8,332 mi) |
| 14 | Doha | Los Angeles | Qatar Airways | 13,367 km (8,306 mi) |
| 15 | Toronto | Manila | Philippine Airlines | 13,230 km (8,221 mi) |