World Facts
The World's Most Populated Buildings
These astonishing structures are called home by thousands of residents.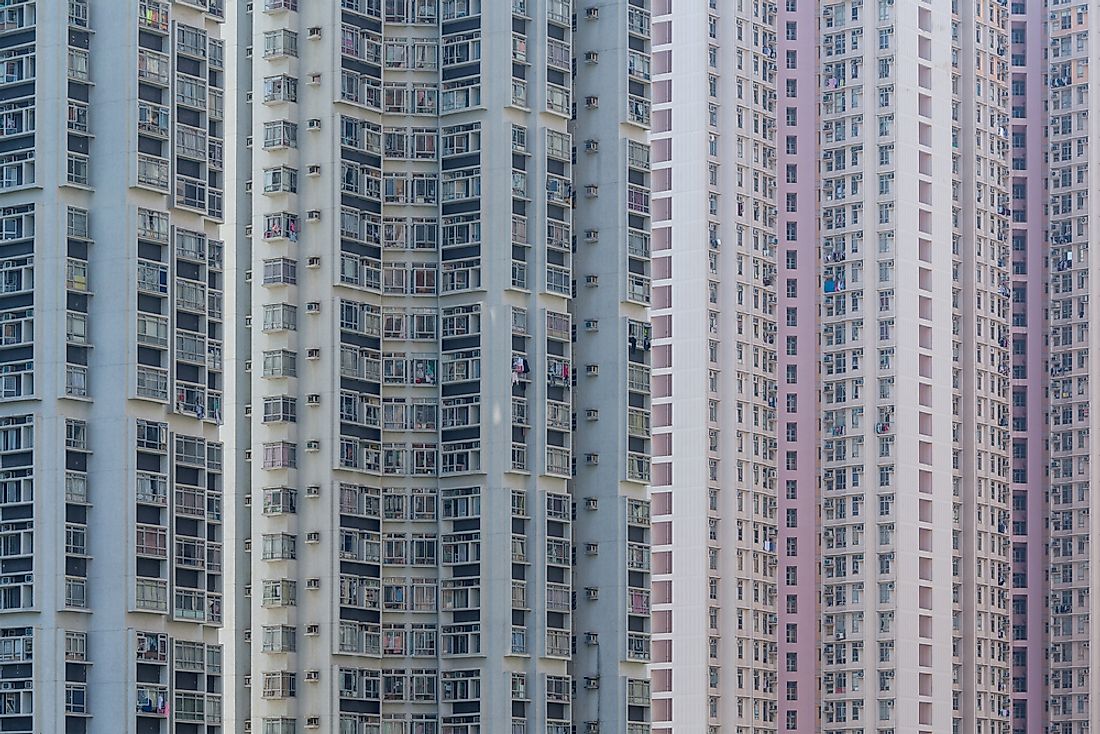 Residential buildings are some of the most common types of structures in existence. Many are familiar with residential units that contain two or three units, called duplexes and triplexes respectively, and even larger apartment blocks that can be much larger. The buildings below, however, take the idea of multiunit living to an entirely new level.
5. Ponte City - Johannesburg, South Africa
Ponte City is a building in Berea neighborhood, Johannesburg, South Africa. The skyscraper was built in 1975 and rises to a height of 567.6 feet, making it the tallest residential building in Africa. The 55-story Ponte City apartment is cylindrical and hollow at the center to allow for additional light into the apartments. The hollow space at the center is known as the "core." The building was designed by Mannie Feldman together with Manfred Hermer and Rodney Grosskopf. It carries a sign atop the building which is the largest advertising sign in the entire southern hemisphere.
4. Edificio Copan - Sao Paulo, Brazil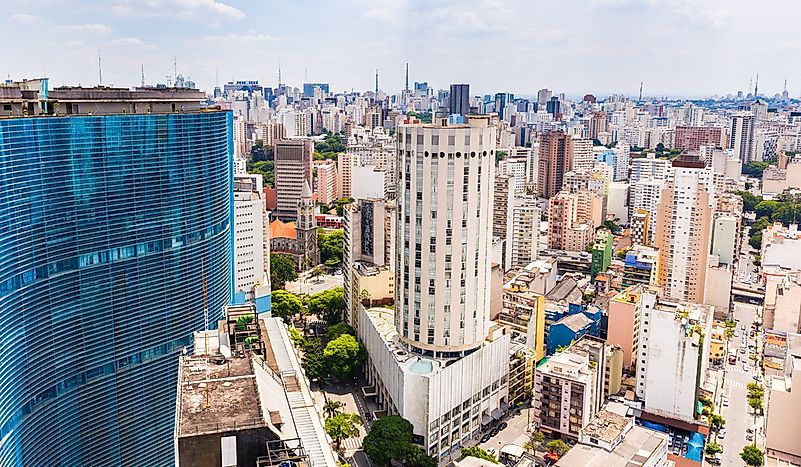 Edificio Copan (seen at left) is a 38-story residential building in Sao Paulo, Brazil. The 459 feet building is one of the largest buildings in the country and has 1,160 apartments. The building was designed by Oscar Neimeyer. Edificio Copan was meant to accommodate a mixed cross-section of Brazilian society. The construction of Edificio Copan began in 1952 and was completed in 1966 after several interruptions. The apartments range from small studios to large units. The ground floor houses over 72 businesses. Edificio Copan is covered with a transparent drape to protect pedestrians from loose mosaic tiles. The building has its own postal code.
3. Le Lignon - Geneva, Switzerland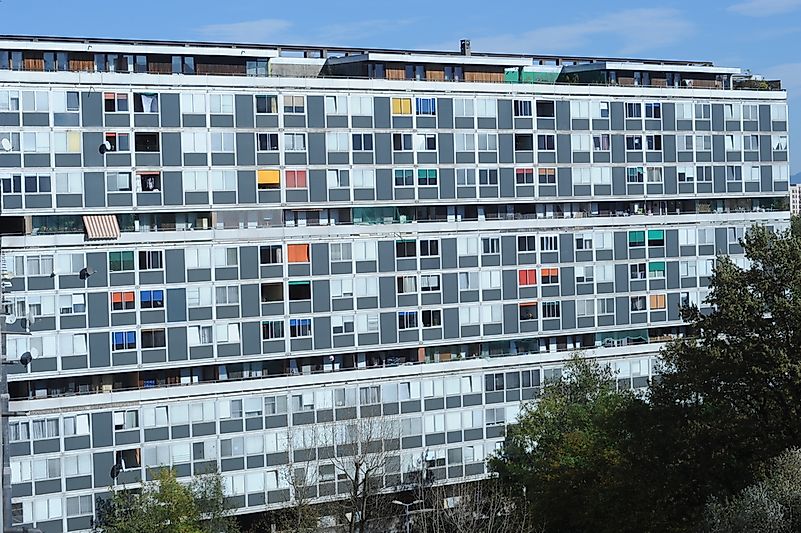 Le Lignon is an urban residential development in Vernier, a suburb of Geneva, Switzerland. It is one of the largest apartment complexes consisting of two large buildings. Le Lignon contains 2,780 units housing over 6,000 residents. It was built to address housing shortages which characterized the country in the 1960s and 1970s. The complex which sits on 10,000 square feet includes a school and a medical center. A significant portion of the residents of Vernier town live entirely within Le Lignon. The population density is similar to that of Manhattan.
2. Chungking Mansions - Hong Kong
Chungking Mansions is a residential building located within the highly dense Kowloon district of Hong Kong. It is made up of several independent low-budget hotels and shops although its original intention was to be a residential building. The mansion features guesthouses, restaurants, clothing shops, and financial offices. The construction of Chungking Mansions was completed in 1961 and currently accommodates an estimated 4,000 people. The mansion consists of five blocks, A, B, C, D, and E. It is 17 stories tall and served by two lifts on each block. The first two floors serve as common space while the third floor is the terrace level between the blocks. The varied use of the building and relative lack of code regulation has led to safety concerns, particularly that of fire safety.
1. Sillon de Bretagne - Nantes, France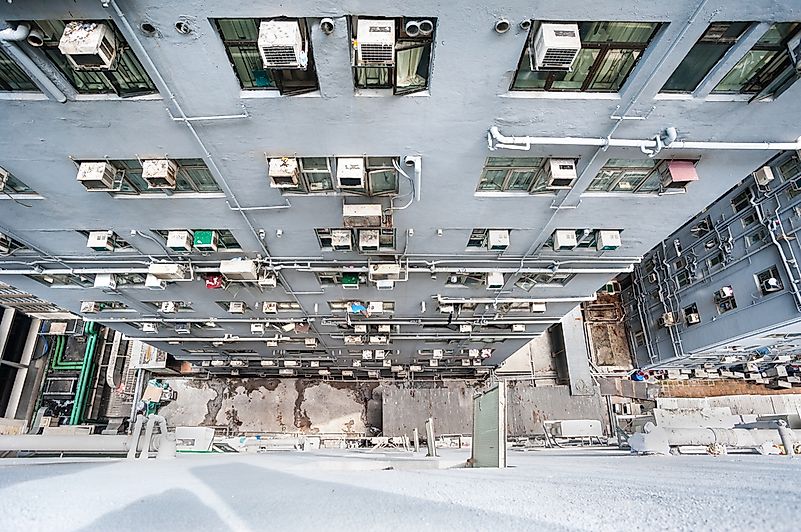 Sillon de Bretagne is a tall building in Saint-Herblain in Nantes, France. The 32-storeys building rising to a height of 318 feet was the tallest building in France at its completion in 1969. The structure has a width of 1,394 feet and remains one of the largest buildings in Europe by volume. Sillon de Bretagne provides accommodation and offices for over 3,500 people. The roof top of the building houses the antenna for the Digital Audio Broadcast transmitter which is operated by GRAM.
What is the World's Most Populated Building?
Some of the world's most populated buildings are said to be Ponte City in Johannesburg, Edificio Copan in Sao Paulo, Le Lignon in Geneva, Chungking Mansions in Hong Kong, and Sillon de Bretagne and Nantes.
About the Author
John Misachi is a seasoned writer with 5+ years of experience. His favorite topics include finance, history, geography, agriculture, legal, and sports. 
This page was last updated on May 28, 2018.
Citations
Your MLA Citation
Your APA Citation
Your Chicago Citation
Your Harvard Citation
Remember to italicize the title of this article in your Harvard citation.