The Tallest Mountains in Alberta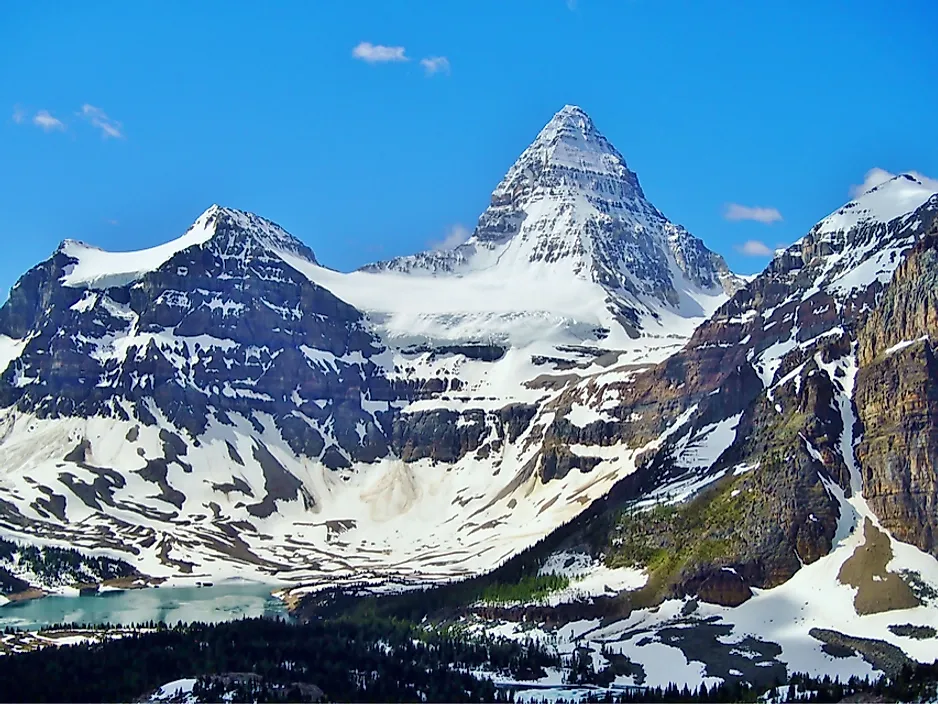 Located in Western Canada, the province of Alberta occupies an area of 661,190 square km. Alberta shares its borders with the Canadian provinces of British Columbia, Saskatchewan, and Northwest Territories, as well as the US state of Montana. The Canadian Rockies, a part of the Rocky Mountains range, extends into Alberta. The province has many majestic peaks, including Mount Coumbia, which is the second tallest peak of the Canadian Rockies. A list of Alberta's highest mountains is provided below.
1. Mount Columbia
Alberta's highest mountain is the 3,747 m tall Mount Columbia. Located near the border of British Columbia, it is the second highest Canadian peak in the Rocky Mountains. The mountain's summit is located within the boundaries of Jasper National Park. The mountain was named after the Columbia River, and was first summited in 1902. Climbing the mountain is relatively easy for seasoned climbers.
2. Twin Peaks Massif
As the name suggests, the massif has two peaks, the North Twin and the South Twin. The North Twin is higher, with an elevation of 3,731 m above sea level, while the South Twin is lower, with an elevation of 3,566 m. The North Twin also ranks third in terms of elevation in the Canadian Rockies. The massif also has a 3,627 m tall sub-peak, which has been named the Twins Tower. The North Twin was first successfully ascended on July 10, 1923.
3. Mount Alberta
Sharing a name with the Canadian province in which it is located, the 3,619 m tall Mount Alberta is Alberta's third highest peak. The mountain is about 80 km away from the town of Jasper and is located in the upper part of the Athabasca River Valley. The first European to reach the mountain was German explorer Jean Habel in 1901, and the first recorded ascent of Mount Alberta occurred in 1925.
4. Mount Assiniboine
The 3,618 m tall Mount Assiniboine is only 1 m shorter than Mount Alberta, and therefore ranks as Alberta's fourth tallest summit. The mountain is the tallest peak in the Continental Ranges. Mount Assiniboine, which resembles the Matterhorn in the Alps, rises above Lake Magog. The mountain is located on the border between Alberta's Banff National Park and British Columbia's Mount Assiniboine National Park. No roads lead to the mountain, which means that it can only be accessed via hiking routes. However, a helipad allows the access to the mountain by air. The first successful summit of the mountain was made in 1901.
5. Mount Forbes
Mount Forbes is 3,612 m tall, which makes it the fifth tallest mountain in Alberta and the eighth tallest in the Canadian Rockies. The mountain was named after Manx naturalist Edward Forbes. The mountain was successfully ascended for the first time on August 10, 1902.
The 10 Tallest Peaks in Alberta, Canada
| Rank | Mountain | Elevation |
| --- | --- | --- |
| 1 | Mount Columbia | 12,293 ft |
| 2 | Twin Peaks massif | 12,087 ft |
| 3 | Mount Alberta | 11,873 ft |
| 4 | Mount Assiniboine | 11,864 ft |
| 5 | Mount Forbes | 11,850 ft |
| 6 | Mount Temple | 11,624 ft |
| 7 | Mount Brazeau | 11,565 ft |
| 8 | Snow Dome | 11,549 ft |
| 9 | Mount Kitchener | 11,499 ft |
| 10 | Mount Lyell | 11,496 ft |