World Facts
The Tallest Mountains in the Yukon
The 5,959 ft tall Mount Logan is the tallest peak in Canada's Yukon territory.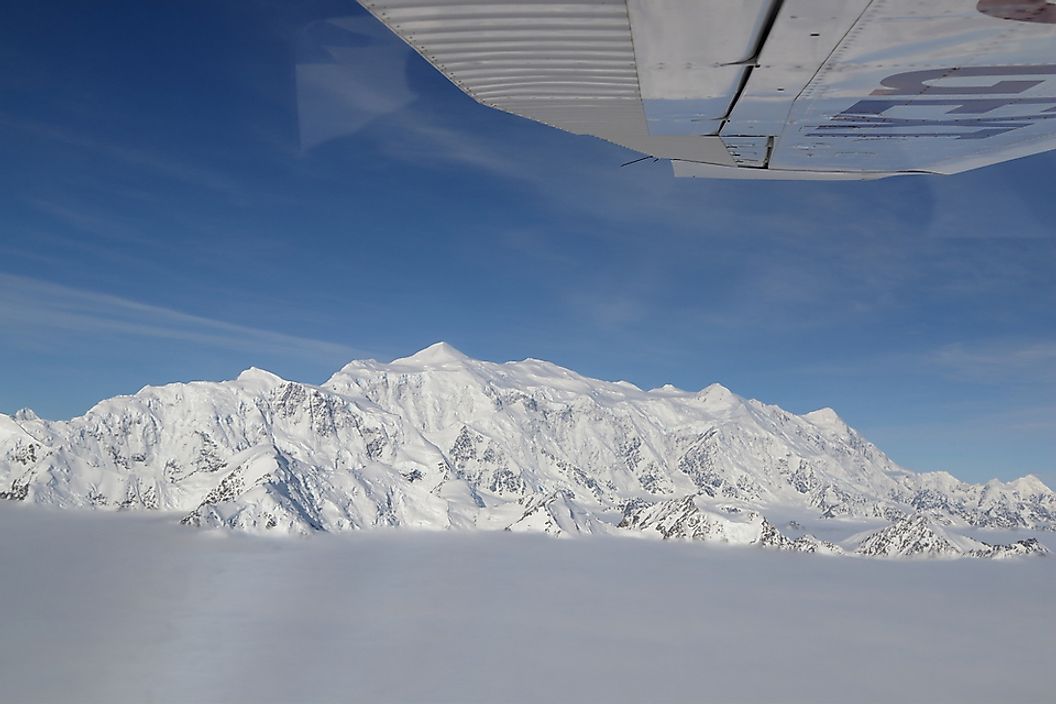 Yukon is a Canadian territory known for its astounding natural beauty, and is located in the country's northwestern corner, sharing borders with Canada's Northwest Territories and the US state of Alaska. Yukon covers an area of 482,443 square km and is home to massive ice-capped mountains, river valleys, plateaus, and snowmelt lakes. Yukon's Kluane National Park and Reserve is a protected area and is home to eight of the major peaks of Canada, five of which are part of the Saint Elias Mountains Range. These mountains are also the source of many glaciers that feed rivers downstream. A list of the tallest peaks in the Yukon is provided below.
1. Mount Logan
Mount Logan is the highest peak in the Yukon, and the second tallest in North America. The mountain is located in Kluane National Park and Reserve. It is also the largest non-volcanic mountain in terms of its base circumference. Mount Logan has 11 peaks with elevations greater than 5,000 m. The massif's tallest peak is 5489 m above sea level. The Logan and Hubbard Glaciers originate here. Mount Logan's height is expected to increase in the future due to active tectonic movements in the area. The mountain experiences bitterly cold weather, with temperatures reaching −45 °C during the winter.
2. Mount Saint Elias
The 5,489 m tall Mount Saint Elias is Yukon's second tallest mountain, and the second tallest peak in Canada. Since Mount Saint Elias is based on the Alaska-Yukon border, it is also the second highest peak in the USA. The Canadian part of the mountain lies within the limits of Kluane National Park and Reserve. Members of an Italian expedition first successfully summited the mountain on July 31, 1897. The second ascent occurred much later in 1946. The mountain is not very popular among climbers due to the difficult route to the top, as well as harsh weather conditions that prevail for most of the year.
3. Mount Lucania
The 5,240 m tall Mount Lucania is the third highest mountain in the Yukon, and also the third highest in Canada. Mount Lucania is named after British ocean liner RMS Lucania. The mountain was first summited in 1937 by American climbers Robert Hicks Bates and Bradford Washburn in what had all the elements of an adventurous story.
4. King Peak
King Peak is Yukon's fourth highest mountain, and is sometimes regarded as a satellite peak of Mount Logan. King Peak, also Canada's fourth tallest, has a height of 5,173 m above sea level, and a prominence of 1,073 m. It is part of the Saint Elias Mountain Range and is the ninth tallest peak in North American. It was first summited in 1952 by a group of students from the University of Alaska.
5. Mount Steele
Mount Steele is the fifth tallest mountain in the Yukon, as well as Canada. It is 5,073 m tall, which makes it North America's eleventh highest summit. The mountain also hosts a lower peak which is 4,300 m above sea level. The mountain was named after Sir Sam Steele, who was in command of the North-West Mounted Police during Yukon's Klondike Gold Rush. The mountain was first summited in 1935 after a challenging climb to the top.
The 10 Tallest Peaks in Yukon, Canada
| Rank | Mountain | Height (metres) |
| --- | --- | --- |
| 1 | Mount Logan | 5,959 |
| 2 | Mount Saint Elias | 5,489 |
| 3 | Mount Lucania | 5,226 |
| 4 | King Peak | 5,173 |
| 5 | Mount Steele | 5,073 |
| 6 | Mount Wood | 4,842 |
| 7 | Mount Vancouver | 4,812 |
| 8 | Mount Slaggard | 4,742 |
| 9 | Mount Macaulay | 4,690 |
| 10 | Mount Hubbard | 4,577 |
About the Author
Oishimaya is an Indian native, currently residing in Kolkata. She has earned her Ph.D. degree and is presently engaged in full-time freelance writing and editing. She is an avid reader and travel enthusiast and is sensitively aware of her surroundings, both locally and globally. She loves mingling with people of eclectic cultures and also participates in activities concerning wildlife conservation.
This page was last updated on June 11, 2019.
Citations
Your MLA Citation
Your APA Citation
Your Chicago Citation
Your Harvard Citation
Remember to italicize the title of this article in your Harvard citation.