The 10 Longest Rivers in Oregon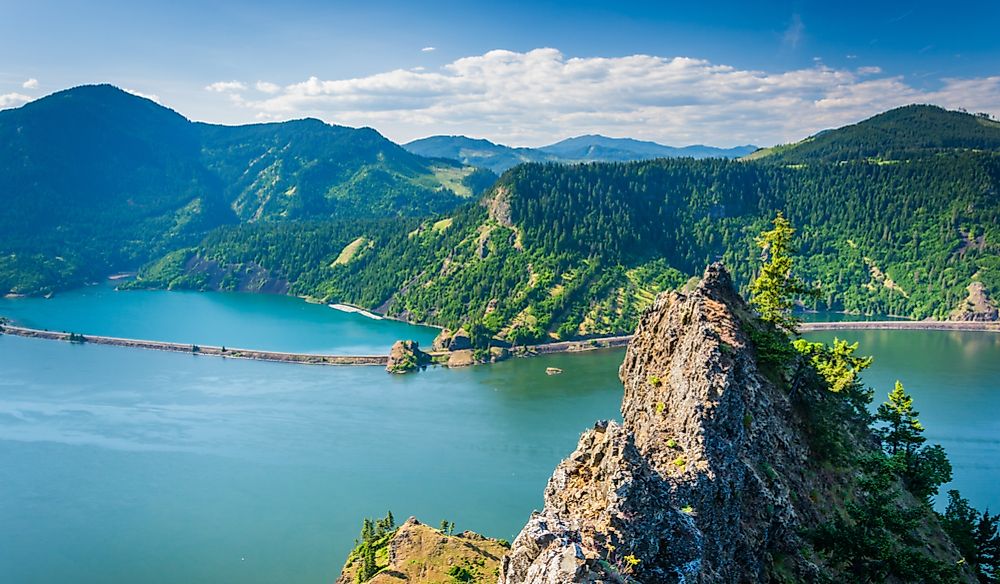 Oregon is the ninth largest and the 27th most populous state of the United States. It was admitted to the Union on February 14, 1859, as the 33rd state. The Columbia River defines much of Oregon's northern boundary with Washington while the Snake River defines its border with Idaho. Oregon is geographically diverse with vast shrublands, deserts, mixed forest, and large water bodies. The presence of large rivers makes Oregon one of the largest producers of hydroelectric power in the country. The following are the longest rivers of Oregon.
The Longest Rivers in Oregon
Columbia River
The Columbia is the largest river in the northwest region of the North American continent. It flows for 1,243 miles from the Rocky Mountains of British Columbia to the Pacific coast of Oregon. It flows through the state of Washington before turning west to form the Washington-Oregon borderline. The Snake River is the largest tributary of the Columbia River. The drainage basin of the Columbia River extends over seven states and the province of British Columbia. The river and its tributaries account for a significant percentage of the hydroelectric power produced in the country.
Snake River
The Snake River is the largest tributary of the Columbia River. It flows for 1,078 miles from western Wyoming through southern Idaho and the Oregon–Idaho border before joining the Columbia River at Tri-Cities, Washington. There are 15 major dams on the river to generate hydroelectricity, provide household and industrial water and enhance navigation. Conservationists have rallied for the removal of the dams on the lower Snake River to restore the river's natural course.
Owyhee River
The Owyhee River rises in Wild Horse, Nevada, and flows for 346 miles to the Idaho-Oregon border where it meets the Snake River. The river drains a drainage basin of about 11,049 square miles. The annual discharge is about 995 cu ft/s but rises to 50,000 cu ft/s during the rainy season.
John Day River
The John Day River flows for 284 miles from the Malheur National Forest to its mouth in the Columbia River. The John Day is undammed in its entire course and is the third longest free-flowing river in the contiguous US. The absence of dams causes the flow of the river to fluctuate throughout the year depending on the rainfall and snowpack. The river is navigable by small river rafts, but the lower course is mostly used for irrigation and ranching.
Conservation Efforts
Oregon accounts for a large percentage of the hydroelectric power produced in the United States meaning that the rivers of the state are heavily dammed. Although hydroelectric power is efficient and sustainable, construction of dams prevents the movement of fish especially the salmons. Organizations such as the Western Rivers Conservancy advocate for controlled damming and discharge with the aim of creating a sustainable water supply and habitat for the marine animals and plants.
The 10 Longest Rivers in Oregon
| Rank | River | Length |
| --- | --- | --- |
| 1 | Columbia River | 1,243 miles (2000 km) |
| 2 | Snake River | 1,078 miles (1735 km) |
| 3 | Owyhee River | 346 miles (557 km) |
| 4 | John Day River | 281 miles (452 km) |
| 5 | Klamath River | 263 miles (423 km) |
| 6 | Deschutes River | 252 miles (406 km) |
| 7 | Rogue River | 215 miles (346 km) |
| 8 | Malheur River | 190 miles (310 km) |
| 9 | Willamette River | 187 miles (301 km) |
| 10 | Grande Ronde River | 182 miles (293 km) |