World Facts
The 10 Highest Cantons In Switzerland
Valais is the highest canton in Switzerland in terms of mean elevation.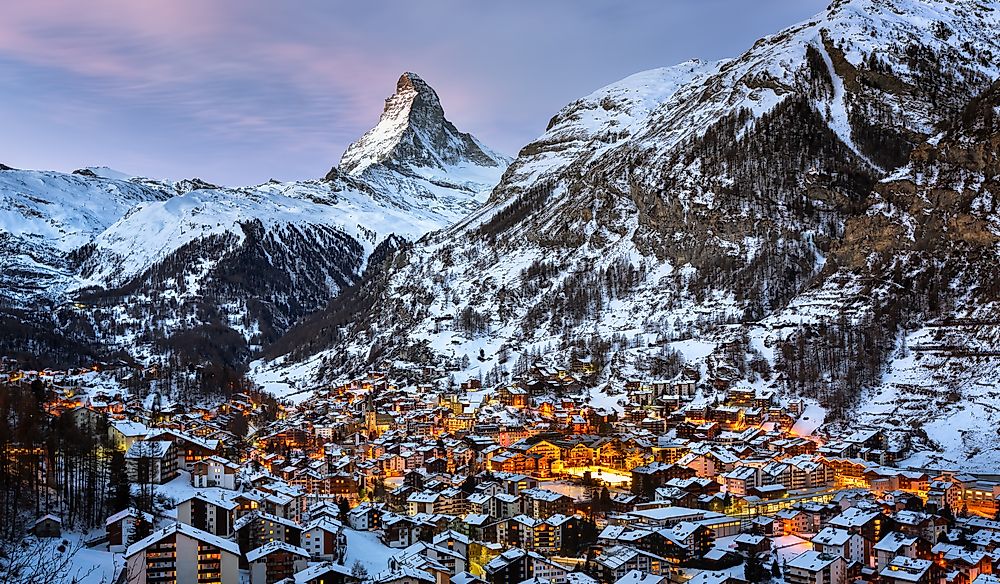 Switzerland is a landlocked country in Europe, located at the point where western, central, and southern Europe meet. With an area of 41,285 km2 and an estimated population of 8,508,898, Switzerland ranks as the 132nd most extensive and 100th most populous country in the world. Officially the Swiss Confederation, the country is a federal republic made up of 26 cantons. Geographically located in the Alps, Swiss Plateau and the Jura Mountains, many parts of the country are situated at high elevations. As a result, Switzerland is renowned for its spectacular natural landscapes and attracts visitors from throughout the world. The mean elevations of Switzerland's cantons range between 295 m and 2,140 m. The canton of Valais is the highest canton in Switzerland in terms of both mean and maximum elevation.
Highest Cantons in Switzerland
Valais
Valais is located in southwestern Switzerland and has a mean elevation of 2,140 m. The canton also contains Dufourspitze, which has an elevation of 4,634 m and is the highest peak in Monte Rosa, as well as the highest peak in Switzerland. Valais experiences diverse climate conditions, as it contains both the driest and wettest regions of the country. The canton is subdivided into 13 districts and Sion serves as its capital. The glacial Rhône valley is the most prominent feature of Valais, and the Rhône River drains most of the canton before emptying into Lake Geneva.
Grisons
Grisons, which is also referred to as Graubünden, is the easternmost canton of Switzerland and the second highest in terms of mean elevation (2,021 m). With an area of 7,105.2 km2, it is also the largest Swiss canton and has international borders with three countries: Liechtenstein, Austria, and Italy. Grisons features a mountainous landscape that includes the valleys of the Inn and Rhine rivers, and only about one-third of the canton's total area is considered productive land. Grisons contains Swiss National Park, which is located in the southeastern part of the canton and was designated as a UNESCO World Heritage Site in 2008, officially listed as Swiss Tectonic Arena Sardon. The highest peak in Grisons is Piz Bernina, which has a maximum elevation of 4,049 m.
Uri
The canton of Uri has the third highest mean elevation in Switzerland, at 1,896 m. Uri is located in central Switzerland and encompasses the valley of the Reuss River. The canton has a total area of 1,076.4 km2, and of this total 55.6% is considered unproductive land, 18.2% is forested, 24.4% is used for agriculture, while the rest is settled land, meaning it contains buildings or roads. The highest peak in Uri is Dammastock, which is located in the Urner Alps and reaches an elevation of 3,630 m.
Berne
Although Berne, which is also written as Bern, ranks as the seventh highest Swiss canton by mean elevation at 1,198 m. It contains the second highest peak in Switzerland, Finsteraarhorn, which is located in the Bernese Alps and has an elevation of 4,274 m. Berne is located in west-central Switzerland and occupies a total area of 5,959.59 km2, ranking as the country's second most extensive canton. Of this total, 43.3% is agricultural land, while only 19.3% is non-productive. The Jungfrau Railway, the highest mountain railway in Switzerland, begins from the Kleine Scheidegg mountain pass in Berne.
Lowest Swiss Cantons
With a mean elevation of 295 m, Basel-Stadt is the lowest canton in Switzerland in terms of mean elevation. When ranked in terms of highest point of elevation, Geneva is the lowest canton, with a maximum elevation of 522 m.
List of the 10 Highest Cantons in Switzerland
| Rank | Canton | Mean Elevation | Canton | Highest Elevation | Highest Point |
| --- | --- | --- | --- | --- | --- |
| 1 | Valais | 2,140 m (7,021 ft) | Valais | 4,634 m (15,203 ft) | Dufourspitze (Monte Rosa) |
| 2 | Graubünden | 2,021 m (6,631 ft) | Berne | 4,274 m (14,022 ft) | Finsteraarhorn |
| 3 | Uri | 1,896 m (6,220 ft) | Graubünden | 4,049 m (13,284 ft) | Piz Bernina |
| 4 | Glarus | 1,589 m (5,213 ft) | Uri | 3,630 m (11,909 ft) | Dammastock |
| 5 | Ticino | 1,412 m (4,633 ft) | Glarus | 3,614 m (11,857 ft) | Tödi |
| 6 | Obwalden | 1,329 m (4,360 ft) | Ticino | 3,402 m (11,161 ft) | Rheinwaldhorn |
| 7 | Berne | 1,198 m (3,930 ft) | St. Gallen | 3,248 m (10,656 ft) | Ringelspitz |
| 8 | Appenzell Innerrhoden | 1,126 m (3,694 ft) | Obwalden | 3,238 m (10,623 ft) | Titlis |
| 9 | Schwyz | 1,082 m (3,550 ft) | Vaud | 3,210 m (10,531 ft) | Diablerets |
| 10 | Nidwalden | 1,077 m (3,533 ft) | Nidwalden | 2,901 m (9,518 ft) | Rotstöckli |
About the Author
Oishimaya is an Indian native, currently residing in Kolkata. She has earned her Ph.D. degree and is presently engaged in full-time freelance writing and editing. She is an avid reader and travel enthusiast and is sensitively aware of her surroundings, both locally and globally. She loves mingling with people of eclectic cultures and also participates in activities concerning wildlife conservation.
This page was last updated on June 11, 2019.
Citations
Your MLA Citation
Your APA Citation
Your Chicago Citation
Your Harvard Citation
Remember to italicize the title of this article in your Harvard citation.