The Largest Lakes In Switzerland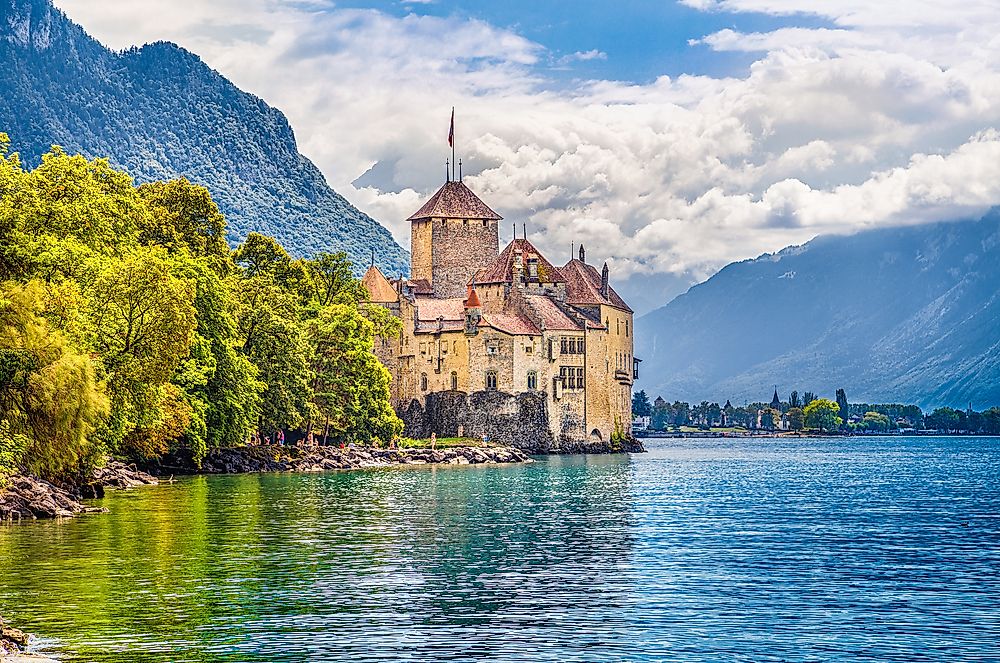 Switzerland is famous not only for its white snow-clad mountains but also for its spectacular lakes. The size and shape of these lakes vary widely, and together they have a shoreline of over 1,000 km. Nearly all the cantons in Switzerland host lakes which serve as important recreational areas. In this article, we discuss the largest lakes in Switzerland and their important features.
The Largest Lake In Switzerland, Lake Geneva
Lake Geneva is the biggest lake in Switzerland and one of the most massive lakes in Western Europe. It occupies an area of 580.03 square km. The lake is located on the border between France and Switzerland. The greater part of the lake (59.53%) is within Swiss territory. The maximum depth of Lake Geneva is 1,020 ft and it is located at an elevation of 1,220.5 ft. The lake is part of the Rhone river basin.
The Second Largest Lake In Switzerland, Lake Constance
The second largest lake in Switzerland, Lake Constance, has an area of 473.00 square km. Like Lake Geneva, this lake is not located entirely in Switzerland but also encompasses parts of Germany and Austria. The lake is 827 ft at its deepest point and is located at an altitude of 1,296 ft above sea level. Lake Constance is a part of the Rhine River basin and is located at the northern foot of the Alps. The vast lake can be divided into three water bodies, the Upper and the Lower Lake Constance that are connected by a stretch of the Rhine River between them.
The Largest Lake Located Entirely In Switzerland, Lake Neuchâtel
Lake Neuchâtel is located in Romandy, Switzerland. With an area of 215.20 square km, it is the country's third biggest lake. Actually, it is the largest lake located entirely in Switzerland. The lake is located at an elevation of 1,407 ft above sea-level. It has a maximum depth of 499 ft. A number of rivers like L'Orbe, Le Seyon, L'Areuse, and others feed the lake.
Distribution Of Lakes In Switzerland
There are about 7,000 lakes in Switzerland. The country has 103 lakes that have an area of more than 30 hectares. More than 58 lakes in the country have an area of over one square km. 17 lakes occupy more than 10 square km and only five are extremely vast with an area of over 100 square km. The 103 lakes are distributed among the 21 cantons of the country. Many of these large lakes extend into the bordering countries of Switzerland. 66 of the 103 largest lakes are located in the Rhine basin. The Rhone, Po, and Danube basins host 17, 14, and 6 of these lakes respectively.
The Largest Lakes In Switzerland
| Rank | Name | Canton(s), neighboring countries | River basin | Area (km²) |
| --- | --- | --- | --- | --- |
| 1 | Lake Geneva | Geneva, Vaud, Valais, France | Rhone | 580.03 |
| 2 | Lake Constance | St. Gallen, Thurgau, Austria, Germany | Rhine | 473.00 |
| 3 | Lake Neuchâtel | Berne, Fribourg, Neuchâtel, Vaud | Rhine | 215.20 |
| 4 | Lake Maggiore | Ticino, Italy | Po | 210.12 |
| 5 | Lake Lucerne | Lucerne, Nidwalden, Obwalden, Schwyz, Uri | Rhine | 113.72 |
| 6 | Lake Zurich | St. Gallen, Schwyz, Zurich | Rhine | 88.17 |
| 7 | Untersee | Schaffhausen, Thurgau, Germany | Rhine | 63.00 |
| 8 | Lake Lugano | Ticino, Italy | Po | 48.67 |
| 9 | Lake Thun | Berne | Rhine | 47.74 |
| 10 | Lake Bienne | Berne, Neuchâtel | Rhine | 39.51 |