The 10 Biggest Cities In Ontario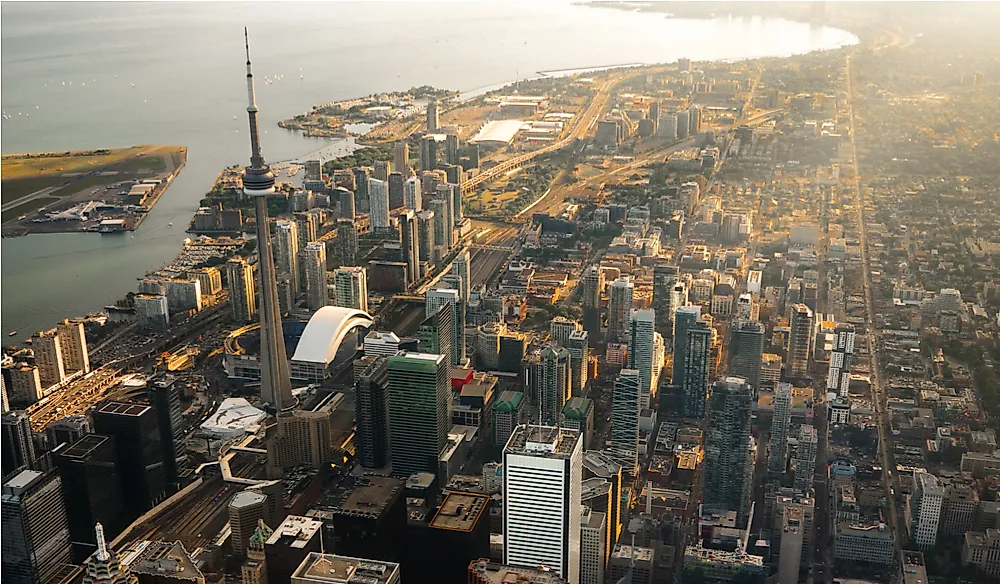 Ontario is a province in the east-central region of Canada. It occupies an area of 1,076,395 square km, making it Canada's fourth most extensive province. Additionally, with a population of 13,448,494 in 2016, Ontario is the country's most populated province. Canada's national capital, Ottawa, is located in Ontario. Ontario contains 52 cities that had a combined population of 9,705,157 in 2016. Toronto and Dryden are the biggest and smallest cities in the province in terms of population, respectively. Markham is Ontario's newest city having been incorporated in 2012.
Five Most Populated Cities in Ontario
1. Toronto
With a population of 2,731,571 in 2016, Toronto is Ontario's most populous city, and also serves as its provincial capital. It is located on the northwestern shores of Lake Ontario, in a sloping plateau area with deep ravines, rivers, and forests that are an integral part of its landscape. The city was incorporated in 1834, and is now a global city with an ethnically diverse population. It is a major hub of business, arts, culture, and finance. Toronto is home to numerous art galleries and museums, a wide variety of cultural events are held in the city all year round, and more than 160 languages are spoken. The city's skyscrapers make its skyline appear grand, including the CN Tower, Canada's tallest free-standing structure. The headquarters of the country's five largest banks are located here.
2. Ottawa
Ottawa is Canada's national capital and second biggest city, with a population of 964,743. The city is located on the south bank of the Ottawa River, across from Gatineau, Quebec. Together, Ottawa and Gatineau form the National Capital Region. Ottawa was established in 1826, and incorporated in 1855. Its population is among the most educated of any city in Canada. A number of important national cultural institutions, like the National Gallery and National Arts Centre, are located in Ottawa. The city also has the country's highest living standard.
3. Mississauga
Mississauga is Ontario's third largest city, with a population of 721,599 in 2016. It is located on the shores of Lake Ontario and borders Toronto. In fact, Mississauga's proximity to Toronto led to its quick growth. Today, the city is home to a multicultural population who either commute to work in Toronto or work in the many national and multinational corporations based in the city itself. Despite its name, Toronto Pearson International Airport, which is Canada's busiest airport, is largely located in Mississauga.
4. Brampton
Brampton is the fourth most populous city in Ontario, with a population of 593,638 in 2016. It was incorporated as a village in 1853, and later as a town in 1873. The city has an economy based on advanced manufacturing, logistics, information technology, life sciences, and retail administration. Driven by immigration to the city, Brampton has experienced rapid population growth and has a large South Asian population.
5. Hamilton
With a population of approximately 536,917, Hamilton is Ontario's fifth biggest city. It is an industrialized port city located on the shores of Lake Ontario. Hamilton is often referred to as the "Steel Capital of Canada," as 60% of the country's steel is produced in the city. Hamilton is also an important educational hub, with various institutions of higher education located within its limits.
Smallest City in Ontario
Dryden is located in Northwestern Ontario, on Wabigoon Lake. It is home to a population of only 7,749 people, which makes it Ontario's smallest city in terms of population. The city's economy was initially driven by the pulp and paper industry, but it now focuses on agriculture, tourism, and mining.
The 10 Biggest Cities in Ontario by Population
| Rank | City | Population (2016) | Area |
| --- | --- | --- | --- |
| 1 | Toronto | 2,731,571 | 630.2 km2 |
| 2 | Ottawa | 934,243 | 2,790.3 km2 |
| 3 | Mississauga | 721,599 | 292.43 km2 |
| 4 | Brampton | 593,638 | 266.36 km2 |
| 5 | Hamilton | 536,917 | 1,117.29 km2 |
| 6 | London | 383,822 | 420.35 km2 |
| 7 | Markham | 328,966 | 212.35 km2 |
| 8 | Vaughan | 306,233 | 273.56 km2 |
| 9 | Kitchener | 233,222 | 136.77 km2 |
| 10 | Windsor | 217,188 | 146.38 km2 |