World Facts
The 10 Biggest Cities In New Mexico
Albuquerque is the most populous city in the US state of New Mexico.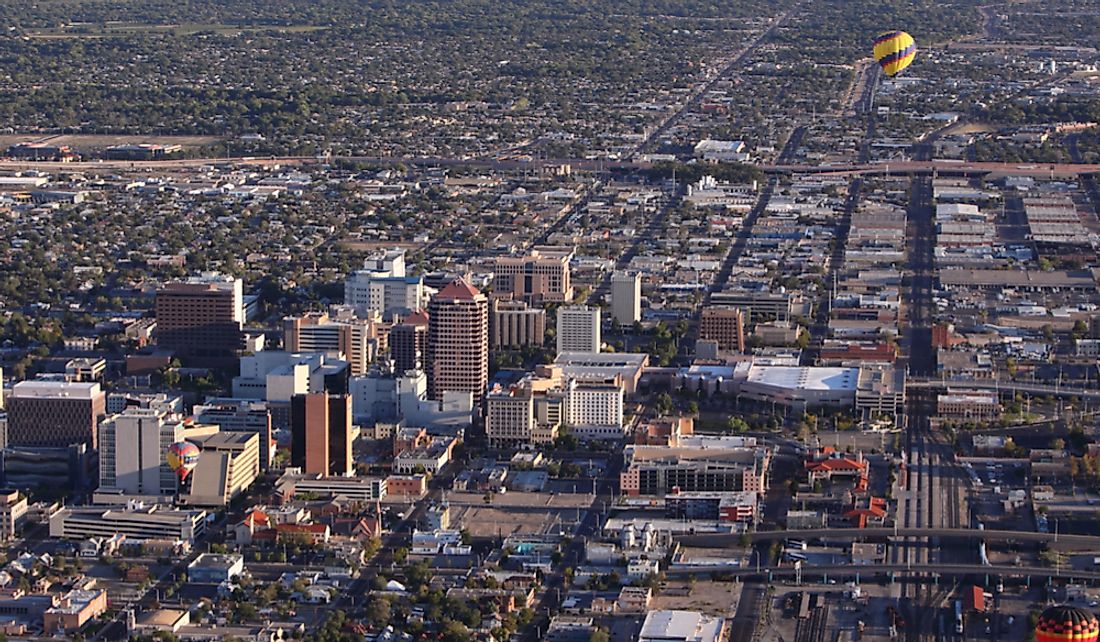 The US state of New Mexico is located in the southwestern region of the country. With an area of 314,160.8 square km and a population of 2,059,192 inhabitants, New Mexico ranks as the nation's 5th most extensive state and the 15th least populous. The state is subdivided into 33 counties that contain 106 municipalities. Although New Mexico's incorporated municipalities represent only about 1% of the state's total land area, they are home to more than 65% of the population. Albuquerque is the largest city by population in the state, followed by Las Cruces, Rio Rancho, Santa Fe, and Roswell.
The Most Populated Cities in New Mexico
1. Albuquerque
With a population of 545,852, Albuquerque is New Mexico's most populous city, and the 32nd most populous in the US. Located in the north-central part of the state, the city serves as the county seat of Bernalillo County. The Rio Grande flows through Albuquerque, while the Sandia Mountains are located to the east. The city's elevation ranges between 4,900 feet and 6,700 feet, making it one of the highest major cities in the country. A number of government institutions, research facilities and post-secondary schools are located in the city. For example, the New Mexico Technology Corridor is home to several government institutions and high-tech private companies. Additionally, the Albuquerque International Balloon Fiesta is held in the city every year, which is the world's largest gathering of hot-air balloons.
2. Las Cruces
Las Cruces is New Mexico's second most populous city, with a population of 97,618. The city is the seat of Doña Ana County and serves as the geographic and economic center of the Mesilla Valley, which is part of the Rio Grande's floodplain. As a result, Las Cruces is surrounded by agricultural land. Several mountain ranges are also visible from the city. Las Cruces is home to the New Mexico State University, spaceflight company Virgin Galactic, and several military and space research institutions.
3. Rio Rancho
Rio Rancho is New Mexico's third most populous city, with a population of 87,521. Located in Sandoval County, and extending slightly into Bernalillo County, the city is the economic hub of Sandoval County. The Intel Corporation's semiconductor fabrication plant, Intel Fab 11X, which is one of the biggest of its kind in the world, is located in Rio Rancho. Additionally, the Intel Corporation is the city's biggest employer.
4. Santa Fe
With a population of 67,947, Santa Fe is the fourth most populous city in New Mexico. It is the seat of Santa Fe County and the capital of New Mexico. The city was founded by Spanish colonists in 1610 and is the country's oldest state capital.
5. Roswell
Roswell is the state's fifth most populous city, with a population of 48,411. The city serves as the seat of Chaves County, and is a hub for ranching, manufacturing, dairying, farming, and petroleum production. Roswell is also located near various natural areas, such as Bottomless Lakes State Park and Bitter Lake National Wildlife Refuge.
The Smallest Municipality in New Mexico
Grenville is the smallest municipality of New Mexico. Located in Union County and classified as a village, Grenville had a population of only 38 according to the 2010 census.
The Largest and Smallest Municipalities by Land Area
Albuquerque is not only the largest city in the state by population but also in terms of area, as it covers an area of 486.2 square km. With an area of only 0.57 square km, Virden is the state's smallest municipality.
List of the 10 Biggest Cities in New Mexico
| Rank | City | County | Population (2010) | Land area (2010) |
| --- | --- | --- | --- | --- |
| 1 | Albuquerque | Bernalillo | 545,852 | 486.2 km2 |
| 2 | Las Cruces | Doña Ana | 97,618 | 198.1 km2 |
| 3 | Rio Rancho | Bernalillo/Sandoval | 87,521 | 267.7 km2 |
| 4 | Santa Fe | Santa Fe | 67,947 | 119.1 km2 |
| 5 | Roswell | Chaves | 48,366 | 77.3 km2 |
| 6 | Farmington | San Juan | 45,877 | 81.6 km2 |
| 7 | Clovis | Curry | 37,775 | 58.8 km2 |
| 8 | Hobbs | Lea | 34,122 | 62.1 km2 |
| 9 | Alamogordo | Otero | 30,403 | 55.5 km2 |
| 10 | Carlsbad | Eddy | 26,138 | 75.0 km2 |
About the Author
Oishimaya is an Indian native, currently residing in Kolkata. She has earned her Ph.D. degree and is presently engaged in full-time freelance writing and editing. She is an avid reader and travel enthusiast and is sensitively aware of her surroundings, both locally and globally. She loves mingling with people of eclectic cultures and also participates in activities concerning wildlife conservation.
This page was last updated on January 15, 2019.
Citations
Your MLA Citation
Your APA Citation
Your Chicago Citation
Your Harvard Citation
Remember to italicize the title of this article in your Harvard citation.