World Facts
The 10 Biggest Cities In Manitoba
Winnipeg is the most populous city in the Canadian province of Manitoba.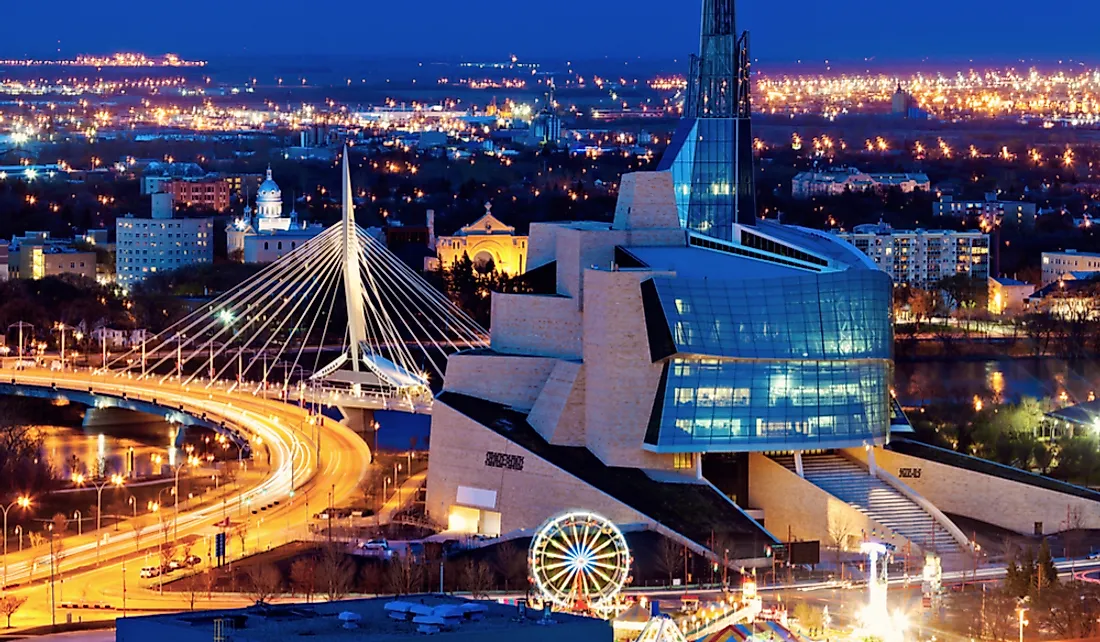 The Canadian province of Manitoba is one of the country's three prairie provinces, along with Saskatchewan and Alberta. With a population of approximately 1.3 million, Manitoba's is the country's 5th most populous province. Additionally, Manitoba has an area of roughly 649,950 square km, which ranks 8th in Canada. In order to be designated as a city in Manitoba, an urban municipality must have a population of at least 7,500. On the basis of this requirement, the province contains 10 cities, the largest of which is Winnipeg, the provincial capital.
The Five Most Populated Cities in Manitoba
1. Winnipeg
With a population of 705,244 in 2016, Winnipeg is the most populated city in Manitoba and ranks as the seventh biggest in Canada. Located at the confluence of the Assiniboine and Red rivers, about 110 km north of the international border between Canada and the United States, Winnipeg also serves as Manitoba's provincial capital. The city derives its name from nearby Lake Winnipeg. Winnipeg is a hub of transportation and has a diversified economy, especially in trade, health care, and manufacturing. The city also hosts numerous cultural festivals, such as the Winnipeg Folk Festival, Folklorama, the Winnipeg Jazz Festival, and Festival du Voyageur.
2. Brandon
Brandon is the second most populous city in Manitoba, with a population of 48,859 in 2016. The city is located on the banks of the Assiniboine River, approximately 214 km west of Winnipeg. Brandon serves as a regional hub of trade and commerce, and its economy relies heavily on agriculture, education, food processing, health care, and transportation.
3. Steinbach
With a population of 5,829 in 2016, Steinbach is Manitoba's third largest city. The city is located 58 km southeast of Winnipeg. Steinbach was first settled by Mennonites from Russia in 1874 and continues to have a significant Mennonite population. Given its location near the eastern edge of the Canadian Prairies, the city's economy has developed around agriculture, although several commercial and service businesses also exist. In recent years, Steinbach has received a large number of immigrants who have contributed to its population growth.
4. Thompson
The city of Thompson is located along the Burntwood River, in the Northern Region of Manitoba. With a population of 13,678, it is the province's fourth largest city. Thompson was founded as a mining town in 1956 but is currently a hub of distribution for goods and services to the surrounding communities. Since Thompson is located in the boreal forest region of Manitoba, it offers numerous outdoor activities to nature enthusiasts. Additionally, given its northern location, the Northern Lights can sometimes be seen from within the city.
5. Portage la Prairie
With a population of 13,304, Portage la Prairie is the fifth largest city in Manitoba. It is located along the Assiniboine River, in the province's Central Plains Region, and is approximately 75 km west of Winnipeg. Environment Canada claims that the city experiences a higher number of sunny days during the warm months than anywhere else in the country.
The Smallest City in Manitoba
Flin Flon is the smallest city in Manitoba. The city's location is unique, as it straddles the provincial border between Manitoba and Saskatchewan. According to the 2016 Census, Flin Flon had a population of 5,185 individuals. Of this total, 4,982 lived in Manitoba's portion of the city, while only 203 resided in the Saskatchewan portion.
List of the 10 Biggest Cities in Manitoba by Population
| Rank | City | Population (2016) | Area | Population Density |
| --- | --- | --- | --- | --- |
| 1 | Winnipeg | 705,244 | 464.33 km2 | 1,518.8 |
| 2 | Brandon | 48,859 | 77.41 km2 | 631.2 |
| 3 | Steinbach | 15,829 | 25.59 km2 | 618.6 |
| 4 | Thompson | 13,678 | 20.79 km2 | 657.8 |
| 5 | Portage la Prairie | 13,304 | 24.68 km2 | 539.1 |
| 6 | Winkler | 12,660 | 17.00 km2 | 740.5 |
| 7 | Selkirk | 10,278 | 24.86 km2 | 413.4 |
| 8 | Morden | 8,668 | 16.37 km2 | 529.4 |
| 9 | Dauphin | 8,369 | 12.61 km2 | 670.7 |
| 10 | Flin Flon (Manitoba portion) | 4,991 | 13.87 km2 | 359.2 |
About the Author
Oishimaya is an Indian native, currently residing in Kolkata. She has earned her Ph.D. degree and is presently engaged in full-time freelance writing and editing. She is an avid reader and travel enthusiast and is sensitively aware of her surroundings, both locally and globally. She loves mingling with people of eclectic cultures and also participates in activities concerning wildlife conservation.
This page was last updated on January 31, 2019.
Citations
Your MLA Citation
Your APA Citation
Your Chicago Citation
Your Harvard Citation
Remember to italicize the title of this article in your Harvard citation.