The 10 Biggest Cities In Alberta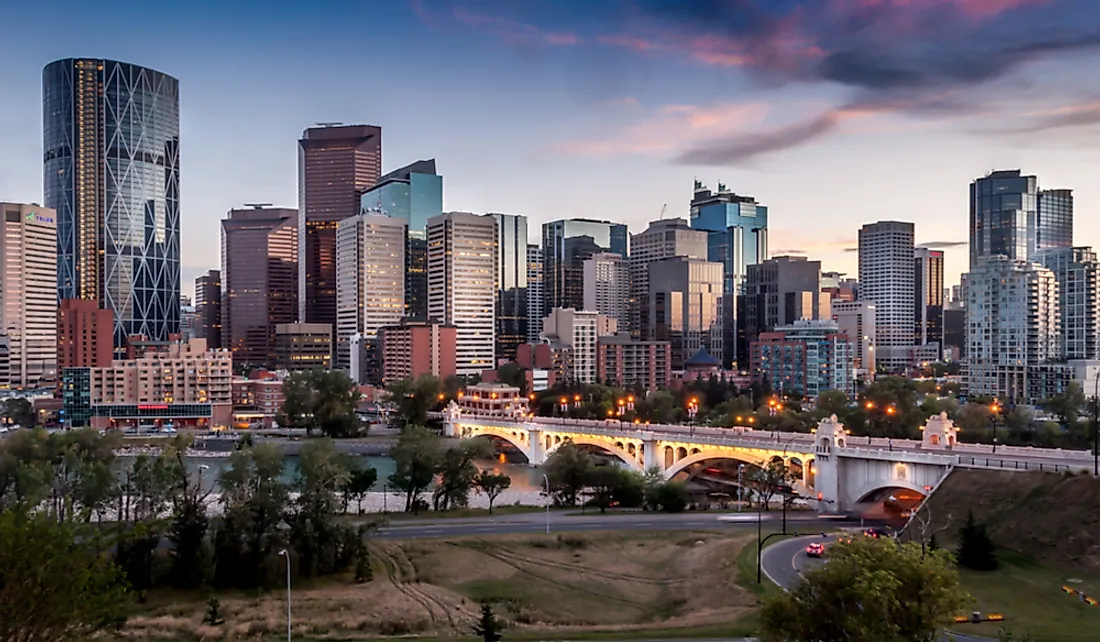 Alberta is a province in western Canada, located in the Prairies region of the country. It has a population of approximately 4,067,175 and encompasses an area of 660,000 square km, ranking as Canada's fourth most populous and sixth most extensive province. The province's economy is largely driven by the petroleum industry, as well as agriculture and technology.
Alberta classifies 18 places as "cities". The province's largest cities are Calgary, Edmonton, Red Deer, Lethbridge, and St. Albert.
Most Populated Cities in Alberta
1. Calgary
With a population of 1,239,220 in 2016, Calgary is Alberta's most populous city. It is located in the southern part of the province, near the confluence of the Elbow and Bow rivers. The city's economy is based on the energy, media, financial services, technology, manufacturing, and health and wellness industries. Calgary has a well-developed tourism sector and hosted the 1988 Winter Olympic Games. In 2015, the city was home to the highest number of millionaires per capita of any major Canadian city. Calgary is also ranked as one of the best cities to live in the world. 
2. Edmonton
Edmonton is Alberta's second biggest city and its provincial capital. The city had a population of 932,546 in 2016. Edmonton is located on the North Saskatchewan River and is a hub for culture, education, and politics. It is also a major center of Alberta's oil and gas industry. The city is home to the West Edmonton Mall, the biggest mall in North America, and Fort Edmonton Park, which is Canada's most extensive living history museum. A large number of festivals are hosted in the city throughout the year. 
3. Red Deer
With a population of 100,418 in 2016, Red Deer is the third most populous city in Alberta, although significantly smaller than Calgary and Edmonton. Red Deer is located at the center of the Calgary–Edmonton Corridor and is part of the Aspen parkland region, which is a transitional biome between boreal forest and prairie. Therefore, the land surrounding Red Deer is ideal for cattle, oil, and grain production, and the city serves as a major center for agricultural distribution and petrochemicals.
4. Lethbridge
Lethbridge is Alberta's fourth most populous city, with a population of 92,729 in 2016. It is southern Alberta's biggest city and is located on the Oldman River. Lethbridge serves as southern Alberta's major center of finance, transport, industry, and commerce. Nearly 50% of the city's workforce is employed in the education, health, hospitality, and retail sectors.
5. St. Albert
St. Albert is the fifth most populous city in Alberta, with a population of 65,589 in 2016. Originally founded as a Métis community, the city is located on the Sturgeon River, and is part of the Edmonton Metropolitan Region.
The Smallest City in Alberta
Wetaskiwin is Alberta's smallest city, with a population of only 12,655. The city is located 70 km south of Edmonton. Despite its small size, Wetaskiwin is home to numerous museums and attractions, including the Reynolds-Alberta Museum, Wetaskiwin and District Heritage Museum, Alberta Central Railway Museum, and Canada's Aviation Hall of Fame.
The 10 Biggest Cities in Alberta by Population
| Rank | City | Incorporation Date | Population (2016) | Land Area |
| --- | --- | --- | --- | --- |
| 1 | Calgary | January 1, 1894 | 1,239,220 | 825.56 km2 |
| 2 | Edmonton | October 8, 1904 | 932,546 | 685.25 km2 |
| 3 | Red Deer | March 25, 1913 | 100,418 | 104.73 km2 |
| 4 | Lethbridge | May 9, 1906 | 92,729 | 122.09 km2 |
| 5 | St. Albert | January 1, 1977 | 65,589 | 48.45 km2 |
| 6 | Medicine Hat | May 9, 1906 | 63,260 | 112.04 km2 |
| 7 | Grande Prairie | January 1, 1958 | 63,166 | 132.73 km2 |
| 8 | Airdrie | January 1, 1985 | 61,581 | 84.57 km2 |
| 9 | Spruce Grove | March 1, 1986 | 34,066 | 32.2 km2 |
| 10 | Leduc | September 1, 1983 | 29,993 | 42.44 km2 |