Politics
​States That Have Voted Democrat In The Most Consecutive U.S. Presidential Elections
With Democrats winning Minnesota every Presidential Election since 1976, the Land Of 10,000 Lakes takes the cake.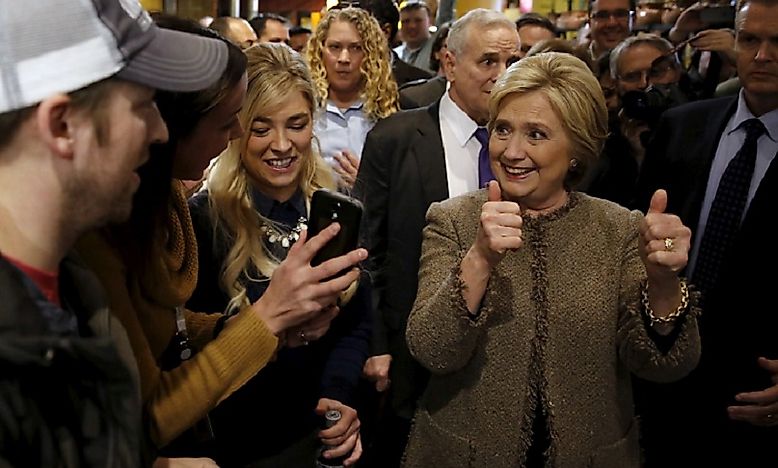 10. What's On The Line In Traditional Democrat Strongholds In 2016?
Perhaps one of the most divisive issues in the 2016 election are the issues of trade and immigration. These two platforms in particular have the potential to sway traditionally Democratic, white, working-class individuals to vote Republican in this election. This threat is strongest in the north and northeastern states, such as Rhode Island, Maine, Pennsylvania, and Ohio, though the latter is actually considered by some to be in the Midwest. These states' white, working-class voters haven't seen much benefit from globalization, and may very well be swayed by the rhetoric promoting its demise. 2016 Democratic U.S. Presidential nominee Hillary Clinton, however, hopes to keep these blue states blue in her bid for the White House.
9. Hawaii (7 Straight Elections)
The 2016 election will mark the 15th election cycle that Hawaii has participated in. Currently, the state is in a 7-cycle Democratic streak and polls suggest that will continue. The state has only ever voted Republican in 2 elections. The Democratic nominee has a lead of 19% as of August of 2016, with Hillary Clinton receiving 50% of the Hawaiian electorate's support against Donald Trump's 31%.
8. Massachusetts (7 Straight Elections)
Massachusetts is traditionally a strong Democratic state and provides 11 electoral votes. In the last 5 elections, the state voted an average of around 60% for the Democratic candidate. The 2016 election seems to be very similar. Polls suggest that between 55% and 62% support the Democratic nominee.
7. New York (7 Straight Elections)
New York is a heavy electoral state although it lost 2 votes based on the 2010 census and this election is worth 29. The state is considered a safe "blue" state and 2016 polls support that assumption. Results suggest that as much as 57% of the population will vote Democrat in the upcoming election.
6. Oregon (7 Straight Elections)
In Oregon, the race is a little tighter. Although the state is in a 7-year Democratic streak, many residents have turned toward third party support for this election. Democrats hold around 43% of the vote, down from over 50% in the last three elections. This is still however a 6% lead over Republicans.
5. Rhode Island (7 Straight Elections)
This state also has a 7 election cycles going Democratic, so strongly that Republicans have not been able to receive even 40% of the vote. This time however, due to a large white, working-class voter base, the Republican candidate has reached 36%. Democrats, however, still hold strong with 47% of popular support.
4. Wisconsin (7 Straight Elections)
In Wisconsin, the elections historically go to the Democratic candidate although the Republican has come close to 50% on several occasions. For 2016, it looks as if the Democratic candidate Hillary Clinton will take the electoral votes with between 41% and 52% support in the polls taken in Wisconsin.
3. Washington (7 Straight Elections)
Washington state is also a safe state for Democrats and this will not change in the 2016 election. Clinton holds a 16.5% lead over Trump with around 45% support.
2. Minnesota (10 Straight Elections)
This state has a longer streak than any other on the list. Voters here have chosen the Democratic nominee for president in 10 consecutive elections, since 1976. Nonetheless, the 2016 polls look close. The Democrats are leading with a 7.5% advantage, but that is with a plurality rather than a majority with a support level of around 43% to 45% of the Minnesotan population.
1. Can Hillary Keep The Ball Rolling?
The chances that Hillary Clinton will win the presidency seem high. Whether this is because Donald Trump has, in some people's eyes, consistently offending and upsetting the voting population, or because she has fought a hard campaign and proven her merit to voters, it is difficult to say. The polls suggest that Clinton has a strong hold in 14 states and Washington, D.C., which would afford her 186 of the 270 necessary electoral votes. An additional 8 states are leaning in favor of a Democratic president and if all goes according to predictions, she could walk away with 275 electoral votes. However, time remains until election day and, as history has shown, anything could happen.