Ruth Bader Ginsberg Biography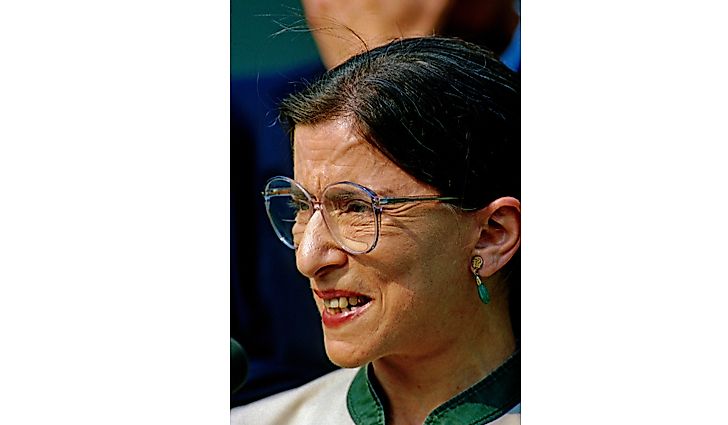 RBG is the nickname of Ruth Bader Ginsberg, one of the nine justices on the U.S. Supreme Court and the second woman to ever be on the court. She is also sometimes called the Notorious R.B.G., a play on the name of rapper Biggie Smalls, knows as the Notorious B.I.G. That nickname was coined by a woman on Tumblr after the case Shelby County v. Holder, which declared part of the Voting Rights Act unconstitutional. Ginsberg was a dissenting opinion in the case.
Early Life
Ginsberg's life started in 1933 in Brooklyn, New York, as Joan Ruth Bader. When she enrolled in school there were several other Joans in her class, so it was suggested that she go by Ruth. Ginsberg's mother was a staunch advocate for education, even though she'd dropped out of school at 15 to help fund her brother's advance to college. She supported her daughter's efforts, and Ginsberg performed well during her school years. Sadly, her mother died from cancer the day before her high school graduation.
At Cornell University Ginsberg excelled, ranking highest in her class and graduating with a bachelor of arts degree in Government. It was there that she met Martin Ginsberg, whom she married just after graduation. Her husband was drafted into the Army and the couple were stationed at Fort Sill, Oklahoma. As Martin fulfilled his military duties Ginsberg found work through the civil service. Her pay was cut when her boss learned she was pregnant with her first child, a daughter they named Jane.
Early Career Years
The Ginsberg's moved to Massachusetts where both attended Harvard Law School and she served as an editor for the law review. She later transferred to Columbia Law School, also working on the law review, and in 1959 she graduated tied for first place in her class.
Ginsberg's journey into employment was difficult, however, as there were so few female lawyers at the time and even fewer who were mothers. She eventually found work at Rutgers School of Law as an assistant professor and gave birth to a son named James. At Rutgers, she was the first woman to earn tenure as a professor. During this time she became intimately involved in the issue of gender discrimination and was founding counsel for the ACLU's Women's Rights Project. In that role she took cases that affected both men and women, proving herself a fair and balanced advocate for equality.
U.S. Court of Appeals
President Jimmy Carter appointed Ginsberg to the U.S. Court of Appeals in 1980 where she served until President Bill Clinton nominated her to the Supreme Court in 1993. Her Senate confirmation hearings were notable as being relatively peaceful and she was voted onto the court 96-3.
As a Supreme Court Justice Ginsberg has become well-known for her reasoned, practical application of the law. She works to follow precedent rather than stretch the constitution. Her habit of reading strongly written dissenting opinions from the bench has earned her a reputation as a formidable member of the court. In 2019 she is the oldest member of the court at age 86.