Jimmy Carter: 39th President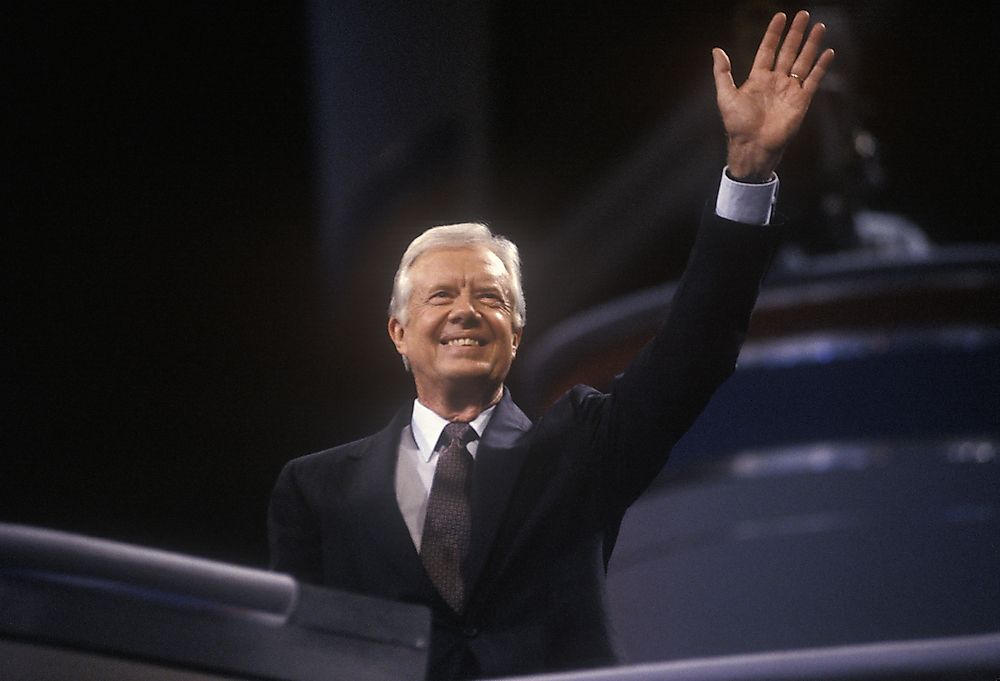 Jimmy Earl Carter, Junior, the 39th President of the United States, was born October 1st, 1924 in the small farming town of Plains, Georgia. He grew up in the nearby Archery community. Carter's father James Earl Carter Senior was a farmer and a businessman, and his mother Lillian Gordy Carter a registered nurse. Carter received his education in the public school of Plains, then attended Georgia Southwestern College, and the Georgia Institute of Technology. Afterwards, he received his bachelor of science from the United States Naval Academy in 1946, and married Rosalynn Smith. In the navy, Carter became a submariner and served in the Atlantic and Pacific fleets, rising to the level of lieutenant. Afterwards he took up graduate work at Union College in reactor technology and nuclear physics; and served as a senior officer of the precommissioning crew of the Seawolf, a second nuclear submarine.
Rise to Power
When Jimmy Carter's father died in 1953, he resigned from the naval commission and returned with his family back to Georgia. He began running Carter farms and with his wife, they operated Carter's warehouse, a seed and farm Supply Company in Plains. Carter got into various community leadership positions and served on county boards that supervised education, the hospital authority, and the library, according to Jimmy Carter Presidential Library and Museum. In 1962, he won an election to the Georgia Senate, but in 1966 lost the gubernatorial elections. But in 1970, Carter won the gubernatorial elections and became Georgia State Governor, on January 12th 1971. In 1974 he announced his candidacy for the Presidency of the United States, beginning a two year campaign that gained momentum with time. At the Democratic Convention, Carter was nominated on the first ballot, and chose Walter Mondale as his running mate. His aggressive campaigning and debating saw him defeat Republican President Gerald Ford by winning 297 electoral votes to Ford's 241. Carter served for four years before Ronald Reagan defeated him in the 1980 Presidential elections.
Contributions
Nationally, Carter addressed energy shortages by establishing a national energy policy and liberalizing petroleum prices to encourage production. He also instituted civil service reform to improve government efficiency according to the White House. Carter also deregulated the airline and trucking industries. He was also environmentally conscious and sought to protect the 103 acres of Alaskan lands and the expansion of the national park system. Carter also created the Department of Education, boosted the Social Security system, and appointed record numbers of blacks, women and Hispanics to government jobs. By the end of his term, according to the Labor Department he had created 10.3 million jobs. On foreign policy, Carter facilitated peace between Egypt and Israel in a Camp David agreement signed in 1978, by President Anwar Sadat of Egypt, and Israeli Prime Minister Menachem Begin. He was also successful in obtaining ratification of the Panama Canal treaties. Carter established full diplomatic relations with the People's Republic of China, and finalized negotiations of the SALT II nuclear limitation treaty with the Soviet Union.
Challenges
Carter's Presidency was also plagued with challenges especially in foreign affairs. His attempts to advocate for human rights were rebuffed by the Soviet Union. The Soviet invasion of Afghanistan also resulted in suspension of plans to ratify the SALT II nuclear treaty. The 1979 Iranian revolution which resulted in hostage taking of U.S. embassy staff portrayed Carter badly domestically, in the last 14 months of his administration. Nonetheless he continued on with the negotiations over the release of hostages. After his defeat to Ronald Reagan, 52 American hostages were released on the same day Carter left office on January 20th 1981, according, to the White House.
Legacy
Though Carter lost the 1980 Election, his post-Presidency efforts, have earned him many plaudits which culminated with a Nobel Peace Prize in 2002. He was awarded the prize for his decades of efforts to find peaceful solutions to international conflicts, advance democracy and human rights and promote economic and social development, according to the Nobel Foundation. Having assumed office when the previous Republican administration was in chaos due to Nixon scandal, Carter's Presidency is today viewed favorably according to the Miller Center. He is also credited as having begun the practice of Presidential mediation in disputes between nations. This is a precedent which every U.S President tries to emulate to date. Carter's stubborn independence and refusal to engage with congress, is credited for his 1980 loss. Also, his stand for the U.S boycott the 1980 Olympic Games in Moscow in response to the Soviet invasion of Afghanistan was not well received domestically.
Jimmy Carter, 39th President Of The United States
| Party Affiliation | Democrat |
| --- | --- |
| Birthplace | Plains, Georgia |
| Date of Birth | October 1st, 1924 |
| Date of Death | Still Living |
| Start of Term | January 20th, 1977 |
| End of Term | January 20th, 1981 |
| Vice President | Walter Mondale |
| Major Conflicts Involved In | Iran Hostage Crisis |
| Preceded by | Gerald Ford |
| Succeeded by | Ronald Reagan |
| First Lady | Rosalynn Smith Carter |