Rukhmabai Raut – India's First Practicing Female Doctor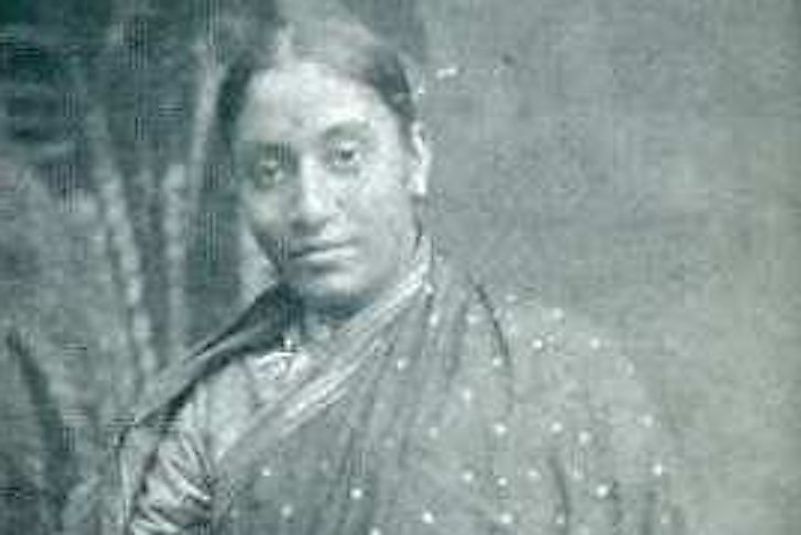 Rukhmabai Raut was the first woman to practice as a medical doctor in India. A child bride, Rukhmabai became a well-known activist for the consent of both parties to marriage contracts. A passionate opponent of child marriage, Rukhmabai's legal battles and persuasive writing played significant roles in raising India's age of consent.
Early Life
Rukhmabai was born in Mumbai in 1864. When her father died two years later, her mother, Jayantibai, became a widow at age 17. Many Indian women had to fight cultural norms to remarry. However, Jayantibai belonged to the suhtar (carpenter) caste that permitted the remarriage of widows. When Rukhmabai was 8 years old, Janyantibai married Dr. Sakharam Arjun. Because widows who remarried could not keep their former husband's property, Janyantibai gave her inheritance to her daughter.
Early Marriage
When Rukhmabai was 11, she was married to 19-year-old Dadaji Bhikaji in an arranged marriage. Dadaji had not yet demonstrated any capacity for study or a profession. For this reason, although it was the norm for the bride to join the groom's household, Rukhmabai's stepfather negotiated that Dadaji would join their house. The family hoped that the young man would eventually become a competent husband.
Six months later, Rukhmabai reached puberty. It was the custom to perform the sacrament of garbhadah, the consummation of the marriage, at puberty. However, Rukhmabai's stepfather, Dr. Sakharam, still considered it too early to consummate the marriage. This decision pleased Rukhmabai. It also kept her inheritance under the roof of her mother and stepfather. In contrast, Dadaji was growing increasingly frustrated. He felt entitled to the consummation of his marriage and to access to Rukhmabai's money.
Conflict
Girls in colonial India rarely studied past the age of 10, but Rukhmabai considered learning one of her greatest pleasures. She obtained books from a free church library to continue her studies on her own. With her mother, Rukhmabai also attended weekly meetings of Prarthana Samaj, a Hindu prayer society interested in religious and social reform. Dadaji, however, only showed interest in avoiding work and acquiring debts.
Dadaji now spent most of his time at the home of his maternal uncle, who was considered a bad influence. Dadaji's health declined, and he received treatment from Dr. Sakharam for symptoms of tuberculosis. For three years, Dadaji was unable to get out of bed.
Legal Battles
After 10 years of marriage, Dadaji's family began applying increasing pressure for Rukhmabai to come and live with her husband. Dr. Sakharam pointed out that Dadaji was not in a position to provide adequate living arrangements for his stepdaughter due to poverty and illness. The conflict escalated until Dadaji filed a suit against Rukhmabai, asking that the court "reinstate conjugal rights."
In a written response to the court, Rukhmabai made a unique argument: She asserted she had been too young to give consent when she married at age 11. Furthermore, she argued that not even the Hindu sacrament of marriage could obligate a woman to marry without consent. It was one of India's most widely watched cases of the century.
Letters from a Hindu Woman
On the morning of the first hearing of Bhikaji Dadaji v. Rukhmabai (1885), the Times of India published a notable letter. The letter, entitled "Infant Marriage and Enforced Widowhood," was signed by "A Hindu Lady." It could not have come at a better moment for Rukhmabai. In fact, the passionate letter would later be revealed to have been written by her.
Writing as "The Hindu Lady," Rukhmabai praised the writings of Behramji Malabari, a Parsi journalist. She described how Malabari's sensitivity to the plight of Hindu women stirred the nation and gave her hope. Rukhmabai called on readers to recognize the barbarism of early marriage. She emphasized that it separated young girls from their families, put them at the mercy of their in-laws, and effectively ended their education.
The letter also pointed out that marriage required no such sacrifices from married men. Finally, it called for a minimum age of 15 for brides and 20 for grooms.
Decisions and Resolutions
Justice Robert Hill Pinhey dramatically ruled in Rukhmabai's favor before even hearing from her lawyers. He declared, "It seems to me that it would be a barbarous, a cruel, a revolting thing to do to compel a young lady under those circumstances to go to a man whom she dislikes, in order that he may cohabit with her against her will."
However, Dadadji's legal team appealed the decision. In 1887, Justice Farran ruled in Dadadji's favor. The court gave Rukhmabai one month to move in with her husband. If she did not go, the punishment would be six months in jail. Rukhmabai said she would rather go to jail. Ultimately, Rukhmabai avoided jail because, in 1888, Dadaji agreed to dissolve the marriage for a fee.
Medical School
After the trials, Dr. Edith Pechey, one of the first female doctors from Britain, encouraged Rukhmabai to study medicine. Dr. Pechey and other supporters from around the world made it possible for Rukhmabai to get her MD at the London School of Medicine for Women. Then Rukhmabai returned to India to work at the Women's Hospital in Surat and became the first Indian woman to practice as a medical doctor in India.
Legacy
While Rukhmabai studied medicine, Malabari and others continued to push to end childhood marriage. They tried to further the inroads Rukhmabai's case had already made in public opinion. In 1889, the issue came to a head with the death of Phulmoni Dasi, an 11-year-old girl. Dasi died as a result of her 35-year-old husband's brutal efforts to consummate their marriage. Finally, in 1891, the legislature of British India passed the Age of Consent Act, raising the age of consent from 10 to 12.
Dr. Rukhmabai would practice medicine in India until her retirement in 1929 and organize for women's rights until her death in 1955. Google recognized her lifelong dedication to education, activism, and helping others in 2017 with a Google doodle.