Politics
Presidents Of Austria Since 1945
Since Nazi control of the country ended after World War II, these Presidents have been Austria's Heads of State.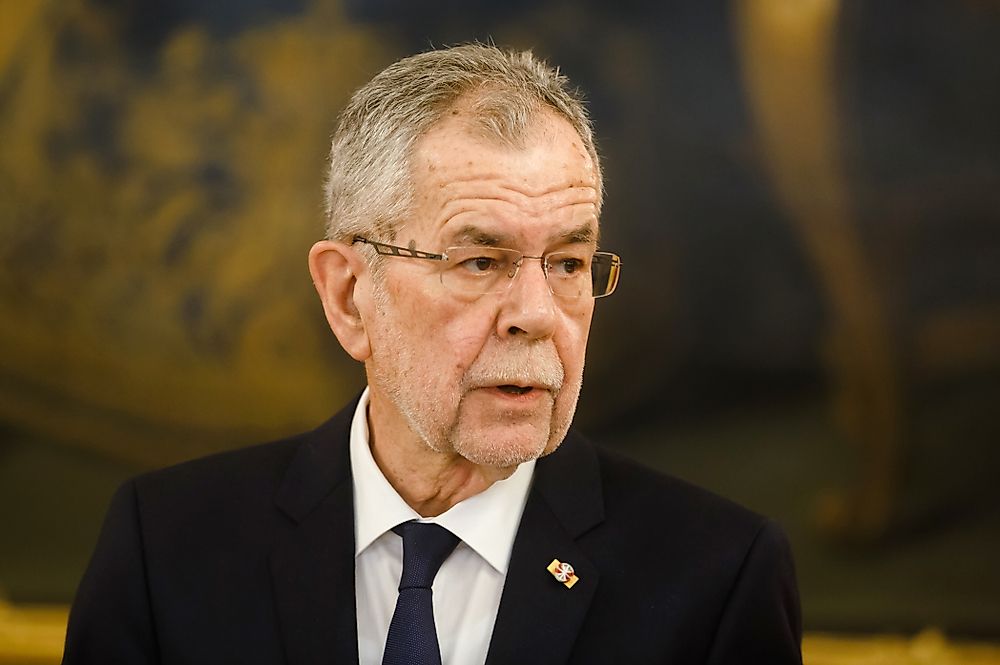 Austria, or the Federal Republic of Austria, is a landlocked country in central continental Europe and is bordered by eight countries: Switzerland, Czech Republic, Hungary, Germany, Slovenia, Italy, Liechtenstein, and Slovakia. Austria has a population of more than 8.7 million people. The federal head of state of Austria is the president, who acts on the advice of the chancellor and the cabinet. When the Austro-Hungarian Empire started to collapse, it led to Austria being part of a monarchy and emperor as the Austrian head of state. On October 21, 1918 a Provisional National Assembly was formed by the Imperial Council parliamentarians that were representing the empires of ethnically German Provinces. Later that year the state assumed the functions of head of state due to a resolution in the nation assembly. The president is the commander in chief of the armed forces of Austria and appoints the federal chancellor as well as judges, military officers, federal civil servants, and the governors of Austria's federal states. The president also represents the state in international relations.
Presidents Of Austria Since 1945
Karl Renner (1945-1950)
Karl Renner was born on December 14, 1870 in Vienna, Austria. He was a politician of the Socialist Party and was also known as Father of the Republic since he headed the first German-Austrian government and the first Austrian Republic between 1918 and 1919. Renner was the first Chancellor of Austria after World War II from April to December of 1945.
Theodor Korner (1951-1957)
Theodor Korner was born on April 23, 1873 in Komárom, Hungary. Korner attended military school in Hranice, and in 1894 he was already a lieutenant. He served in Zagreb and Croatia as an officer and received a promotion as a major in 1904. During the second World War, he was a fighter and a commander of the Italian army and in 1924 he resigned from the military. He became a member of parliament in 1924 through the Social Democratic Party and served as the chairman of the Federal Council of Austria between 1933 and 1934. Korner was nominated as a candidate for the presidency, when President Karl Renner died, and won the election. Korner was profoundly knowledgeable in military sciences and even wrote about military theory. He was the fifth president of Austria and a street in Vienna is named after him a the Theodor Korner Prize, an Austrian award for science and art, is also named after him.
Kurt Waldheim (1986-1992)
Kurt Waldheim was born on the December 21, 1918, in Sankt Andrä-Wördern near Vienna. He was a politician and a diplomat who became the 4th Secretary General of the UN between 1972 and 1981. From 1986 to 1992 he served as the 9th President of Austria. Before joining Politics, he served in the Austrian Army from 1936 to 1937 and joined the Vienna Consular Academy where he completed his studies in 1939. He was also awarded the highest Yugoslav Order by President Josip Broz Tito.
Alexander Van der Bellen (2017-Present)
Alexander Van der Bellen was born on January 18, 1944 in Vienna, Austria and is the newly elected president of Austria set to assume office on January 26, 2017. Bellen studied economics at the University of Innsbruck and received a doctorate degree in 1970. He was an economics professor at the University of Vienna before joining politics where he served as a member of the Austrian National Council representing the Austrian Green Party from 1994 to 2012. On December 13, 1997 he became their federal spokesperson, and in 1999 became chairman of the Greens Parliamentary Party in the National Council and was a leader of the parliamentary faction and also a leader of his party from 1997 to 2008. A week before he was to take office the results were annulled by the Constitutional Court of Austria, requiring the election to be re-done. During his 2016 presidential campaign, he argued that Europe should accept refugees who fled from war zones in Syria and elsewhere. In May 2004, he received the Grand Decoration of Honor in Gold with Star for services to the Austrian Republic.
Parliament of Austria
Austria is a parliamentary republic with a bicameral federal assembly or the Bundesversammlung, which is made up of the Federal Council or Bundesrat and the National Council or Nationalrat. The federal Council has 62 seats whose members are appointed by the state parliaments and serve between five and six years in office. The National Council has 183 seats, and the members are directly elected by a representative vote, whose members serve for a term of five years.
Presidents Of Austria Since 1945
| Presidents of Austria Since 1945 | Term in Office |
| --- | --- |
| Karl Renner | 1945-1950 |
| Theodor Körner | 1951-1957 |
| Adolf Schärf | 1957-1965 |
| Franz Jonas | 1965-1974 |
| Rudolf Kirchschläger | 1974-1986 |
| Kurt Waldheim | 1986-1992 |
| Thomas Klestil | 1992-2004 |
| Heinz Fischer | 2004-2016 |
| Alexander Van der Bellen (Incumbent) | 2017-Present |
About the Author
Benjamin Elisha Sawe holds a Bachelor of Arts in Economics and Statistics and an MBA in Strategic Management. He is a frequent World Atlas contributor. 
This page was last updated on November 7, 2019.
Citations
Your MLA Citation
Your APA Citation
Your Chicago Citation
Your Harvard Citation
Remember to italicize the title of this article in your Harvard citation.