The events featured in the Winter Olympics are characterized by speed, unthinkable moves, and maneuvers that push the human anatomy to the brink. Due to their nature, some events experience more accidents than others. To observers, events such as skeleton sledding and speed skating seem dangerous, but they are some of the events with the lowest accident rates. Some events have a high frequency of crashes but with low severity, and vice versa. The sports with the highest crash rates include alpine skiing, cross-country skiing, Nordic combined, bobsleigh, and biathlon.
Olympic Sports With The Highest Crash Rates
Alpine Skiing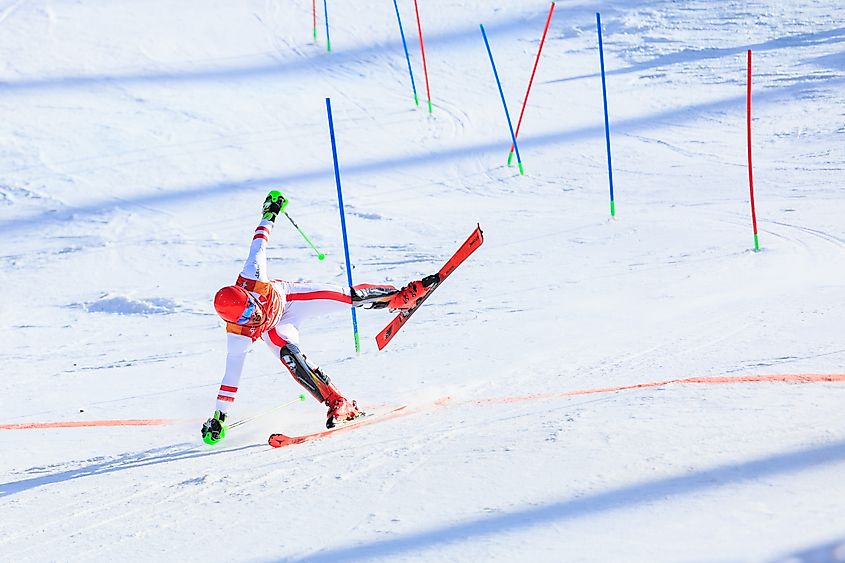 Alpine skiing experiences a greater number of crashes than any other sport in the Olympics. More than a quarter of the participants (29.6%) do not cross the finish line. Alpine skiing crashes are frequent, and sometimes with serious consequences. On January 29, 1994, Austrian skier Ulrike Maier broke her neck and died after being involved in an accident during the 1994 Winter Olympics in Norway. Three months before the 2018 Winter Olympics, French Skier David Poisson was killed in a training accident in Canada.
Cross-Country Skiing
Cross-country skiing comes in second with 4.5% of those who start failing to complete due to accidents. It was introduced during the first Winter Olympics in France, but it was not until 1954 that women were allowed to compete. Unlike alpine skiing, cross-country skiing involves a skier using his own propulsion over a long distance instead of depending entirely on gravity. In the 2018 cross-country skiing event, Andrey Larkov and Denis Spitsov collided with Simen Hegstad Krueger from Norway, and the three athletes had to be treated.
Luge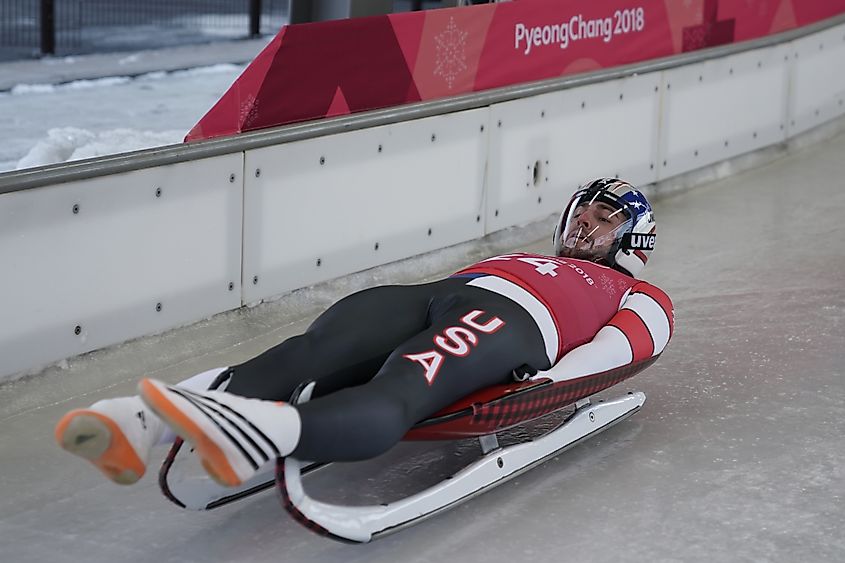 Luge ranks third with 3.6% of the participants dropping out due to accidents. The sport involves an athlete sliding downhill face up and feet first using a sled. The athletes participate as a single participant or a pair. From a spectator's view, luge seems a dangerous sport due to the turns and speed maneuvered by the athletes. On Feb 12, 2010, luger Nodar Kumaritashvili of Georgia died in a training session hours before the 2010 Vancouver Olympics.
Nordic Combined
Nordic combined is a winter sport that combines both ski jumping and cross-country skiing. Ski jumping involves an athlete accelerating downhill towards a jumping ramp before taking off at a take-off table and landing on a land hill. They are awarded points based on how far and high they jump and the style they display on air. On average, 2.6% of those who engage in Nordic combined do not make it to the finish line.
Major Accidents At The Olympics
In 2010 Luge athlete Nodar Kumaritashvili died after being involved in a training accident just before the 2010 Winter Olympics. In 1992, skier Nicolas Bochatay collided with a cleaning vehicle and died instantly hours before competing in the event's final competition. In the 1964 Innsbruck Olympics, Australian skier Ross Milne and luger Kazimierz Kay-Skrzypeski of Britain died when they were involved in deadly accidents while participating in the events.