Mother Teresa - Saint Teresa Of Calcutta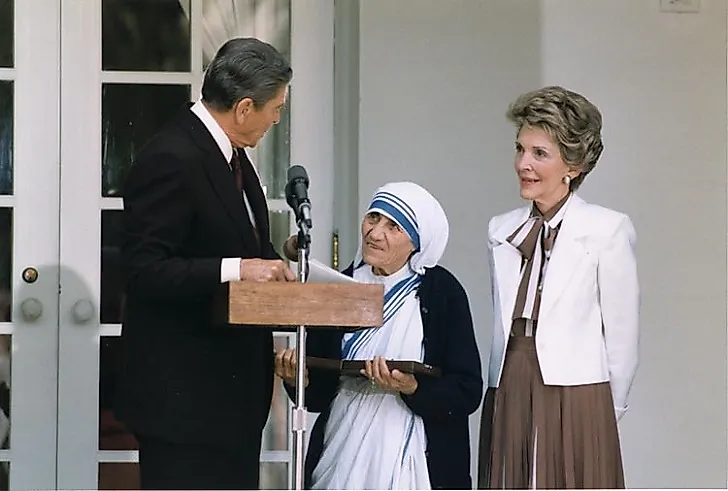 Mother Teresa was a Catholic nun and missionary who came to be known all around the world. She was born August 26, 1910, under the name Anjeze Gonxhe Bojaxhi in what is now Skopje, Macedonia. Her family members were devote and charitable Catholics from an Albanian background. As a child Anjeze attended both convent and state-supported schools. At the age of 18 she made the decision to devote her life to the church.
Early Years
In 1928, the young woman traveled to Dublin, Ireland where she joined Sisters of Loreto and took the name Sister Mary Teresa. Then, in 1931, after moving to India, the young nun took her First Profession of Vows. She began working with the Sisters of Loreto as a teacher at Saint Mary's High School For Girls and ministered to some of the most disadvantaged girls in the local community.
Sister Teresa took her Final Profession of Vows in 1934. These included committing herself to living a life guided by the principles of chastity, poverty, and obedience. At this time the nun took on the title of Mother Teresa. Despite becoming principal of Saint Mary's High School in 1944 Mother Teresa's life was destined to change radically when in 1946 the nun claimed that Christ had spoke to her and directed her abandon her educational work and relocate to Calcutta in order to serve some of the most poverty stricken, disenfranchised, and sick people in the world. Two years later after securing permission to leave the school and her convent Mother Teresa embarked on what was to become her lifelong mission in Calcutta where she opened up a school and a hospice.
Order of the Missionaries of Charity
In 1950, Mother Teresa founded the congregation known as the Order of the Missionaries of Charity. As more and more members joined the order and donations increased the Missionaries of Charity were able to open a number of much needed community resources including an orphanage, family clinic, leper colony, nursing home as well as several mobile health clinics. In 1971 Mother Teresa's houses of charity gained international status when a facility opened its doors in New York City. Years later in 1985 the renown nun ventured back to the Big Apple in order to open a home called Gift of Hope which was dedicated to those suffering from HIV and AIDS. Despite its humble beginnings Order of the Missionaries of Charity in 1997 membership had swelled to over 4,000 along with throngs of volunteers. The order was also responsible for establishing 610 foundations in 123 nations worldwide.
Awards
Among the numerous accolades bestowed upon the Order of the Missionaries of Charity, and upon Mother Teresa herself, included the 1965 Decree of Praise given out by Pope Paul VI, the Jewel of India, Jawaharlal Nehru Award for International Understanding, Ramon Magsaysay Peace Prize, 1979's Nobel Peace Prize, and the Soviet Union's Gold Medal of the Soviet Union's Peace Committee.
Death, Beatification, and Canonization
After a long and tireless career of caring for the poorest of the poor, Mother Teresa died in 1997 at the age of 87. She had been suffering from a number of serious medical issues. In 2003, the famous nun was beatified as "Blessed Teresa of Calcutta" by Pope John Paul II in a ceremony at Saint Peter's Square, Vatican City. Mother Teresa was canonized in September 16th, thus officially becoming of saint.
1962
| Mother Teresa (Anjeze Gonxhe Bojaxhi) | Saint Teresa of Calcutta |
| --- | --- |
| Born | August 26th, 1910 in present-day Skopje, Macedonia |
| Died | September 5th, 1997 in Calcutta, India |
| Beatified | October 19th, 2003 at Saint Peter's Square, Vatican City |
| Canonized | September 4th, 2016 at Saint Peter's Square, Vatican City |
| Organizations | Sisters of Loreto; Missionaries of Charity |
| Ramon Magsaysay Peace Prize Recipient | |
| Nobel Peace Prize Recipient | 1979 |