World Facts
The Most Extreme Points of Canada
Cape Columbia, Ellesmere Island is the northernmost point in Canada.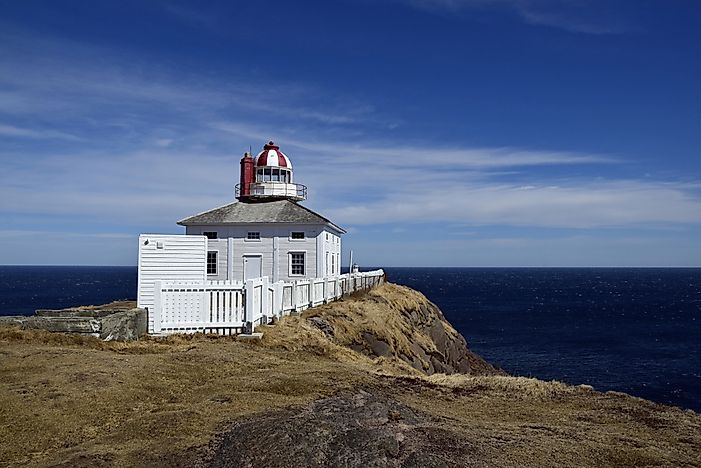 Canada is the second largest country in the world by area at 9,984,670 km2. The following is a list of extreme points in Canada's geography. This includes Canada's highest point, lowest point, northernmost point, southernmost point, westernmost point, and easternmost point.
The Most Extreme Points in Canada
Highest Point: Mount Logan, Yukon
The highest point in Canada's geography is Mount Logan, which has a height of 19,551 feet (5,959 meters). After Denali (Alaska, USA), Mount Logan is the second highest peak in North America. Located in southwestern Yukon's Kluane National Park Reserve, its base is also known to have the largest circumference amongst all non-volcanic mountains in the world. Its height is gradually increasing due to the active uplift of tectonics. The peak is named after Canadian geologist Sir William Edmond Logan.
Lowest Point: Great Slave Lake Bottom, Northwest Territories
Great Slave Lake is the deepest lake in Canada, as well as North America. Additionally, it is the second largest lake in Canada's Northwest Territories, after Great Bear Lake. With a depth of 614 meters and a width that ranges between 20 and 203 kilometers, Great Slave Lake is the tenth largest lake in the world. Its volume is between 1,070 km3 and 1,580 km3. Some of its major inflows are Slave River, Talston River, and Hay River, while the Mackenzie River is the lake's greatest outflow.
Northernmost Point: Cape Columbia, Ellesmere Island, Nunavut
Cape Columbia is located on Canada's Ellesmere Island, which is in the Qikiqtaaluk Region of Nunavut. The cape also is the world's northernmost point outside of Greenland. The distance from Cape Columbia to the North Pole is about 769 kilometers. According to historical records, the first European to reach Cape Columbia was Pelham Aldrich in 1876, a lieutenant with British explorer George Nares' expedition.
Southernmost Point: Middle Island, Ontario
If you travel 4,640 kilometers south from Cape Columbia, you will arrive at a point in Middle Island, Ontario. Middle Island is small, with an area of only 18.5 hectares. The island is located south of Pelee Island, in Lake Erie. Middle Island is the southernmost piece of land in Canada. Middle Island is designated as a conservation area and lacks any permanent settlements. Middle Island was once listed among 38 sites that are critically unprotected by Carolinian Canada Coalition, a conservation group which concentrated its efforts in preserving Ontario's southern forest remnants.
Westernmost Point: Boundary Peak 187, Yukon

Yukon is the smallest and westernmost and smallest of Canada's three federal territories (the other two being Northwest Territories and Nunavut). It also has the smallest population of any Canadian province or territory. The coast of Lincoln Sea in the Arctic Ocean, towards the west, ends with Cape Columbia. This is where the westernmost point of Canada is found. Boundary Peak 187 is approximately 13,071 feet high (or 3,984 meters) and is regarded as Canada's westernmost point.

Easternmost Point: Cape Spear, Newfoundland

Canada's easternmost point is found at Cape Spear, Newfoundland, near the province's capital of St. John's. Aside from the Danish-controlled Greenland, Cape Spear is also the easternmost point in North America. Cape Spear is known for its lighthouse, the oldest surviving lighthouse and second lighthouse built in Newfoundland. In operation since September 1836, it has since been designated a National Historic Site of Canada.
Canadian Geography Facts
From Canada's northernmost point at Cape Columbia, Ellesmere Island, Nunavut to its southernmost point at Middle Island, Ontario is a distance of approximately 4,634 km. From Canada's easternmost point at Cape Spear, Newfoundland to its westernmost point at Boundary Peak 187, Yukon is a distance of approximately 5,514 km. In addition, Canada has the longest coastline in the world with approximately 243,042 km on three oceans - the Pacific to the west, Arctic to the north, and Atlantic to the east.
The Most Extreme Points of Canada
| Rank | Extremity | Location |
| --- | --- | --- |
| 1 | Highest Point | Mount Logan, Yukon |
| 2 | Lowest Point | Great Slave Lake Bottom, Northwest Territories |
| 3 | Northernmost Point | Cape Columbia, Ellesmere Island, Nunavut |
| 4 | Southernmost Point | Middle Island, Ontario |
| 5 | Westernmost Point | Boundary Peak 187, Yukon |
| 6 | Easternmost Point | Cape Spear, Newfoundland |