Tallest Mountains In Canada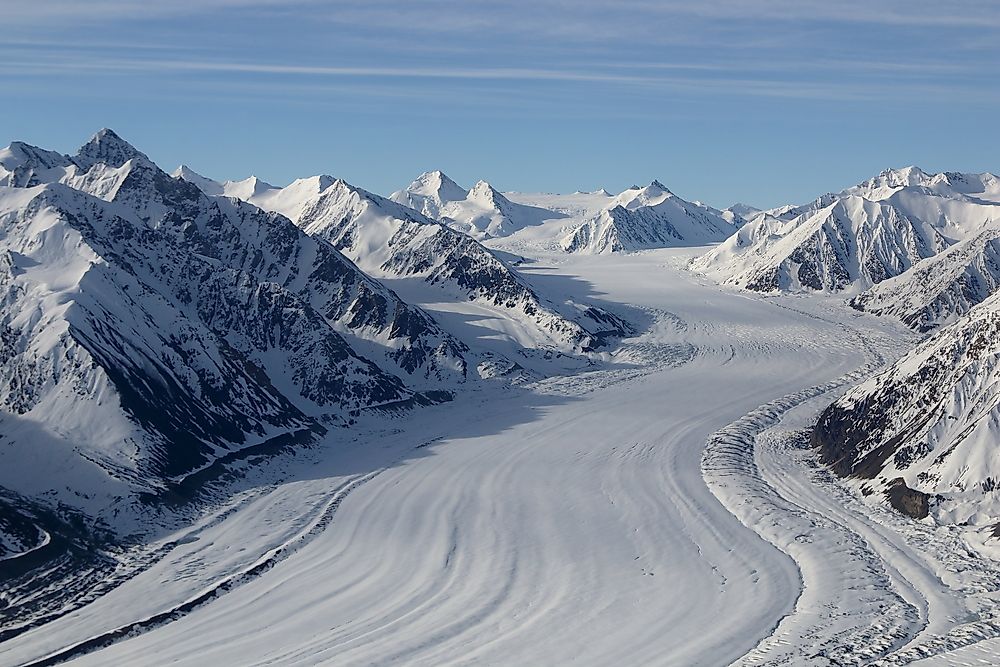 Tourists and thrill-seekers from around the world flock to the Canadian Rockies attracted to the towering peaks and rugged beauty of Banff and Jasper National Park. But further north, Canada has mountains that are higher still.
Saint Elias Range: Bearer Of Canada's Top Summits
Canada's top ten summits can all be found in the Saint Elias Range, the highest coastal mountain range on earth, located in southeastern Alaska, southwestern Yukon and the northwestern corner of British Columbia. The Saint Elias mountain range is the steepest on Earth, rising from sea level to upwards of 18,000 feet in just six miles. The active tectonic activity also makes it one of the fastest-growing mountain ranges in the world, rising three to four millimeters each year. That means these giants are only getting larger!
Mount Logan
Towering 19,551 feet above sea level, Mount Logan is the highest Canadian mountain and the second highest in North America, after Denali. Its base circumference is the largest of any non-volcanic mountain on Earth and is topped by eleven peaks with elevations of over 16,400 feet.
Mount Saint Elias
Both Canada and the United States claim Mount Saint Elias as their own. Straddling the border between Alaska and the Yukon Territory, this mountain is the second-highest in both countries. Mount Saint Elias possesses an immense vertical relief, rising from sea level at Icy Bay to its 18,009-foot summit in just ten miles.
Mount Lucania
Mount Lucania and Mount Steele, the third and fifth highest mountains in Canada, reach elevations of 17,257 and 16,470 feet above sea level. These mountains are connected by a long ridge, which was used during the first successful ascent of both mountains in the 1930s.
Mount Logan
Despite its lowly status as a satellite peak of Mount Logan, King Peak is Canada's fourth highest mountain and the ninth highest one North America. Its peak is unmistakable: a sharply-defined pointed pyramid towering 16,470 feet above sea level.
Mount Wood
With an elevation of 15,945 feet above sea level, Mount Wood is the seventh highest mountain in Canada. This heavily glaciated mountain is one of the few in this area that can be seen all the way from the Donjek River Bridge on the Alaska Highway.
Mount Vancouver
Nowhere near the Canadian city of the same name, Mount Vancouver is located at the top of the Alaska panhandle and the southwestern corner of Yukon Territory. The southernmost of its three peaks sits directly on the international border, while its tallest summit, 15,787 feet above sea level, lies squarely in Canada.
Mount Slaggard
Buried deep within the Ice Field ranges, Mount Slaggard was one of the last Saint Elias mountains to be ascended. Its south summit holds the record for Canada's last unclimbed peak, with the first ascent in 1997. Mount Slaggard has an elevation of 15,558 above sea level.
Mount Fairweather
Rising 15,325 feet above sea level, Mount Fairweather is the highest mountain in British Columbia and part of a UNESCO World Heritage Site. Although two-thirds of the mountain lie in Alaska, the summit is in British Columbia. Captain James Cook named it so for the fine weather he experienced during his expedition; however, Mount Fairweather typically sees little fair weather, with frequent snow storms and precipitous temperature fluctuations during most of the year.
The Tallest Mountains In Canada
| Rank | Highest Mountains in Canada | Elevation |
| --- | --- | --- |
| 1 | Mount Logan | 19,541 feet |
| 2 | Mount Saint Elias | 18,009 feet |
| 3 | Lucania | 17,257 feet |
| 4 | King Peak | 16,972 feet |
| 5 | Mount Steele | 16,470 feet |
| 6 | Mount Wood | 15,945 feet |
| 7 | Mount Vancouver | 15,787 feet |
| 8 | Mount Slaggard | 15,558 feet |
| 9 | Fairweather Mountain | 15,325 feet |
| 10 | Mount Hubbard | 14,951 feet |