World Facts
Most Expensive Countries for Airline Travel
These numbers were calculated based on a travel study done by kiwi.com and include both domestic and international travel prices.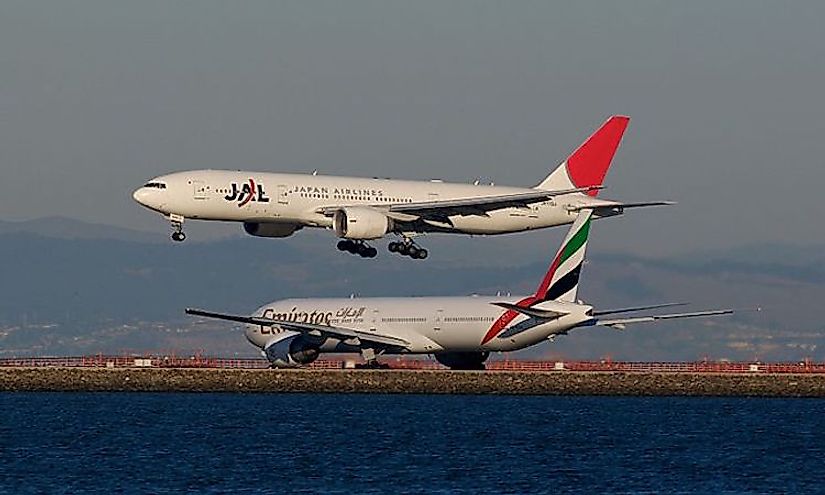 Air travel is gaining popularity around the world and across many big cities. Air travel involves the use of helicopters, airplanes, jets and anything that can sustain flight. Air travel is classified into domestic or national and international flights. Flights within a country are referred to as the domestic flights while a flight from one country to another is referred to as the international flight. Air travel is the most expensive form of travel in most countries around the world. Flight services are offered by airline companies licensed to work in a country. Airline companies charge different rates for domestic flights making it cheaper to travel in one country and very expensive to travel in another. According to the recent findings by kiwi.com countries have been ranked according to the destinations which offer cheapest and most expensive domestic and international flights.
The Aviation Price Index
Airline flight prices are calculated using a yield management which results in complex pricing algorithm. There are different ways of getting fair domestic and international flight prices including traveling during low peak seasons or at specific times of the day. However, this mode of getting cheap flight ticket is purely based on trial and luck and might not pay off. Factors such as oil prices and popularity of the travel route have a profound effect on the cost of travel. Aviation price index, therefore, lists the countries which offer the most and the least cost of flight. In compiling aviation price index, domestic and international flights of 75 most frequented countries in the world were considered.

How Was The Price Calculated?
An average ticket cost per 60 miles of travel was calculated using the cost of flight during the on-off season for over one million travelers. The study considered both the low-cost and legacy airlines in coming up with the conclusion. The domestic flight prices were based on the average cost from the country's main city to about five major cities within the country or to the cities in the neighboring countries without domestic flight. The international flight prices were based on the average cost the international airport in a country to other international airports. All the flights were considered on the travel date on and off season.
Which Are The Most Expensive Countries For Air Travel?
According to the findings, the most expensive country to travel in is the United Arabs Emirates. The domestic prices in UAE averaged $181.38 per 60 miles on low-cost carriers and $220.36 for full-service flights while the international flights averaged $9.8 on low cost and $11.28 full service. The average cost of air travel in the country averaged $105.71 per 60 miles. Finland was the second most expensive country to fly in with a mean cost of $50.98 per 60 miles with a low-cost average of $39.61 and $130.80 for the full-service carriers. Qatar came in third among the most expensive countries to fly in with an average low cost of $64.36 per 60 miles and $85.31 on full carriers for the domestic flight while international flights recorded averages of $18.75 and $33.04 on low-cost and full-service carriers respectively. The country averaged a total cost of $50.37.
Significance Of The Aviation Price Index
The aviation price index suggests that flight prices have dropped significantly because of the increased competition. Understanding the flight prices enable travelers to plan adequately for their flights and also know which countries to travel when on budget. It also helps travelers to understand whether or not they will gain by delaying their flights to an off peak season or day in a given country.
What is the World's Most Expensive Country for Airline Travel?
The United Arab Emirates has the world's highest cost of airline travel, costing 105.71$ per mile.
Most Expensive Countries for Airline Travel
| Rank | Country | Cost/60 mi ($) |
| --- | --- | --- |
| 1 | United Arab Emirates | 105.71 |
| 2 | Finland | 50.98 |
| 3 | Qatar | 50.37 |
| 4 | The Netherlands | 42.35 |
| 5 | Japan | 41.48 |
| 6 | Canada | 38.71 |
| 7 | Belgium | 38.07 |
| 8 | Denmark | 37.86 |
| 9 | Austria | 36.91 |
| 10 | Switzerland | 36.84 |
| 11 | Solomon Islands | 36.06 |
| 12 | Australia | 35.69 |
| 13 | Serbia | 34.16 |
| 14 | Cyprus | 33.18 |
| 15 | Lebanon | 32.32 |
| 16 | Venezuela | 32 |
| 17 | Bolivia | 28.73 |
| 18 | Turkey | 28.51 |
| 19 | Oman | 28.5 |
| 20 | Fiji | 25.6 |
About the Author
John Misachi is a seasoned writer with 5+ years of experience. His favorite topics include finance, history, geography, agriculture, legal, and sports. 
This page was last updated on April 25, 2017.
Citations
Your MLA Citation
Your APA Citation
Your Chicago Citation
Your Harvard Citation
Remember to italicize the title of this article in your Harvard citation.