Society
Mormon Population By State
Where do most Mormon Americans live?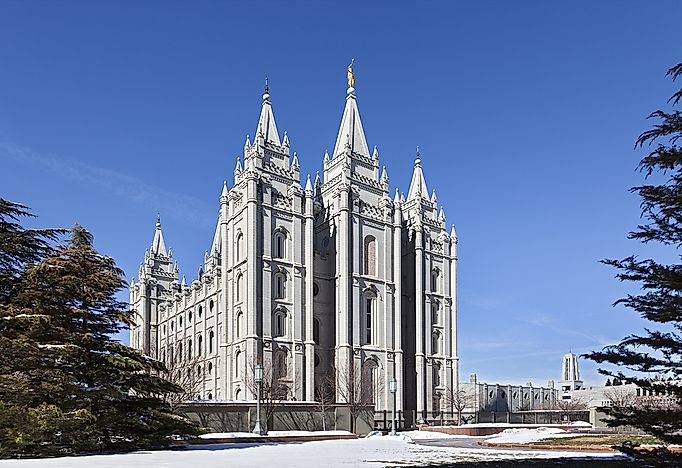 Mormonism is a world religious and cultural movement. It was founded in 1830 by Joseph Smith. People who subscribe to Mormonism are called Mormons or the Latter Day Saints. They usually gather in temples every Sunday for their worship services. The doctrines of the Mormons are derived from their instruction book which is the Book of Mormon. Mormons consider themselves Christians because they share similar teachings. The highest population of Mormons is found in Utah.
Mormon population in America by State
The first three Mormon dominated states are Utah, Idaho, and Wyoming States. The rest of the states have Mormon populations of less than 11% of their total populations. They include Nevada (6.21%), Washington (3.94%), Oregon (3.76%), and California (1.97%). The lowest number of Mormons is found in New Jersey State. The percentage of Mormons in NJ are 33, 478 which is 0.37% of its total population.
Utah is dominated by Mormons who make up 67.70% of its population. This proportion translates to a number of 2,065,808 Mormons. Utah State has 16 Mormon temples. The headquarters of the Latter Day Saints church in Utah is Salt Lake County. Despite Mormonism dominating Utah, there are other religions which also thrive in the area. They include Greek Orthodox and Catholics. The religious dominance of Mormons in Utah State extends to the legislature where almost 90% are Mormons.
The 2nd largest Mormon population in America is found in Idaho. The number of Mormons is approximately 444,614 people which are about 26.42% of the total population. There are 4 temples used by Mormons in Idaho. The Mormon influence is mostly in the Eastern parts of Idaho.
Wyoming has the 3rd highest numbers of Mormons in America. The history of Mormons in Wyoming dates back to 1900 when establishments were set up in the towns of Byron and Cowley. It is also around the same time that the Mormons set camp in Utah and Idaho. Today, there are 67,505 Mormons in Wyoming. They represent 11.53% of the state's population. Wyoming has 157 congregations with one mission camp.
Comparison Between Mormonism and Christianity
The similarity between Mormonism and Christianity is that in both cases baptism is by immersion. One of the differences is that Mormons do not agree with the Christians' teaching on the presence of the Trinity. Furthermore, Mormons believe that God created the world using existing matter and not out of nothing as the Christians believe. The third difference is that Mormons believe that the 2nd coming of Christ will be in the United States. However, Christians believe that when Jesus Christ appears the 2nd time, he will appear in the heavens and everyone will see him. Hence, in as much as the two religions look similar, they have several differences which clearly distinguish them from each other.
Mormon Population By State
| Rank | State | Estimated Mormon Population | Total State Population | Percentage of Mormon Residents |
| --- | --- | --- | --- | --- |
| 1 | Utah | 2,065,808 | 3,051,217 | 67.70% |
| 2 | Idaho | 444,614 | 1,683,140 | 26.42% |
| 3 | Wyoming | 67,505 | 585,501 | 11.53% |
| 4 | Nevada | 182,617 | 2,940,058 | 6.21% |
| 5 | Arizona | 423,056 | 6,931,071 | 6.10% |
| 6 | Hawaii | 73,927 | 1,428,557 | 5.17% |
| 7 | Montana | 50,145 | 1,042,520 | 4.81% |
| 8 | Alaska | 33,810 | 741,894 | 4.56% |
| 9 | Washington | 287,433 | 7,288,000 | 3.94% |
| 10 | Oregon | 153,936 | 4,093,465 | 3.76% |
| 11 | New Mexico | 69,617 | 2,081,015 | 3.35% |
| 12 | Colorado | 151,884 | 5,540,545 | 2.74% |
| 13 | California | 771,464 | 39,250,017 | 1.97% |
| 14 | North Dakota | 11,256 | 757,952 | 1.49% |
| 15 | Nebraska | 24,765 | 1,907,116 | 1.30% |
| 16 | Kansas | 37,632 | 2,907,289 | 1.29% |
| 17 | Texas | 348,130 | 27,862,596 | 1.25% |
| 18 | Oklahoma | 47,349 | 3,923,561 | 1.21% |
| 19 | South Dakota | 10,450 | 865,454 | 1.21% |
| 20 | Missouri | 70,389 | 6,093,000 | 1.16% |
| 21 | Virginia | 95,198 | 8,411,808 | 1.13% |
| 22 | Arkansas | 30,694 | 2,988,248 | 1.03% |
| 23 | West Virginia | 16,981 | 1,831,102 | 0.93% |
| 24 | Iowa | 28,157 | 3,134,693 | 0.90% |
| 25 | North Carolina | 84,902 | 10,146,788 | 0.84% |
| 26 | Georgia | 84,415 | 10,310,371 | 0.82% |
| 27 | Maine | 10,978 | 1,331,479 | 0.82% |
| 28 | South Carolina | 40,216 | 4,961,119 | 0.81% |
| 29 | Kentucky | 34,954 | 4,436,974 | 0.79% |
| 30 | Alabama | 37,237 | 4,863,300 | 0.77% |
| 31 | Florida | 154,921 | 20,612,439 | 0.75% |
| 32 | Tennessee | 50,030 | 6,651,194 | 0.75% |
| 33 | Mississippi | 21,849 | 2,988,726 | 0.73% |
| 34 | Vermont | 4,548 | 624,594 | 0.73% |
| 35 | Maryland | 43,534 | 6,016,447 | 0.72% |
| 36 | Indiana | 44,669 | 6,633,053 | 0.67% |
| 37 | New Hampshire | 8,668 | 1,334,795 | 0.65% |
| 38 | Louisiana | 29,934 | 4,681,666 | 0.64% |
| 39 | Minnesota | 32,719 | 5,519,952 | 0.59% |
| 40 | Delaware | 5,400 | 952,065 | 0.57% |
| 41 | Ohio | 61,490 | 11,614,373 | 0.53% |
| 42 | Wisconsin | 26,392 | 5,778,708 | 0.46% |
| 43 | Illinois | 57,109 | 12,801,539 | 0.45% |
| 44 | Michigan | 44,662 | 9,928,300 | 0.45% |
| 45 | Connecticut | 15,834 | 3,576,452 | 0.44% |
| 46 | New York | 81,741 | 19,745,289 | 0.41% |
| 47 | District of Columbia | 2,758 | 681,170 | 0.40% |
| 48 | Massachusetts | 27,204 | 6,811,779 | 0.40% |
| 49 | Pennsylvania | 51,666 | 12,784,227 | 0.40% |
| 50 | Rhode Island | 4,070 | 1,056,426 | 0.39% |
| 51 | New Jersey | 33,478 | 8,944,469 | 0.37% |