Largest Landfills, Waste Sites, And Trash Dumps In The World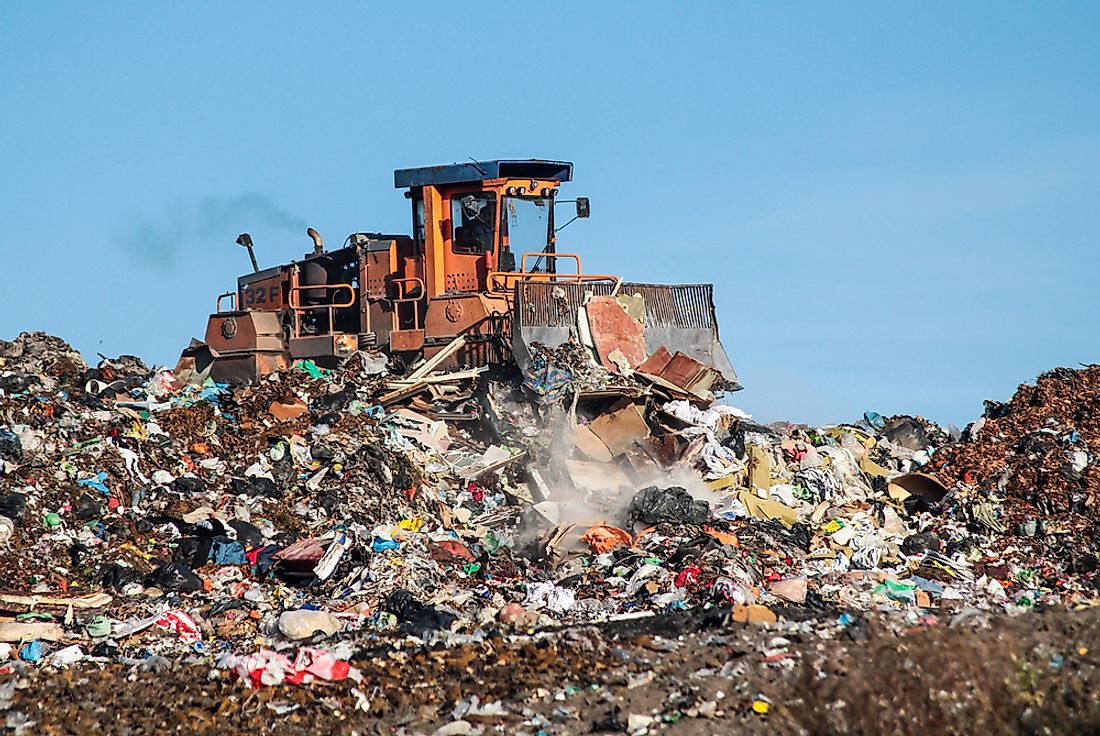 Where there are humans, there is trash. Futhermore, as human populations grow and affluent societies become increasingly wasteful, rubbish heaps grow as well, at times reaching unbelievable proportions and scales. While some are efficient, modern, and advanced, others are unsanitary and serious environmental and human health hazards. In terms of sheer area covered, we have listed some of the largest landfills, trash dumps, and waste disposal sites in the world
10. Xinfeng, Guangzhou, China (227 acres)
Guangzhou is China's largest city, with a population of about 14 million people. In any given day, the city generates over 8,000 tons of waste, with 3,800 tons coming from households and the rest from institutions. 7,000 tons of the waste generated daily is taken to the 230-acre Xinfeng landfill, constructed and operated by Veolia, a French transnational corporation. This landfill is one of the largest in Asia, according to BioCycle Global, and was built at a cost of $100 million USD. The site began operating in 2003, and it was constructed to have a useful life of 20 years. Xinfeng landfill has a leachate collection system, plus treatment and methane recovery systems. Its disposal capacity is 1.765 million tons, according to BioCycle Global.
9. West New Territories, Hong Kong (272 acres)
On a daily basis, since 2007 Hong Kong has generated over 13,000 tons of municipal solid waste from its businesses, households, and industries combined, according to the Environmental Protection Department (EPD) there. However, in 2013 and 2014 the waste generated there surpassed over 14,000 tons daily. A large part of this waste ends up at the 272-acre West New Territories (WENT) Landfill in the Tuen Mun area. This landfill is the biggest of the three serving Hong Kong. Daily, over 7,200 tons of Hong Kong's waste (as of 2014) are deposited in the WENT landfill. This landfill is one of the two in Hong Kong operated by the French company Suez Environment, the other being the North-East New Territories (NENT) Landfill. Yearly, WENT's operational costs, according to EPD, are $303 million.
8. Deonar, Mumbai, India (326 acres)
Annually, India generates 60 million tons of waste, of which 2.7 million tons are generated in Mumbai City alone, according to the Central Pollution Control Board, as of 2014. The 326-acre Deonar landfill on an eastern Mumbai suburb is the oldest dump in India, having been set up by the British in 1927. Daily the city generates between 7,000 and 8,000 tons of waste. Of that waste, 5,500 tons are deposited at the 2,000-ton-daily capacity Deonar landfill. As a result of this overburden, the waste there reaches about 30 meters in height. A 2016 study by the India Institute of Technology reported an availability of 12.7 million tons of combustible methane at the Deonar landfill. The methane gas was attributed as a cause to the fire that broke out there in early 2016, whose thick smoke NASA satellites were able to pick up images of.
7. Delhi Landfills, New Delhi, India (500 acres)
The city of New Delhi generates about 9,000 to 9,200 tons of municipal solid waste daily, according to the Municipal Council of Delhi (MCD). This waste is deposited in the Narela Bawana, Bhalswa, Okhla, and Ghazipur landfills, which have a combined acreage of 316. Except for Narela Bawana, the newest landfill, the others have been exhausted, though waste continues being dumped upon them. Bhalswa, which was to be closed when garbage reached to a height of 22 meters, still operates although garbage is now up to 41 meters. In 2013, to counter the exhaustion problem, the MCD sought approval from the Delhi Development Authority for an extra 500 acres, where a new waste disposal site could be set up. In India, 20 percent of the methane gas produced emanates from its landfills. The International Energy Agency reports that New Delhi could generate 25 Megawatts of power if methane was effectively tapped for such purposes from the New Delhi landfills.
6. Sudokwon, Incheon, South Korea (570 acres)
Since its inception in 1992, the 4,292-acre Sudokwon landfill in Incheon, South Korea receives 18,000 to 20,000 tons of waste daily from Seoul, with a 22 million in population and the South Korean capital city. It's the country's largest landfill. The methane gas in the waste at the Sudokwon landfill is tapped to produce 50 megawatts of electric power, according to South Korea's Ministry of Environment. The landfill also has a water recycling and desalination facility, and water recycled is used for irrigation and other purposes. Over 700,000 trees have been planted on the Sudokwon landfill, according to South Pole Carbon Asset Management Limited. The activities there have created 200 jobs, and yearly 50,000 students and children tour the landfill to learn about sustainable waste management practices and climate change. There is also a waste museum on the site. Sudokwon landfill serves as a model of how waste resources can best be tapped to achieve a positive impact.
5. Puente Hills, Los Angeles, California, USA (630 acres)
Over the course of three decades until its closure on October 31st, 2013, the Puente Hills landfill had received over 130 million tons of Los Angeles's municipal waste. It was also the nation's largest landfill, and still retains an operational materials recovery facility. The landfill, according to the Sanitation Districts of Los Angeles County (LACSD), had opened in 1957 as the privately owned San Gabriel Valley Dump. Over a year after its closure, on January 20th, 2015, the Puente Hills Landfill began accepting clean fill dirt for a period of 12 to 24 months. During its peak operations, the landfill could receive up to 13,200 tons of trash in a single day, according to LACSD. The methane gas the landfill generated was converted to turn a turbine that generated 50 megawatts of power, enough for 70,000 homes in Southern California. Puente Hills Landfill is in the process of being converted into a recreational regional park. The 630-acre Puente Hill Landfill was in a 1,365-acre land area.
4. Malagrotta, Rome, Italy (680 acres)
The 618-acre Malagrotta Landfill in Rome, Italy has a holding capacity of 60 million tons. During the late Seventies, the landfill was an illegal dump, but was made legal in 1984. Daily, it receives between 4,500 and 5,000 tons of waste, making it the largest municipal solid waste facility in Europe, according to Environmental Justice Organizations, Liabilities, and Trade (EJOLT). The methane gas produced from decomposing waste there is tapped to be used for electricity and fuel. However, the site has caused considerable environmental damage in the Galeria Valley where it's located. This has included contamination of air, underground aquifers, and soils with poisonous chemicals such as arsenic, mercury, high amounts of ammonia, nitrogen, and bacteria.
3. Laogang, Shanghai, China (830 acres)
At 892 acres in area and piled 20 meters high, the Laogang landfill in Shanghai City is one of the biggest in Asia. It receives up to 10,000 tons of municipal solid waste daily, half of the city's total waste, according to the Shanghai Municipal Government. The methane gas from the landfill has been converted to annually generate 102,189 MW-hours of green energy that serves to power 100,000 homes. Veolia, the French Company in charge of power generation at Laogang landfill, also reported in 2014 that methane emissions from the landfill had been reduced by 25,800 metric tons, and there were 542,000 metric tons of avoided CO2 emissions as well. In a year, China generates 189,000,000 tons of waste, according to a 2012 World Bank report on solid waste management around the world.
2. Bordo Poniente, Mexico City, Mexico (927 acres)
Until its closure in December of 2011, the 927-acre Bordo Poniente landfill in Mexico City received 12,000 of the 15,000 tons of waste generated in the city daily. It was the biggest landfill in Latin America, according to the Global Alliance for Incinerator Alternatives (GAIA). Bordo Poniente landfill, initially a dry lake bed, was established in 1985 to take debris from the 1985 Mexico City earthquake, according to the GAIA. An estimated 70 million tons of waste had been deposited there from the 21.2 million in population city over its life, according to a 2012 study by the University Of Mexico. Upon its closure, over 1,500 families who collected recyclable waste for reselling lost their jobs. As of 2014, plans were made by the Mexican government to tap into the landfill's methane gases to produce 60 megawatts of electric power. That will eliminate 1.5 million tons of methane gas generated there yearly.
1. Apex Regional, Las Vegas, Nevada, USA (2,200 acres)
The 2,200-acre Apex Regional Landfill in Las Vegas daily receives about 9,000 tons of municipal solid waste, though it can handle up to 15,000 tons daily. The landfill managed by Republic Services opened in 1993, and is the biggest in the US. It has a projected life of 250 years, according to the Review Journal, and holds about 50 million tons of waste. Methane gas from the landfill has resulted in generation of an 11-Megawatt power plant that can meet the energy needs of 10,000 households in Southern Nevada. The power generating plant was built at a cost of $35 million. The U.S Environmental Protection Agency reports that landfill gas accounts for 17.7 percent of all the nation's methane emissions. That's why tapping power from these landfills helps in reducing methane, a greenhouse gas, from the environment.