World Facts
Largest Cities In Europe
The largest city in Europe is Istanbul, Turkey, with a population of 14.7 million people.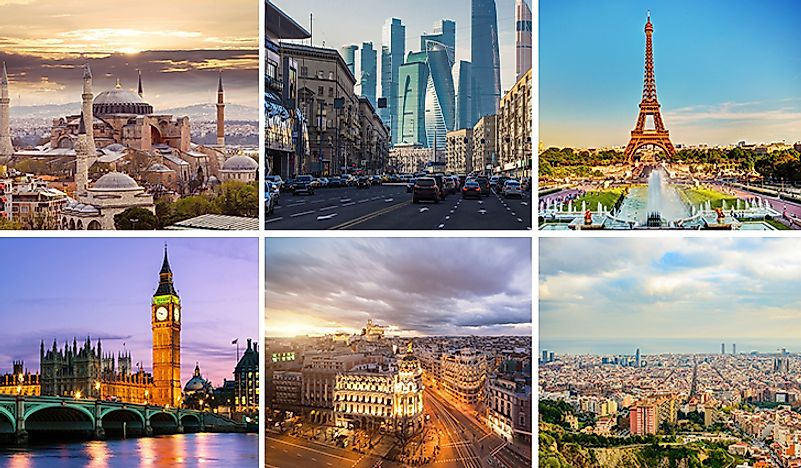 Europe has a relatively slow-growing population compared to other continents of the world. If we observe the data of the most populous cities in Europe, we find that only three cities make it across the 10 million-strong population mark, while ten cities have a population of 3 million or more. The three largest cities in Europe are Istanbul, Moscow, and Paris.
Largest Cities In Europe
With a population of 14.7 million people, Istanbul in Turkey is the largest city in Europe. Istanbul is sometimes not included in the list of the most populated cities in Europe, as the city technically straddles the border between Europe and Asia. However, over 60% of Istanbul's population is found on the European side of the city. Istanbul, a historic city whose development dates back to at least the time of the Silk Road, has seen a steady increase in population since the post-war era.
Second on the list of Europe's most populated cities is Moscow, with a population of 12.4 million. Moscow serves as a major economic, political, cultural and scientific center in Russia. This is the reason for the city's enormous population, despite Moscow being one of the northernmost and coldest metropolises on Earth. Moscow is ranked as an "alpha global city," meaning it has one of the world's largest urban economies. In the past, the city has served as the capital of major empires and currently is the seat of the Russian Government.
European National Capitals Dominate The List
Several entries on the list of Europe's most populated cities are country capitals. For example, Paris and London, the capitals of France and the United Kingdom, each have metropolitan populations of around 10 million. Both of these cities are famous for their world-class infrastructure, high living standards, thriving economies, and multiculturalism. All of these factors act as huge crowd pullers, attracting immigrants from all over the globe to these cities. Other capitals to be featured on the list with large metro areas include Madrid, Spain, Barcelona, Spain, and Saint Petersburg, Russia.
Future Trends Of Major Cities
The growth of the European population is predicted to be slow in the coming years when compared to the population growth of other continents. The European population is estimated to reach its peak in 2050 and then decline afterward.
What is the Biggest City in Europe?
The largest city in Europe is Istanbul, Turkey, which has a population of 14.7 million people.
Largest City Metro Populations In Europe
| Rank | City | Country | Population (Millions) |
| --- | --- | --- | --- |
| 1 | Istanbul | Turkey | 14.7 |
| 2 | Moscow | Russia | 12.4 |
| 3 | Paris | France | 10.9 |
| 4 | London | United Kingdom | 9.0 |
| 5 | Madrid | Spain | 6.5 |
| 6 | Barcelona | Spain | 5.5 |
| 7 | Saint Petersburg | Russia | 5.4 |
| 8 | Rome | Italy | 4.2 |
| 9 | Berlin | Germany | 3.6 |
| 10 | Athens | Greece | 3.2 |
About the Author
Oishimaya is an Indian native, currently residing in Kolkata. She has earned her Ph.D. degree and is presently engaged in full-time freelance writing and editing. She is an avid reader and travel enthusiast and is sensitively aware of her surroundings, both locally and globally. She loves mingling with people of eclectic cultures and also participates in activities concerning wildlife conservation.
This page was last updated on January 14, 2019.
Citations
Your MLA Citation
Your APA Citation
Your Chicago Citation
Your Harvard Citation
Remember to italicize the title of this article in your Harvard citation.