Highest Mountains In Tanzania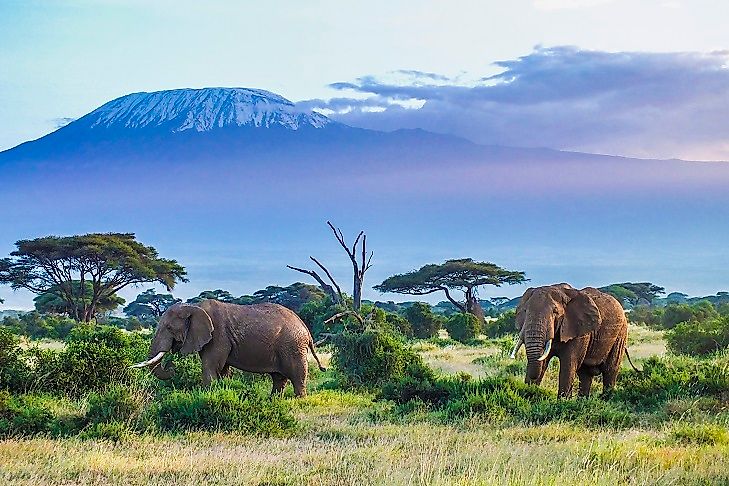 Tanzania is a country within the African Great Lakes Region. The major part of the country is in Eastern Africa while some part is in Southern Africa, and it borders Kenya, Uganda, Burundi, Zambia, Rwanda, Malawi, the Democratic Republic of Congo, and Mozambique. Tanzania is also made up of several offshore islands including Pemba, Unguja, and Mafia Islands. The country is mountainous and forested. Tanzania is a site to the highest and lowest points in Africa, those being Mount Kilimanjaro at 19,341 feet above sea level and the floor of Lake Tanganyika at 1,155 feet below sea level, respectively. Some of the highest mountains in Tanzania are looked at below.
Kilimanjaro
Mount Kilimanjaro is a dormant volcano and the highest mountain in Africa with an approximate elevation of 19,341 feet above sea level. The mountain is made up of three distinct volcanic cones including dormant Kibo which could erupt again and Mawenzi and Shira which are both extinct. Several theories have been put forward on the meaning and origin of the name "Kilimanjaro." Some explorers, such as Johann L Krapf, who was the first European to reach the mountain, suggested that Kilimanjaro meant "Mountain of Greatness" while others have suggested that it means "Shining Mountain." However, no clear meaning has explained the word. Mount Kilimanjaro is drained by several Lumi and Pangani rivers and streams especially on the areas above 1,200 meters above the sea level. Areas of low altitude are drained by evaporation and human water usage which also affect the water flow. The first ascent to the summit of the mountain was made in 1889 by Meyer and Purtscheller who were assisted by Lauwo, a Tanzanian. Kilimanjaro National Park is a major source of revenue to the government with the park generating an average of US$ 50 million annually. The climate of this mountain is influenced by height but with two rainy seasons.
Mawenzi
Mawenzi is the second highest peak in Tanzania and the third highest in Africa after Mount Kilimanjaro and Mount Kenya. Mawenzi is also the second highest peak on Mount Kilimanjaro after Kibo with an elevation of 16, 893 feet above the sea level. The peak looks less similar to a crater than it does to a lump of a craggy rock. Mawenzi I a horseshoe shape peak with a steep side to hold the glacier. The mountain has no permanent snow making it easier for climbers to ascend to the highest point, Han Meyer Peak. However, the highest point is shuttered and riven with gullies. Other peaks on Mount Mawenzi include Purtscheller Peak and South Peak. Mount Mawenzi has the same characteristics as Mount Kilimanjaro and was first ascended by Meyer and Purtscheller in 1889
Meru
Mount Meru is located 70 kilometers to the west of Kilimanjaro and has an elevation of 14,977 feet above sea level. It is the third and the fifth highest mountain in Tanzania and Africa, respectively. Mount Meru is a stratovolcano which lost much of its bulk thousands of years ago due to a volcanic blast. The mountain has had several volcanic activities including a minor eruption of 1910 leading to the formation of cones and craters within the vicinity. The fertile slopes of Mount Meru which rise above the Savanna support forests which are habitats for diverse wildlife including several species of birds and mammals such as monkey and leopards. The mountain is also a topographic site for the Arusha National Park. Some believe that Noah's ark rested on Mount Meru after the floods receded. However, some Christians believe that the ark rested on Mount Ararat in Armenia and not Mount Meru
Highest Mountains In Tanzania
| Rank | Highest Mountains In Tanzania | Elevation |
| --- | --- | --- |
| 1 | Kilimanjaro | 19,341 feet |
| 2 | Mawenzi | 16,893 feet |
| 3 | Meru | 14,977 feet |
| 4 | Klute | 12,963 feet |
| 5 | Hanang | 11,211 feet |
| 6 | Luhombero | 8,449 feet |
| 7 | Sisaba | 8,075 feet |
| 8 | Selegu | 8,049 feet |
| 9 | Sibindi | 7,783 feet |