Famous Artists From Spain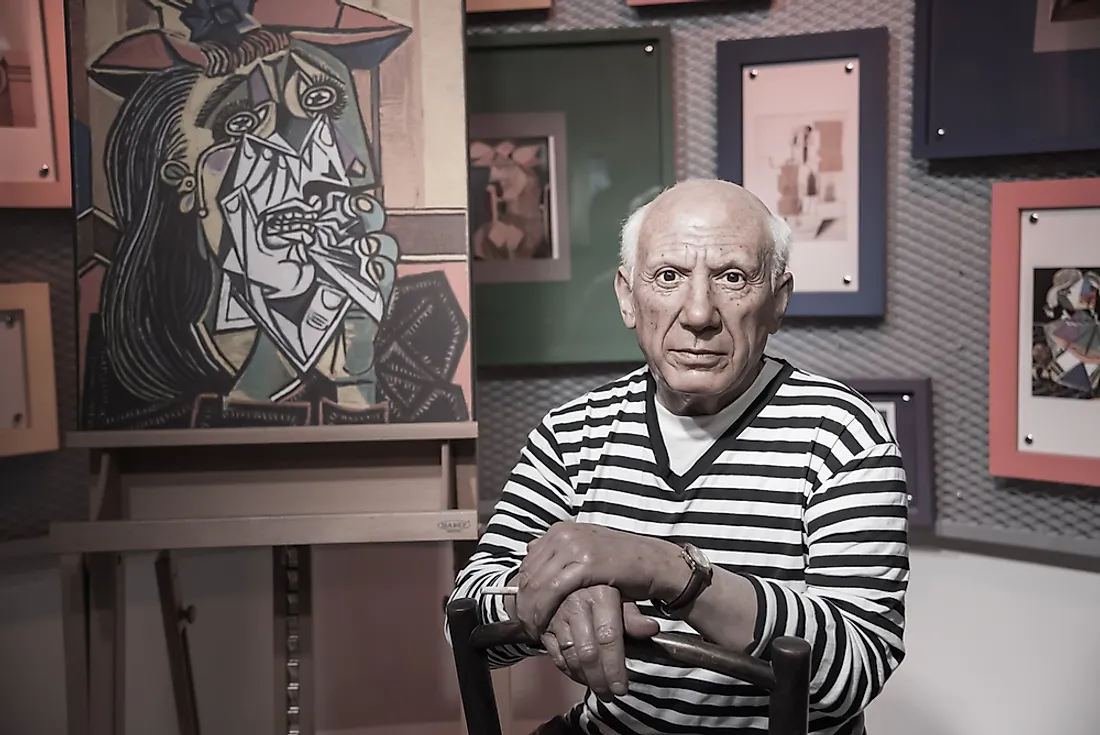 The contribution of Spain to the history of western painting cannot be overlooked. It is home to one of the greatest museums in the world, the Prado. During the Spanish Golden Age, the country flourished in art and literature, becoming a major contributor to the European art world. Spain produced some of the well-respected artists in this era who have had a significant impact on modern art. From the beginning of arts, Spanish artists created some of the magnificent, disturbing, and even erotic images. Below are some of the most celebrated artists who lived and worked in Spain.
7. Salvador Dali
Salvador Dali was one of the most prolific and versatile artists of the 20th century. He was a painter, filmmaker, writer, and a sculptor. Salvador is considered the greatest Surrealist artist. He used bizarre dream images to create amazing landscapes of his inner world. Dali was born in 1904 in Figueres and studied arts in Madrid where he experimented with Dadaism and Cubism. He was expelled from his class because he thought the faculty members were not competent enough to administer his final exam. He then moved to Paris where he teamed up with Picasso and soon developed an interest in surrealist art. One of his most famous paintings is Persistence of Memory, a painting of melting clocks. His association with Franco, a Spanish dictator, led to his expulsion by other surrealist artists. He later moved to the United States and finally back to Spain where he died in 1989.
6. El Greco
El Greco was born in 1541 on an island which is located in present-day Greece. His official name was Domenikos Theotokopoulo but got the name "El Greco" due to his Greek origin. He started his career in Italy and moved to Spain in 1577 where he produced much of his work. El Greco was a master painter of religious subjects but was also equally vast with portrait and landscape painting. He rejected naturalism for more conceptual presentations. Greco's work influenced several movements such as Cubism and Expressionism. In fact, historians have struggled to place him in any conventional school. Some of his famous arts include Christ Carrying the Cross and The Burial of the Count of Orgaz which is seen by many artists as a coming together of all Greco's extraordinary attributes of art.
5. Antoni Tapies
Antoni Tapies was born in 1923 in Barcelona. His father was a lawyer and an influential Catalan nationalist. Because of this, Tapies was brought up in an environment in which he was exposed to social and cultural leaders. He was introduced to art at the age of 11. After studying law for three years, Tapies devoted his time to painting. He is perhaps the most famous Spanish painter in the period after World War II. His textured, gestural, and sculptural wall arts are an expression of his experiences during the Spanish Civil War. Most of his abstract paintings are inspired by the tradition of Art Informel. Tapies' famous works include Ex Libris and Els Solcs.
4. Joan Miro
Joan Miro was a painter, ceramicist, and a sculptor. He was born in 1893 in Barcelona, Spain. He spent most of his time in Italy but most of his works were based on imagery from his native Barcelona. His works were inspired by human psyche and were created in Surrealist manner. Miro was one of the first artists to develop automatic drawings as a revolt against the traditional which he understood as a support of the bourgeois society. He represented the beginning of Surrealism as an art movement. Miro is also considered the forefather of Abstract Expressionism movement. Some of his famous works include The Farm, Blue II, and The Harlequin's Carnival. Apart from painting, he also worked as a lithographer, producing many sculptures and murals for public space.
3. Pablo Picasso
Pablo Picasso is probably one of the greatest painters who ever lived. He was born in 1881 in Malaga and spent most of his time in France. Picasso is one of the founders of the Cubist movement. However, most of his early works were based on realism. Cubism is credited for revolutionizing European painting and sculpture. Picasso's style of painting changed over time as e experimented with different techniques, theories, and ideas. He created over 1900 painting in the course of his career. Some of his paintings are among the most expensive artworks ever sold. Some of his famous paintings include Guernica, The Weeping Woman, and Les Demoiselles d'Avignon. Picasso's early work can be seen in Barcelona's Museu de Picasso and Madrid's Museo Reina Sofia.
2. Francisco Goya
Francisco de Goya was a prominent painter of the Spanish Royal Family. Born in 1746, he is often considered the last of the "Old Master" painters and the first of the modern masters. Goya studied art in Madrid but spent his time in Italy before returning to Spain and joining the royal family. He painted several portraits of the royal family and other nobles. One of his most famous work is The Third of May 1808, depicting the killing of the Spanish fighters by Napoleon's army during the 1808 French Occupation. Goya later became deaf from an illness. His work later became progressively pessimistic, with his paintings reflecting his bleak outlook. His paintings also reflected social and political issues. Goya's most famous works can be seen in the Prado Museum in Madrid.
1. Diego Velazquez
Diego Velazquez was born in 1599 in Seville. He is described as the painter of painters and best known for some of the stunning portraits. Diego was a member of King Philips IV's royal court where he painted portraits of members of the court and other nobles, earning him admiration across the country. But his painting was not only limited to the noble and members of the royal courts; he also painted portraits of other low ranked people in the society. Velazquez also produced paintings that depicted historical and cultural events. One of his well-known paintings is Las Meninas, a portrait of king's young daughters and himself in the act of painting. He died in 1660 in Madrid. Most of his paintings can be found in Prado, Madrid, and also in other museums in New York, Sao Paulo, and London.