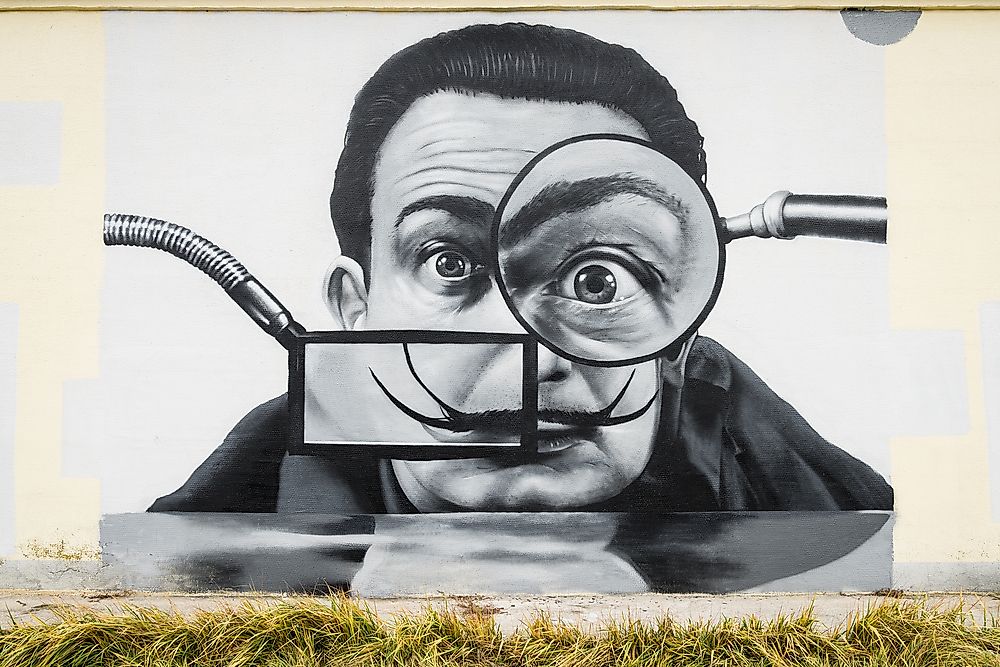 Early Life
Salvador Felipe Jacinto Dali was born on May 11 1904 in Figueres, a tiny agricultural town at the foothills of Pyrenees, 16 miles from the French border in Catalonia principality, Spain. At a young age, Dali began producing high quality drawings and his parents supported his natural artistic talent. They built Dali an arts' studio at their summer home in Cadaques a coastal village before he entered arts' school. In 1916, they sent him to the Colegio de Hermanos Maristas drawing school in Figueres. After Dali's first year in school, he discovered modern painting in Cadaques. His father also planned an exhibition at the family home to showcase his son's art. In 1918, Dali enrolled at the San Fernando Royal Academy of Fine Arts in Madrid. His talent continued to blossom and in 1919, his art work got first public exposure by being exhibited at the municipal theatre of Figueres, according to Biography.com.
Adulthood and Artistic Recognition
As he matured to adulthood Dali made his home at Port Lligat. There, he did most of his paintings which reflected his love for this region of Spain. In 1925, Dali did a one man show in Barcelona where his work got more recognition. In 1928, he gained international fame after three of his paintings including the Basket of Bread were exhibited at the third annual Carnegie International Exhibition, in Pittsburgh according to the Dali Museum. In 1929, in Paris during a one man show in Paris, Dali joined with surrealist artists like Dadaist Andre Breton. They surrealists influenced him, and he became their leader, and in this time, Dali painted another of his famed piece, The Persistence of Memory in 1931.
Shift in Artistic Direction
As World War II approached Dali clashed with fellow surrealists for his apolitical stance and got expelled from surrealist movement in 1934. Nonetheless, he continued to exhibit his art works at international surrealist exhibition, until 1940, according to the Dali Museum. Then he shifted to painting pieces inspired by science, history, and religion. In 1940, he also escaped the war and moved to United States and stayed there until 1948. While there the Museum of Modern Art in New York, gave Dali an opportunity to exhibit his art work in 1941. In 1942 his autobiography, The Secret Life of Salvadar Dali also got published. After ditching surrealism, Dali entered his classical period of art that lasted until 1970. In that time he painted famous pieces like The Hallucinogenic Toreador in 1970, The Discovery of America by Christopher Columbus in 1959, and The Sacrament of the Last Supper in 1955, according to Dali Museum.
Style and Legacy
Dali genius was in his flexibility, he was never limited to any artistic style or media. He evolved his art from his early impressionist paintings, to surreal art, and the classical period, according to Virginia Commonwealth University history. Dali also dabbled in all media like oils, watercolors, drawings, graphics, sculptures, films, photographs, performance artworks, and jewels. His flexible stance encouraged successive artists to be adventurous in their expression. Dali was also a brilliant designer whose use of symbolism in art set a standard in the 20th century according to Dali Museum. As an artist he channeled Freudian theories on dreams into his art, as testament to his intellectual brilliance. Salvador Dali produced over 1500 paintings in his life and died January 23 1989 in Figueres from heart failure.