Cost Of Electricity By Country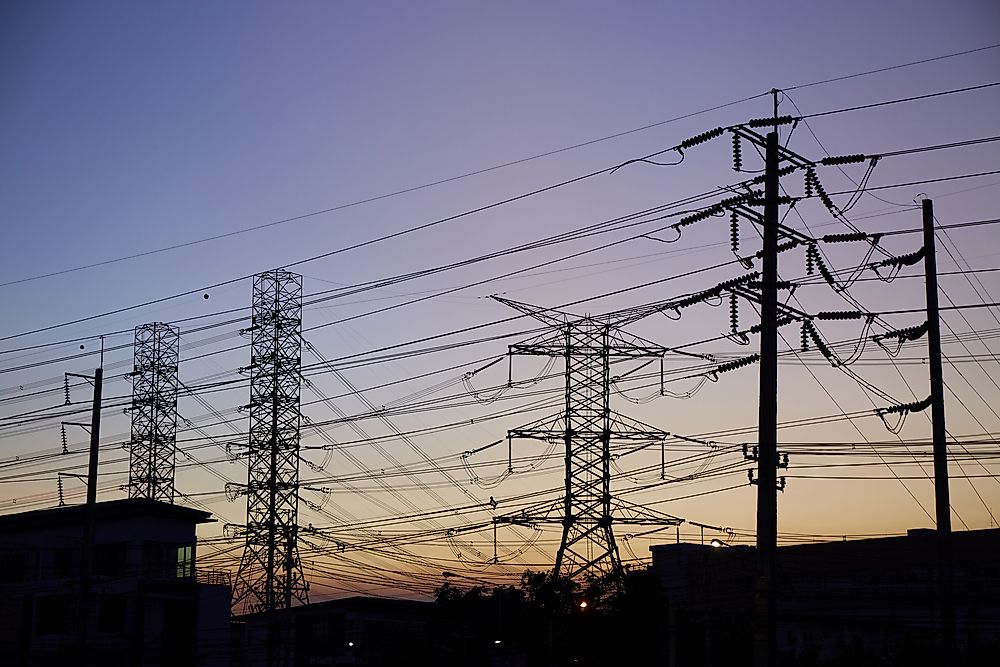 The type of electricity used varies from country to country. While some countries rely heavily on renewable energy sources such as hydropower, wind power, or solar power, some countries still use a large amount of coal energy. The consumer cost of electricity is dependent on a variety of factors including access to energy sources, local tariffs, and the privitization of resources. The Pacific island nation of Solomon Islands has the highest electricity cost in the world, at a staggering 99 US cents per kilowatt hour. The other countries with high energy prices are primarily tropical islands like Vanuatu, the US Virgin Islands, the Cook Islands, and Tonga. Some European countries such as Germany, Denmark, and Belgium also experience high electricity costs. 
High Costs in Tropical Islands
The Soloman Islands are relatively secluded in the Pacific Ocean, around 1,000 km from their closest neighbor of Vanuatu. The country's population of around 599,000 suffer from frequent power outages and very expensive electricity costs. Diesel power is the most type of energy used in the country, which results in costs as high as one US dollar per kilowatt hour. 
In the Soloman Island's distant neighbor of Vanuatu, things are not much better. In Vanuatu, nearly 3/4 of all homes do not have any access to electricity. Although Vanuatu has a grid electricity system in place, government taxes make the cost of electricity prohibitively expensive. Many residents are often given no choice but to resort to fire hazards like kerosene lamps. 
On the other side of the globe in the Caribbean Sea, the US Virgin Islands suffers from a high electricity cost. On an island where electricity prices can reach 0.51 US cents per kilowatt-hour, there is always the added risk of a natural disaster such as a hurricane knocking the power out of commission. There are currently plans in place to construct a more functional power grid on the island. 
European Electricity Prices
Germany has the highest electricity costs in Europe, with a rate of around 35 US cents a kilowatt-hour. Due to these high costs, the country has developed a program for increasing the contribution of electricity sourced from renewable sources to upwards of 80% by the calendar year 2050. During the first quarter of 2014, the country produced a record-setting 27% of its electricity via renewable sources, a result of both favorable weather and an increased capacity to utilize renewable energy within the country.
There are ramifications involved in Germany's contemporary renewable energy program, including an instable electric grid, the burden being placed upon German households by increased costs for electricity, and the need for secure back-up power that is affordable and reliable. Currently, utility companies within the country are receiving payments from the grid as a measure of stabilizing a network that has been disrupted due to surges and falls in contributions from solar and wind power sources. Coal is being utilized in a heftier manner in order to back-up the renewable technologies (and their intermittent nature) while delivering a reliable base load of power, although at the risk of increasing emissions of carbon dioxide. The result has been German residents having to pay feed-in-tariffs in addition to high utility costs as a measure of subsidizing the renewable energy technologies.
Electricity In Other Countries
Some of the other countries that carry high costs of electricity are Jamaica, Niue, Marshall Islands, and the Netherlands, which have rates of 44.7, 44.3, 41.6, and 28.89 cents, respectively. For the sake of comparison, the cost of electricity in the United States is generally between 8 cents to 43 cents per kilowatt-hour. In the United Kingdom, the cost is around 22 cents. In Canada, it is between 6 and 11 cents. 
Cost Of Electricity By Country
| Rank | Country | US Dollar Cents Per Kilowatt Hour |
| --- | --- | --- |
| 1 | Solomon Islands | 99.0 |
| 2 | Vanuatu | 60.0 |
| 3 | United States Virgin Islands | 51.9 |
| 4 | Cook Islands | 50.2 |
| 5 | Tonga | 47.0 |
| 6 | Jamaica | 44.7 |
| 7 | Niue | 44.3 |
| 8 | Marshall Islands | 41.6 |
| 9 | Tuvalu | 36.6 |
| 10 | Germany | 35.0 |
| 11 | Denmark | 33.0 |
| 12 | Kiribati | 32.7 |
| 13 | Belgium | 29.1 |
| 14 | Netherlands | 28.9 |
| 15 | Italy | 28.4 |