Economics
15 Countries Most Dependent On Coal For Energy
Many of our cities have run on goal for centuries. However, is it really the best way to get power?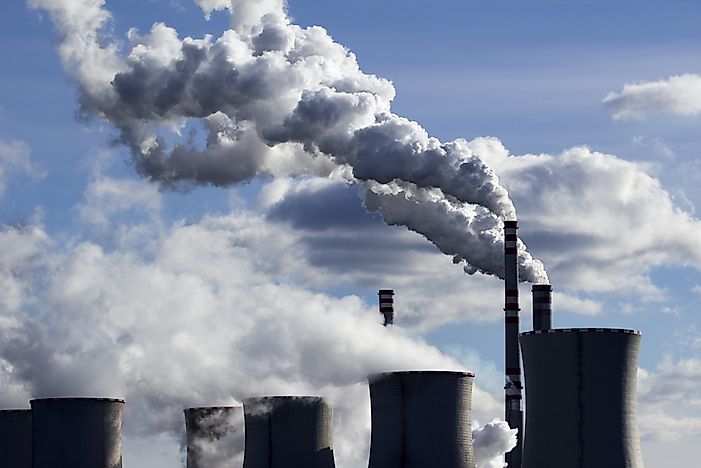 Coal has powered our lives for some time now. In the early history of cities, it played an important part in driving the Industrial Revolution.
More than 40% of global electricity is derived from coal, although some countries record higher numbers than others. These countries are ranked as per the World Bank data on coal-generated electricity as a percentage of total electricity generated.
15 Countries Most Dependent On Coal For Energy
Africa
South Africa leads the continent, as well as the world, at 93.7% of electricity generated from coal. Although the use of coal in the country can be traced back to the Iron Age, it wasn't until the mid-19th century that large-scale mining and processing began. The majority of the nation's coal takes place in the Ecca group in coalfields such as Highveld, Ermelo, and Waterberg. Over a quarter of the coal mined in South Africa is exported while the rest is channeled to electricity generation, household consumption, and liquid fuel.
Botswana follows at second place to South Africa, with 87.3% of its electricity coming from coal. The country's resources are approximately 21 billion tons. The Morupule Colliery is Botswana's largest coalfield, supplying power to the Botswana Power Corporation.
Discovery of coal in Niger was made in 1968 at Anou Araren. It is ranked 13th in the world with 53.3% of power generated from coal. In 1975, the SONICHAR (La Société Nigérienne du Charbon) was established to manage coal exploitation in the country.
Asia
Mongolia leads the Asian continent with 92.9% of electricity generated coming from coal. In 2011, Mongolia had approximately 162 billion tons of coal reserves - about 10% of the world's total!
Kazakhstan ranks second in Asia with 81.3% of its electricity generated coming from coal. Kazakhstan has coal reserves totaling to 33.6 billion tons. 75% of the country's mined coal is channeled to domestic consumption while the rest is exported to countries like Ukraine and Russia.
Over 75.4% of the energy consumed in China is obtained from coal, ranking it 6th in the world. Hong Kong subsequently follows with 74.8% of electricity derived from coal. Similarly, coal is a critical in the development of the economy of India and the country sees 72.8% of its electricity coming from coal.
Europe
Poland is ranked top in Europe, having 83.0% of its electricity generated from coal. It is the world's ninth-largest coal producer. Most of Poland's coal mines are found in Upper Silesia. Coal fuels over 55% of the nation's primary energy consumption.
Serbia, at 73%, is another one of Europe's top coal producers. The Elektroprivreda Srbije operates three coal-driven power stations where most of the nation's electricity is produced.
Macedonia comes in 10th in the world with 66.0% of electricity coming from coal. The country's coal reserves are lignites which supply energy for both domestic and industrial use. In Bosnia and Herzegovina, 58.2% of energy comes from coal and in the Czech Republic, 51.3% of energy does.
Australia
Australia generates 61.3% of electricity from coal and depends on coal for three-quarters of the energy used in homes and industry. Coal mining in the country is characterized by sophisticated technology and continuous improvement. It is estimated that the nation has 510 years of brown coal available as well as 110 years of black coal.
The Middle East
Israel leads the Middle East with 52.8% of electricity coming from coal. Israel mainly depends on coal imports procured by the National Coal Supply Corporation. It is then subsequently supplied to the Israeli Electronic Corporation.
Positive and Negative Effects
Coal power plants are necessary for electricity generation in an era where many activities are driven by power. Coal power plants, however, contribute massively to environmental pollution while mining of the resource degrades the environment. During coal processing, a lot of water is used, which becomes polluted by heavy metals and toxic substance such as arsenic. The burning of coal is further associated with the release of greenhouse gasses into the atmosphere.
15 Countries Most Dependent On Coal For Energy
| Rank | Country | % of Electricity Generated From Coal |
| --- | --- | --- |
| 1 | South Africa | 93.7 |
| 2 | Mongolia | 92.9 |
| 3 | Botswana | 87.3 |
| 4 | Poland | 83.0 |
| 5 | Kazakhstan | 81.3 |
| 6 | China | 75.4 |
| 7 | Hong Kong | 74.8 |
| 8 | Serbia | 73.1 |
| 9 | India | 72.8 |
| 10 | Macedonia | 66.0 |
| 11 | Australia | 61.3 |
| 12 | Bosnia and Herzegovina | 58.1 |
| 13 | Niger | 53.3 |
| 14 | Israel | 52.8 |
| 15 | Czech Republic | 51.3 |