Environment
Ecological Regions Of Zimbabwe
Velds, woodlands, and the Zambezi's river valleys dominate most of Zimbabwe's land area.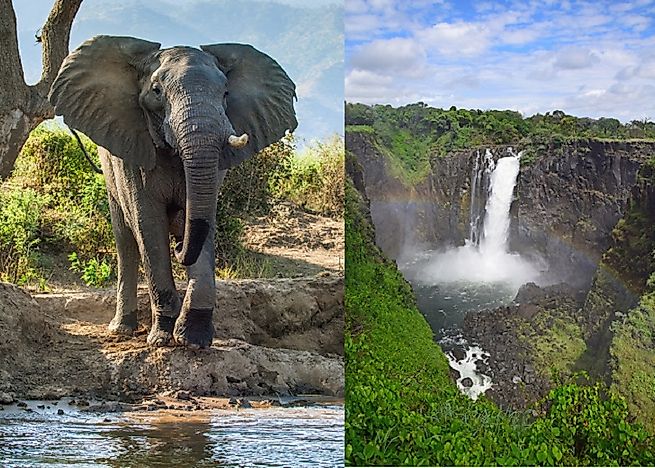 Zimbabwe is a landlocked country in the southern part of Africa bordering South Africa to the south, Botswana to the west, and to the northwest and northeast by Zambia and Mozambique, respectively. The country lies between latitude 15 and 23 degrees South and longitude 25 and 34 degrees East. Zimbabwe is mostly elevated with the highest elevation, Mount Nyangani being 2,592 meters above sea level. The several highlands in the mountainous region are famous for their beauty acting as tourist attraction sites. The country has many variations of tropical climate ranging from heat and aridity to cool temperature and high rainfall especially in the highland areas. The Highland area is home to tropical evergreen and hardwood forest while Miombo woodland dominates the lowlands. There are over 350 species of mammals, 500 species of birds, snakes and lizards found in Zimbabwe. Some of the country's most notable ecological regions are looked at below.

Kalahari Acacia-Baikiaea Woodlands
The Kalahari Acacia-Baikiaea Woodlands ecological region is divided between Zimbabwe, Namibia, Botswana, and South Africa. The climate of this region is semi-arid, and is characterized by variable rainfall that mostly occurs in the summer. Temperatures range between below freezing point in the months of June and July to above 40 degrees centigrade during summer. The vegetation is characterized by woodland, acacia and shrubs. There are several endemic species of these plants in the region. Common animals in this region include both white and black rhino, elephants, blue wildebeest, buffaloes, wild dogs, zebras and elands.The growing human population is posing a threat to this ecological zone with increasing human activities such as cattle ranching, poaching, and clearing land for settlement.
Southern Africa Bushveld
The Southern Africa Bushveld is a savanna that covers much of the southern half of Africa, including parts of South Africa, Zimbabwe, Botswana, and Namibia. The region is characterized by rugged Waterberg mountains with flora and fauna mainly reptiles. The climate is hot wet for up to eight months and dry cool for up to four months. The region receives an annual rainfall of between 350 millimeters to 750 millimeters. The land use activities especially cattle rearing and gaming has led to a degree of degradation of the region. Removal of deadwood for fuel and scavenging on the fauna also affect the ecology in the region.
Southern Miombo Woodlands
The Southern Miombo Woodlands is characterized by a gently undulating landscape.The region is in the north of Zimbabwe and extends into Zambia and parts of Malawi. The elevation of this area is between 1,000 meters and 1,500 meters. The soil is highly acidic and poor but well drained. The Southern Miombo Woodlands experiences tropical savanna climate with three seasons, namely the hot dry, hot wet, and warm dry seasons. The mean temperature for the region is 24 degrees centigrade with an annual rainfall of 1,000 millimeters. The ecological region is inhabited by large mammals especially the grazers, several species of birds and snakes. The major threats to this ecological region of Zimbabwe include human activities such as logging, poaching, and overgrazing.
Ecosystems In Danger
The ecological regions of Zimbabwe are rapidly transforming due to the influences of such human activities as overgrazing their livestock, expansion of settlements, crop cultivation, and poaching. As a result, the climatic stability of these ecological regions and the ability to support its native inhabitants are reducing.
Ecological Regions Of Zimbabwe
| Rank | Ecoregion | Type |
| --- | --- | --- |
| 1 | Kalahari Acacia-Baikiaea Woodlands | Terrestrial |
| 2 | Southern Africa Bushveld | Terrestrial |
| 3 | Southern Miombo Woodlands | Terrestrial |
| 4 | Zambezian Baikiaea Woodlands | Terrestrial |
| 5 | Zambezian Mopane Woodlands | Terrestrial |
| 6 | Eastern Zimbabwe Montane Forest-Grassland Mosaic | Terrestrial |
| 7 | Zambezi River-Lowveld | Freshwater |
| 8 | Zambezi River-Mulanje | Freshwater |
| 9 | Zambezi River-Eastern Zimbabwe Highlands | Freshwater |
| 10 | Zambezi River-Zamebzian Plateau Highveld | Freshwater |
| 11 | Zambezi River-Middle Zambezi Luangwa | Freshwater |
This page was last updated on April 25, 2017.
Citations
Your MLA Citation
Your APA Citation
Your Chicago Citation
Your Harvard Citation
Remember to italicize the title of this article in your Harvard citation.