Economics
Countries With The Most Wine Grape Vineyards
Spain is the only country to have more than 10,000 square kilometers of land area devoted to growing wine grapes.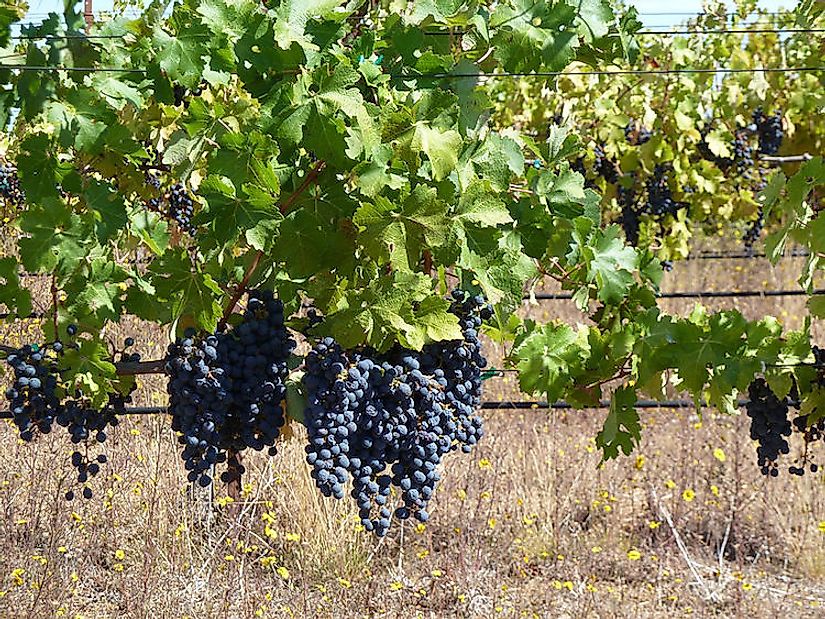 Wine grapes are famous all over the world because of the products derived from them. Whether a nation plants wine grapes or not, the demand for it or its product will always be high. Wine made from wine grape is highly valued in some communities. Dinner can never be complete without a glass of wine neither will social gatherings be successful without it. There are many different types of wine grapes including Cabernet Sauvignon, Bordeaux blend, Pinot Noir, Sangiovese, Riesling, Pinot Grigio, Nebbiolo and Chardonnay among other varieties. Wine grapes are commonly planted in Europe, America and some countries in the East. Some of the countries with the most wine grape vineyards include;

Spain
Spain has the biggest wine grape vineyard in the world. Spain has a varied microclimate around the country that is suitable for growing variety of grapes. The country has a broad range of enormous distinct vineyards where wine grapes are planted. The country has over 400 varieties of wine grapes planted across the Spanish wine region. Some of the common types include Albarino, palomino, airen, Garnacha and Tempranillo. Spain has over 11800 square kilometers of land dedicated to the planting of wine grapes. Wine is planted in the towns of Ribera Del Duero, Jerez de la Frontera, Penedes, La Rioja and Galicia. However, despite vast vineyards, Spain is the third producer of wine in the world due to the low yield. Despite the healthy climate, most wine grapes are planted on infertile soil further lowering the yield. Spaniards are ranked ninth in wine consumption with an average consumption of 21.6 liters per person per year
France
France is the largest wine grape producer in the world. Wine vineyards are spread across the country, but the major wine grape vineyards are in Alsace, Bordeaux, and Medoc. A total of 8600 square kilometers of land is under wine grape vineyards. France is the source of the majority of wine grapes including Cabernet sauvignon, pinot noir, and syrah. France produces five types of wine from its grapes; sparkling, white, rose, fortified, and red wine. French wine is exported around the world. Producers of French wine and farmers of wine grapes have benefited from the rising prices and the increasing demand for the wine varieties both locally and internationally.
Italy
Wine grape vineyards provide a beautiful scenic view across Italy. Italy is the second highest producer of wine grapes in the world after France. Italy has most of the wine grapes vineyards planted in 20 regions including Sicily, Calabria, Sardinia, Veneto, Liguria, Lombardia, Molise, and Lazio among other areas. Italy has a wine grape vineyards covering a total are of 8300 square kilometers. There are over 350 varieties of wine grapes planted in Italy divided into two categories; Bianco or white and Rosso or red wine grape varieties. Italy produces 45-50 million liters of wine per year representing 50% of the world's production. Italy's wine is exported worldwide.
Conclusion
Other countries with large vineyards of wine grapes include Turkey 8100 square kilometers, US 4200, Iran 2900, Romania 2500, Portugal 2200 and Argentina 2100. These countries are also some of the major wine exporters in the world
Countries With The Most Wine Grape Vineyards
| Rank | Country | Area Cultivated as Wine Grape Vineyards |
| --- | --- | --- |
| 1 | Spain | 11,800 square kilometers |
| 2 | France | 8,600 square kilometers |
| 3 | Italy | 8,300 square kilometers |
| 4 | Turkey | 8,100 square kilometers |
| 5 | United States | 4,200 square kilometers |
| 6 | Iran | 2,900 square kilometers |
| 7 | Romania | 2,500 square kilometers |
| 8 | Portugal | 2,200 square kilometers |
| 9 | Argentina | 2,100 square kilometers |
| 10 | Chile | 1,800 square kilometers |
About the Author
Benjamin Elisha Sawe holds a Bachelor of Arts in Economics and Statistics and an MBA in Strategic Management. He is a frequent World Atlas contributor. 
This page was last updated on April 25, 2017.
Citations
Your MLA Citation
Your APA Citation
Your Chicago Citation
Your Harvard Citation
Remember to italicize the title of this article in your Harvard citation.