World Facts
Countries With The Most Highly Ranked Universities
As per the US News & World Report's global ranking of universities, the US, with its claim to housing 181 leading universities, ranks as number one.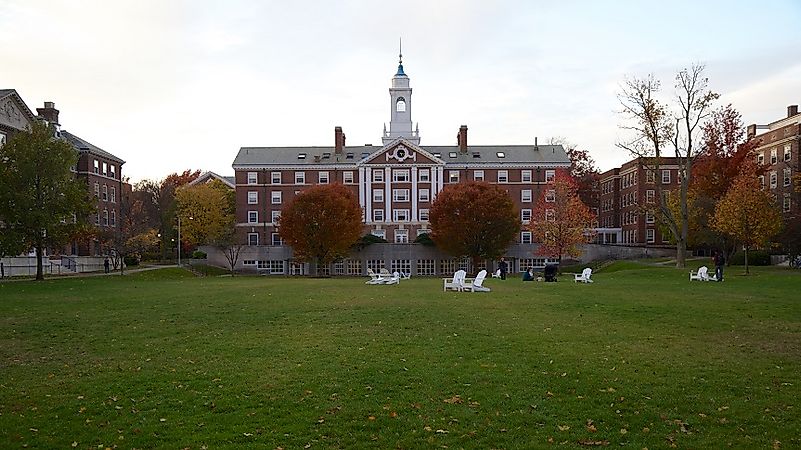 The ranking of various universities is done according to academic procedures and popularity among the students, and every country has their own measured ratings through which they rank the universities. There are some indicators based on which the universities are ranked around the world such as the academic reputation of the university which is assessed through global surveys where students asked to rate other universities, and five-year periodic data was used. The weighting of the criteria included the employer reputation ratio which is weighted at 10%, Student-to-faculty ratio which is weighted at 20%, and the International Faculty and International Student ratio which came to be 5%.
Top Ranking Universities from the Top 10 Countries
USA ranks number one with the best 181 universities in the country, China stands in second place with 57 universities, United Kingdom has 55 universities, Germany has 50 universities, Italy 38 universities and much more.
United States
There are many universities in USA in which several students have enrolled themselves and some 40% students have found admission. The University of Illinois at Chicago is one that serves leading medical students, and the University of Iowa is famous in the field of fine arts, while the University of Texas at Arlington has degree programs and many online programs for the students. Princeton University in New Jersey is the first university to introduce no-loan policy for its students in financial need, and has an acceptance rate of 6.5%. Other top universities in the country are Harvard which is a world-renowned university and the oldest one in the country, having an acceptance rate of 5.2%. Yale University that provides platform for conducting research has an acceptance rate of 6.3%. Stanford University has an acceptance rate of 4.7%, and is a place where students get to learn and are involved in many teaching, research, and learning opportunities.
China
In China, higher education has seen a considerable growth as there are 2,000 universities and colleges and an enrollment of six million students is found there. Some of the universities have made their position in the top ten like Tsinghua University, which is an elite institution and ranks among the top 50 universities in the areas of architecture and other courses of study. Peking University has gained the 7th slot in Asian Rankings, Fudan University took the 16th spot, and the University of Science and Technology of China gained the 23rd position.
United Kingdom
Some top 10 universities from the United Kingdom were rated as the best and featured near the top of the global rankings. The University of Cambridge is one of the oldest universities in the UK, and its standards have earned it 3rd place in the worldwide rankings. The University of Oxford is also a notable university that gains 6th place and its alumni includes 26 British Prime Ministers, whereas the University College in London ranked 7th. The Imperial College of London came in at the 8th spot, and the London School Of Economics and Political Science currently stands in 35th place.
Efforts to Provide World Class Education
The top countries listed herein have some of the world's best universities and strive to provide qualitative education mixed with training programs and research to their students, and these are the reasons for their accolades and high international enrollments. These universities provide disciplined and remarkable education to their students, especially in the elite institutions with required equipment and modern technology. Various reform programs and policies have been started and carried out to facilitate the students' efforts as they work to achieve academic excellence in these countries.
Countries With The Highest Number Of Top Ranking Universities
| Rank | Country | Number of Top Ranking Universities (Out of The List Of 750 Best Global Universities) |
| --- | --- | --- |
| 1 | United States | 181 |
| 2 | China | 57 |
| 3 | United Kingdom | 55 |
| 4 | Germany | 50 |
| 5 | Italy | 38 |
| 6 | France | 30 |
| 7 | Canada | 26 |
| 8 | Australia | 26 |
| 9 | Spain | 25 |
| 10 | Japan | 24 |
This page was last updated on April 25, 2017.
Citations
Your MLA Citation
Your APA Citation
Your Chicago Citation
Your Harvard Citation
Remember to italicize the title of this article in your Harvard citation.