Measles (MMR) Vaccination Rate by Country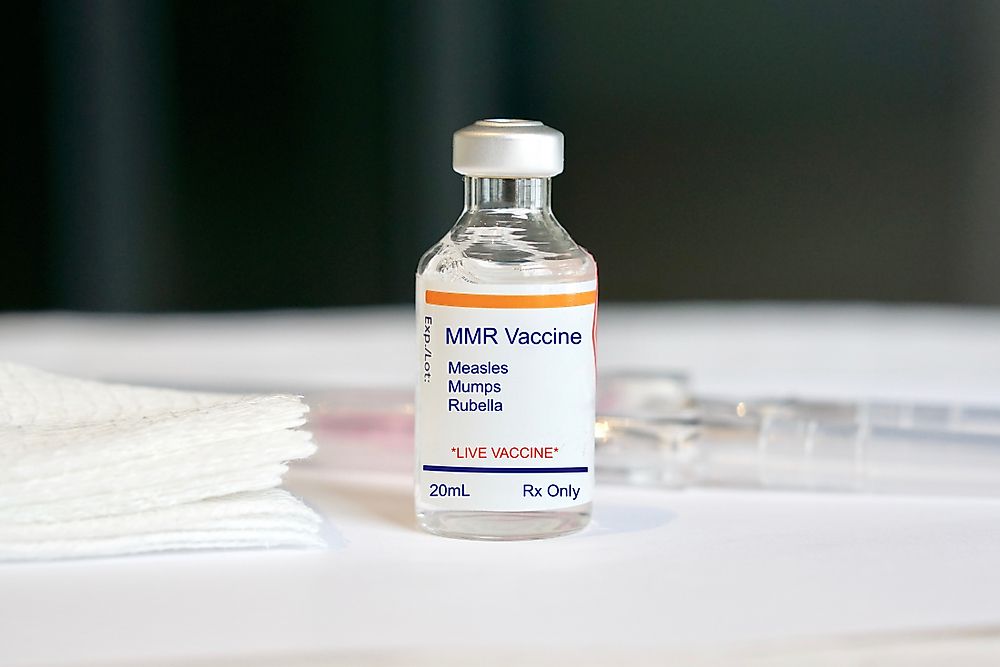 Measles (a.k.a. morbilli or rubella) is a viral infection that can lead to severe diarrhea, encephalitis, pneumonia, and other lethal side effects. In the year 2014, there were close to 114,900 deaths caused by measles globally, which translates to an average of 314 deaths every day. Nonetheless, modern medicine has made great strides in the fight against measles in recent decades. In fact, there was a 79% decrement in measles-related deaths between the years 2000 and 2014 globally. Many countries have taken important steps in ensuring that all children are immunized against this disease. Measles outbreaks spread very fast because the disease is caused by a virus that is highly contagious, making the need for immunization all the more pressing.
Higher Immunization Standards For A New Millennium
The World Health Organization unveiled an ambitious program in the year 2010 to aid in the process of eradicating the disease. Some of the milestones established included increased immunization routines for children below one year of age in every part of the world, reduction and maintenance of annual incidences of measles, and reduction of infant mortality by almost 95% from estimates of such totals from the year 2000. Some countries are much further advanced in the journey towards the complete elimination of measles, and have achieved great success in immunizing children between 12 and 23 months. There are measures that have been put in place to drive this agenda, and the results are evidenced by the very few cases of measles outbreaks reported in such countries. This is a journey similar to what has been seen with the DPT vaccine.
Global Success Stories in Measles Immunization
Many developed countries with robust healthcare systems have achieved a near 100% rate of immunization against measles in children. China and other countries that have assumed the responsibility of providing free healthcare to children have closed in on such nearly absolute success rates. Most European countries fall in this category as well, owing to efficient healthcare systems and a high availability of funds to provide those better healthcare services. The following countries have achieved the highest rates of measles immunization, at 99%:
Andorra
UAE
Bahrain
Brunei
China
Cabo Verde
Cuba
Eritrea
Hungary
Iran
Kaakhstan
Kuwait
Sri Lanka
Luxembourg
Morocco
Maldives
Mongolia
Mauritius
Nicaragua
Nauru
Oman
Portugal
Qatar
Rwanda
Turkmenistan
Tanzania
St. Vincent and the Grenadines
In the following countries, the MMR vaccine is mandatory by law:
Bulgaria
Croatia
Czechia
France
Hungary
Italy
Poland
Slovakia
Slovenia
Winning the War Against Measles
Some countries have done very well in the fight against measles, even amidst very limited resources. It all depends on what the government considers the most deserving of its attention, and how diligently the medical practitioners within countries are willing to work. Because the World Health Organization plays a very important role in assisting governments in their quests to eradicate measles, coordinating with WHO is an integral component for many countries' respective efforts. In the end, immunizing all of the world's young children is a vision that is realizable, but only with the concerted effort of all parties involved.
Countries With The Highest Measles Vaccination Rates
| Rank | Country | Vaccination Rate (%) |
| --- | --- | --- |
| 1 | Andorra | 99 |
| 2 | United Arab Emirates | 99 |
| 3 | Bahrain | 99 |
| 4 | Brunei Darussalam | 99 |
| 5 | China | 99 |
| 6 | Cabo Verde | 99 |
| 7 | Cuba | 99 |
| 8 | Eritrea | 99 |
| 9 | Hungary | 99 |
| 10 | Iran, Islamic Rep. | 99 |
| 11 | Kazakhstan | 99 |
| 12 | Kuwait | 99 |
| 13 | Sri Lanka | 99 |
| 14 | Luxembourg | 99 |
| 15 | Morocco | 99 |
| 16 | Maldives | 99 |
| 17 | Mongolia | 99 |
| 18 | Mauritius | 99 |
| 19 | Nicaragua | 99 |
| 20 | Nauru | 99 |
| 21 | Oman | 99 |
| 22 | Portugal | 99 |
| 23 | Qatar | 99 |
| 24 | Rwanda | 99 |
| 25 | Turkmenistan | 99 |
| 26 | Tanzania | 99 |
| 27 | St. Vincent and the Grenadines | 99 |
| 28 | Georgia | 98 |
| 29 | Guyana | 98 |
| 30 | Israel | 98 |
| 31 | Korea, Rep. | 98 |
| 32 | Latvia | 98 |
| 33 | Panama | 98 |
| 34 | Korea, Dem. People's Rep. | 98 |
| 35 | Russian Federation | 98 |
| 36 | Saudi Arabia | 98 |
| 37 | Suriname | 98 |
| 38 | Tajikistan | 98 |
| 39 | Bangladesh | 97 |
| 40 | Belarus | 97 |
| 41 | Belize | 97 |
| 42 | Bhutan | 97 |
| 43 | Botswana | 97 |
| 44 | Germany | 97 |
| 45 | Spain | 97 |
| 46 | Greece | 97 |
| 47 | Japan | 97 |
| 48 | Libya | 97 |
| 49 | Mexico | 97 |
| 50 | Sweden | 97 |
| 51 | Uruguay | 97 |
| 52 | Vietnam | 97 |
| 53 | Antigua and Barbuda | 96 |
| 54 | Azerbaijan | 96 |
| 55 | Belgium | 96 |
| 56 | Switzerland | 96 |
| 57 | Czech Republic | 96 |
| 58 | Finland | 96 |
| 59 | Kyrgyz Republic | 96 |
| 60 | St. Kitts and Nevis | 96 |
| 61 | Malta | 96 |
| 62 | Malaysia | 96 |
| 63 | Norway | 96 |
| 64 | Slovak Republic | 96 |
| 65 | Seychelles | 96 |
| 66 | Thailand | 96 |
| 67 | Tunisia | 96 |
| 68 | Turkey | 96 |
| 69 | Uzbekistan | 96 |
| 70 | Armenia | 95 |
| 71 | Australia | 95 |
| 72 | Colombia | 95 |
| 73 | Denmark | 95 |
| 74 | Dominican Republic | 95 |
| 75 | Singapore | 95 |
| 76 | Sao Tome and Principe | 95 |
| 77 | Albania | 94 |
| 78 | Argentina | 94 |
| 79 | Austria | 94 |
| 80 | Costa Rica | 94 |
| 81 | Egypt, Arab Rep. | 94 |
| 82 | Fiji | 94 |
| 83 | Zambia | 94 |
| 84 | Bulgaria | 93 |
| 85 | Chile | 93 |
| 86 | Croatia | 93 |
| 87 | Iceland | 93 |
| 88 | Italy | 93 |
| 89 | Moldova | 93 |
| 90 | Myanmar | 93 |
| 91 | Netherlands | 93 |
| 92 | Poland | 93 |
| 93 | Paraguay | 93 |
| 94 | Solomon Islands | 93 |
| 95 | Slovenia | 93 |
| 96 | United Kingdom | 92 |
| 97 | Ghana | 92 |
| 98 | Ireland | 92 |
| 99 | Jordan | 92 |
| 100 | Lithuania | 92 |
| 101 | New Zealand | 92 |
| 102 | Serbia | 92 |
| 103 | United States | 92 |
| 104 | Gambia, The | 91 |
| 105 | Liberia | 91 |
| 106 | Nepal | 91 |
| 107 | Ukraine | 91 |
| 108 | Canada | 90 |
| 109 | Comoros | 90 |
| 110 | Cyprus | 90 |
| 111 | France | 90 |
| 112 | India | 90 |
| 113 | Lesotho | 90 |
| 114 | Palau | 90 |
| 115 | Romania | 90 |
| 116 | Trinidad and Tobago | 90 |
| 117 | Bahamas, The | 89 |
| 118 | Bolivia | 89 |
| 119 | Honduras | 89 |
| 120 | Jamaica | 89 |
| 121 | Kenya | 89 |
| 122 | San Marino | 89 |
| 123 | Eswatini | 89 |
| 124 | Burundi | 88 |
| 125 | Burkina Faso | 88 |
| 126 | Sudan | 88 |
| 127 | Tuvalu | 88 |
| 128 | Zimbabwe | 88 |
| 129 | Estonia | 87 |
| 130 | Guatemala | 87 |
| 131 | Monaco | 87 |
| 132 | Malawi | 87 |
| 133 | Djibouti | 86 |
| 134 | Guinea-Bissau | 86 |
| 135 | St. Lucia | 86 |
| 136 | Uganda | 86 |
| 137 | Barbados | 85 |
| 138 | Mozambique | 85 |
| 139 | Peru | 85 |
| 140 | Togo | 85 |
| 141 | Tonga | 85 |
| 142 | Brazil | 84 |
| 143 | Dominica | 84 |
| 144 | Grenada | 84 |
| 145 | Cambodia | 84 |
| 146 | Kiribati | 84 |
| 147 | Ecuador | 83 |
| 148 | Iraq | 83 |
| 149 | Marshall Islands | 83 |
| 150 | North Macedonia | 83 |
| 151 | Lebanon | 82 |
| 152 | Namibia | 82 |
| 153 | Senegal | 82 |
| 154 | El Salvador | 81 |
| 155 | Congo, Dem. Rep. | 80 |
| 156 | Algeria | 80 |
| 157 | Sierra Leone | 80 |
| 158 | Mauritania | 78 |
| 159 | Niger | 77 |
| 160 | Timor-Leste | 77 |
| 161 | Pakistan | 76 |
| 162 | Congo, Rep. | 75 |
| 163 | Indonesia | 75 |
| 164 | Vanuatu | 75 |
| 165 | Venezuela, RB | 74 |
| 166 | Micronesia, Fed. Sts. | 73 |
| 167 | Benin | 71 |
| 168 | Cote d'Ivoire | 71 |
| 169 | Cameroon | 71 |
| 170 | Mali | 70 |
| 171 | South Africa | 70 |
| 172 | Haiti | 69 |
| 173 | Lao PDR | 69 |
| 174 | Bosnia and Herzegovina | 68 |
| 175 | Philippines | 67 |
| 176 | Nigeria | 65 |
| 177 | Afghanistan | 64 |
| 178 | Yemen, Rep. | 64 |
| 179 | Syrian Arab Republic | 63 |
| 180 | Madagascar | 62 |
| 181 | Ethiopia | 61 |
| 182 | Papua New Guinea | 61 |
| 183 | Gabon | 59 |
| 184 | Montenegro | 58 |
| 185 | South Sudan | 51 |
| 186 | Angola | 50 |
| 187 | Central African Republic | 49 |
| 188 | Guinea | 48 |
| 189 | Somalia | 46 |
| 190 | Chad | 37 |
| 191 | Samoa | 31 |
| 192 | Equatorial Guinea | 30 |