Society
Youth Vaccination Rates By Country
We look at the countries demonstrating the ability to most effectively provide immunizations against diphtheria, whooping cough, and tetanus to children before they reach two years of age.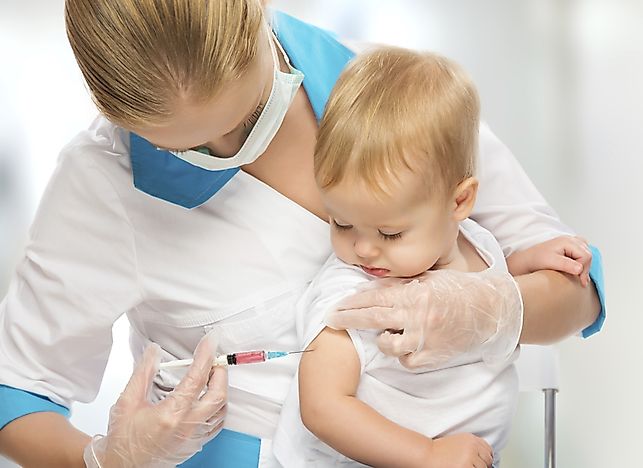 There are countries where failure to take your child for immunization against certain diseases could lead to prosecution by law. Parents are bound by the laws of the land to take their children for immunization and they have no choice but to comply. Several countries have put in place measures to help reduce certain diseases and this has been aptly done by ensuring that children are immunized appropriately.
Immunization Rates as an Indicator of Healthcare Policy
As the world progresses and more people gain access to better health care, we see many once rampant diseases that are on the brink of elimination. Diphtheria, Pertussis (whooping cough), and Tetanus are included in the list of disease scourges that modern health care systems would like to see wiped off the map. For that reason, children in many countries receive a combination Diphtheria-Pertussis-Tetanus (DPT) immunization one or multiple times during childhood. Of these, certain countries have consistently increased the number of children immunized against DPT due to better health care policies and clear political commitment in eliminating the scourge to the point that almost all children receive immunizations by age 2. In terms of DPT immunization statistics, we see that data differs from country to country because of birth rate differences, different levels of gross national income per capita, and the frequency with which the government conducts routine immunizations. Many countries have managed to attain a 99% rate of immunization against DPT in children aged between 12 and 23 months. This indicates that such countries are very much committed in the fights to eliminate Diphtheria, Pertussis, and Tetanus alike. These diseases have killed a lot of people in the past but in the developed world this day and age, it is uncommon to see someone infected with tetanus or suffering from diphtheria. The realization that prevention is better than cure has contributed a lot to this 'new norm'.
Leading Nations in DPT Immunization for Toddlers
Health care services in the Island nation of Antigua and Barbuda are availed through a network of community health clinics. Access to health facilities is highly enhanced and the team approach used by health practitioners to deliver services has resulted in nearly 100% vaccination coverage of preventable diseases. Countries like Belgium and Bahrain also have good healthcare systems and proper government policies that ensure an almost perfect success rate in immunizing children against DPT. China, in a bid to control its population, has policies to limit the rate of child births in the country. It caters well to the healthcare of its newborns nonetheless, and has a high percentage of infant immunizations. Rwanda has done a lot to improve its economy and healthcare system after emerging from the 1994 genocide. The political leadership there has taken measures to ensure that child mortality rate is reduced and immunization against preventable diseases is carried out in all children. Most children born in Rwandan hospitals are given the necessary vaccinations, and like other countries with easy access to healthcare services, Rwandan parents generally have their children immunized early on.
A Warning against Complacency in Immunization Efforts
Most of these diseases are not very common in the modern developing world. Some people have never even seen somebody who's infected with tetanus or suffering from whooping cough. High rates of immunization against DPT have ensured that new cases of infection are kept at a minimum in many places. As most countries work towards completely eliminating diphtheria, whooping cough and tetanus, it should not be lost on us that complacency can lead to catastrophic outbreaks, and even reverse many of the gains made. It is therefore important for all countries to continue to carry out extensive immunization against these prevent diseases to ensure a complete eradication. Sadly, Diphtheria, Pertussis, and Tetanus remain very real threats in areas where broad immunization programs have yet to penetrate.
Youth Vaccination Rates By Country
View information as a:
List
Chart
| | | |
| --- | --- | --- |
| 1 | Antigua and Barbuda | 99.00 % |
| 2 | Belgium | 99.00 % |
| 3 | Bahrain | 99.00 % |
| 4 | Brunei Darussalam | 99.00 % |
| 5 | Bhutan | 99.00 % |
| 6 | China | 99.00 % |
| 7 | Cyprus | 99.00 % |
| 8 | Czech Republic | 99.00 % |
| 9 | Fiji | 99.00 % |
| 10 | France | 99.00 % |
| 11 | Greece | 99.00 % |
| 12 | Hungary | 99.00 % |
| 13 | Iran | 99.00 % |
| 14 | South Korea | 99.00 % |
| 15 | St. Lucia | 99.00 % |
| 16 | Sri Lanka | 99.00 % |
| 17 | Luxembourg | 99.00 % |
| 18 | Morocco | 99.00 % |
| 19 | Monaco | 99.00 % |
| 20 | Maldives | 99.00 % |
| 21 | Malta | 99.00 % |
| 22 | Mongolia | 99.00 % |
| 23 | Oman | 99.00 % |
| 24 | Poland | 99.00 % |
| 25 | Qatar | 99.00 % |
| 26 | Rwanda | 99.00 % |
| 27 | Seychelles | 99.00 % |
| 28 | Thailand | 99.00 % |
| 29 | Uzbekistan | 99.00 % |
| 30 | Albania | 98.00 % |
| 31 | Finland | 98.00 % |
| 32 | Ghana | 98.00 % |
| 33 | Guyana | 98.00 % |
| 34 | Jordan | 98.00 % |
| 35 | Japan | 98.00 % |
| 36 | Nicaragua | 98.00 % |
| 37 | Portugal | 98.00 % |
| 38 | Saudi Arabia | 98.00 % |
| 39 | Sweden | 98.00 % |
| 40 | Swaziland | 98.00 % |
| 41 | Turkmenistan | 98.00 % |
| 42 | Tunisia | 98.00 % |
| 43 | St. Vincent and the Grenadines | 98.00 % |
| 44 | Andorra | 97.00 % |
| 45 | Belarus | 97.00 % |
| 46 | Dominica | 97.00 % |
| 47 | Spain | 97.00 % |
| 48 | Grenada | 97.00 % |
| 49 | Cambodia | 97.00 % |
| 50 | St. Kitts and Nevis | 97.00 % |
| 51 | Mauritius | 97.00 % |
| 52 | Malaysia | 97.00 % |
| 53 | Russian Federation | 97.00 % |
| 54 | Singapore | 97.00 % |
| 55 | Slovakia | 97.00 % |
| 56 | Tajikistan | 97.00 % |
| 57 | Tanzania | 97.00 % |
| 58 | Bahamas, The | 96.00 % |
| 59 | Canada | 96.00 % |
| 60 | Switzerland | 96.00 % |
| 61 | Cuba | 96.00 % |
| 62 | Germany | 96.00 % |
| 63 | Gambia, The | 96.00 % |
| 64 | Ireland | 96.00 % |
| 65 | Kyrgyz Republic | 96.00 % |
| 66 | Lesotho | 96.00 % |
| 67 | Netherlands | 96.00 % |
| 68 | Turkey | 96.00 % |
| 69 | Burundi | 95.00 % |
| 70 | Bangladesh | 95.00 % |
| 71 | Belize | 95.00 % |
| 72 | Botswana | 95.00 % |
| 73 | Cabo Verde | 95.00 % |
| 74 | Algeria | 95.00 % |
| 75 | United Kingdom | 95.00 % |
| 76 | Croatia | 95.00 % |
| 77 | Kazakhstan | 95.00 % |
| 78 | Kuwait | 95.00 % |
| 79 | Macedonia, FYR | 95.00 % |
| 80 | Palau | 95.00 % |
| 81 | Sao Tome and Principe | 95.00 % |
| 82 | Slovenia | 95.00 % |
| 83 | Uruguay | 95.00 % |
| 84 | Vietnam | 95.00 % |
| 85 | United Arab Emirates | 94.00 % |
| 86 | Argentina | 94.00 % |
| 87 | Azerbaijan | 94.00 % |
| 88 | Bolivia | 94.00 % |
| 89 | Barbados | 94.00 % |
| 90 | Denmark | 94.00 % |
| 91 | Egypt | 94.00 % |
| 92 | Eritrea | 94.00 % |
| 93 | Israel | 94.00 % |
| 94 | Italy | 94.00 % |
| 95 | Libya | 94.00 % |
| 96 | Romania | 94.00 % |
| 97 | Sudan | 94.00 % |
| 98 | United States | 94.00 % |
| 99 | Armenia | 93.00 % |
| 100 | Brazil | 93.00 % |