DPT Immunization Rates by Country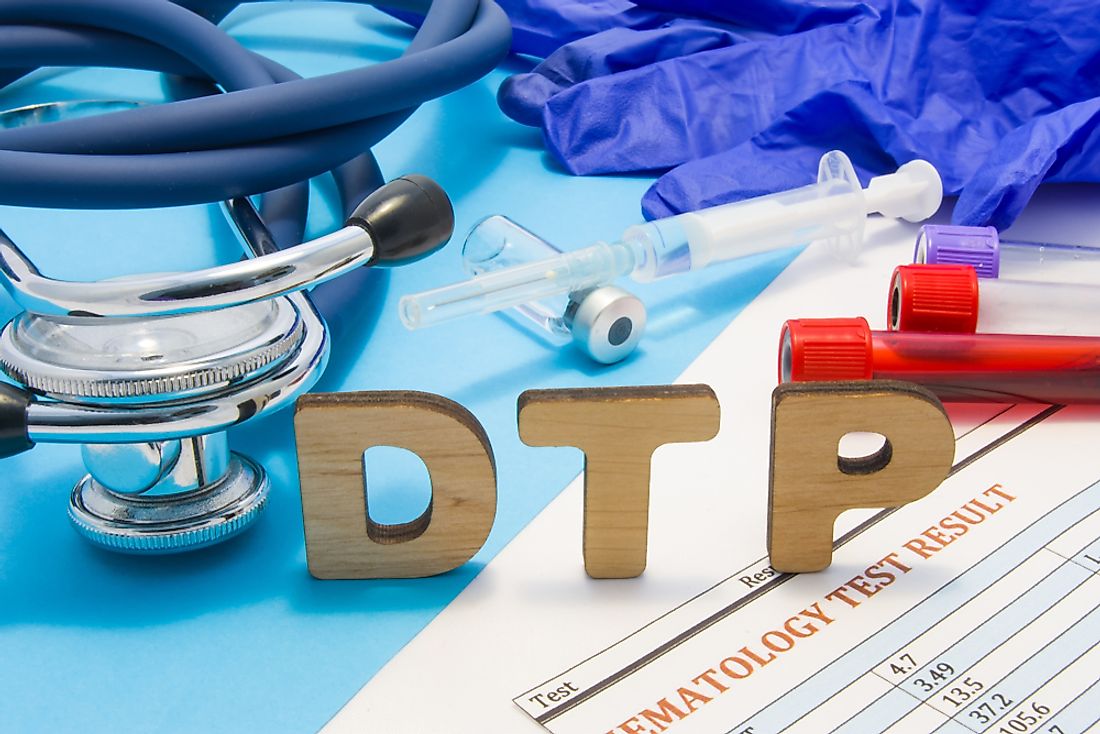 As the world progresses and more people gain access to better health care, we see many once rampant diseases that are on the brink of elimination. Diphtheria, Pertussis (whooping cough), and Tetanus are included in the list of disease scourges that modern health care systems would like to see wiped off the map. For that reason, children in many countries receive a combination Diphtheria-Pertussis-Tetanus (DPT) immunization one or multiple times during childhood. Of these, certain countries have consistently increased the number of children immunized against DPT due to better health care policies and clear political commitment in eliminating the scourge to the point that almost all children receive immunizations by age 2.
In terms of DPT immunization statistics, we see that data differs from country to country because of birth rate differences, different levels of gross national income per capita, and the frequency with which the government conducts routine immunizations. Many countries have managed to attain a 99% rate of immunization against DPT in children aged between 12 and 23 months. This indicates that such countries are very much committed in the fights to eliminate Diphtheria, Pertussis, and Tetanus alike. These diseases have killed a lot of people in the past but in the developed world this day and age, it is uncommon to see someone infected with tetanus or suffering from diphtheria. The realization that prevention is better than cure has contributed a lot to this new norm.
Leading Nations in DPT Immunization for Toddlers
Vaccination rates are never going to reach 100%, as there are always going to be members of the community who cannot safely receive vaccines, such as immunocompromised individuals. It is the protection of these vulnerable members that makes vaccination all the more important. The following countries have the highest DPT vaccination rates in the world, at 99%:
Albania
Andorra
United Arab Emirates
Bahrain
Brunei
China
Cuba
Cyprus
Fiji
Greece
Hungary
Iran
Japan
Kuwait
Sri Lanka
Luxembourg
Morocco
Monaco
Maldives
Mongolia
Malaysia
Oman
Portugal
Seychelles
Turkmenistan
Trinidad and Tobago
Countries With Mandatory DPT Vaccination
In the following countries, the DPT is required by law for all:
Bulgaria
Croatia
Czechia
France
Hungary
Italy
Malta
Poland
Slovakia
Slovenia
Youth Vaccination Rates By Country
| Rank | Country Name | Immunization Rate (%) |
| --- | --- | --- |
| 1 | Albania | 99 |
| 2 | Andorra | 99 |
| 3 | United Arab Emirates | 99 |
| 4 | Bahrain | 99 |
| 5 | Brunei | 99 |
| 6 | China | 99 |
| 7 | Cuba | 99 |
| 8 | Cyprus | 99 |
| 9 | Fiji | 99 |
| 10 | Greece | 99 |
| 11 | Hungary | 99 |
| 12 | Iran | 99 |
| 13 | Japan | 99 |
| 14 | Kuwait | 99 |
| 15 | Sri Lanka | 99 |
| 16 | Luxembourg | 99 |
| 17 | Morocco | 99 |
| 18 | Monaco | 99 |
| 19 | Maldives | 99 |
| 20 | Mongolia | 99 |
| 21 | Malaysia | 99 |
| 22 | Oman | 99 |
| 23 | Portugal | 99 |
| 24 | Seychelles | 99 |
| 25 | Turkmenistan | 99 |
| 26 | Trinidad and Tobago | 99 |
| 27 | Belgium | 98 |
| 28 | Bangladesh | 98 |
| 29 | Cabo Verde | 98 |
| 30 | Israel | 98 |
| 31 | Kazakhstan | 98 |
| 32 | South Korea | 98 |
| 33 | Nicaragua | 98 |
| 34 | Qatar | 98 |
| 35 | Turkey | 98 |
| 36 | Tanzania | 98 |
| 37 | Uzbekistan | 98 |
| 38 | Belarus | 97 |
| 39 | Bhutan | 97 |
| 40 | Denmark | 97 |
| 41 | Ghana | 97 |
| 42 | Jamaica | 97 |
| 43 | St. Kitts and Nevis | 97 |
| 44 | Libya | 97 |
| 45 | Malta | 97 |
| 46 | Mauritius | 97 |
| 47 | North Korea | 97 |
| 48 | Russia | 97 |
| 49 | Rwanda | 97 |
| 50 | Sweden | 97 |
| 51 | Thailand | 97 |
| 52 | Tunisia | 97 |
| 53 | St. Vincent and the Grenadines | 97 |
| 54 | Belize | 96 |
| 55 | Switzerland | 96 |
| 56 | Czech Republic | 96 |
| 57 | France | 96 |
| 58 | Grenada | 96 |
| 59 | Jordan | 96 |
| 60 | Latvia | 96 |
| 61 | Norway | 96 |
| 62 | Saudi Arabia | 96 |
| 63 | Singapore | 96 |
| 64 | Serbia | 96 |
| 65 | Slovakia | 96 |
| 66 | Tajikistan | 96 |
| 67 | Antigua and Barbuda | 95 |
| 68 | Australia | 95 |
| 69 | Azerbaijan | 95 |
| 70 | Barbados | 95 |
| 71 | Botswana | 95 |
| 72 | Chile | 95 |
| 73 | Egypt, Arab Rep. | 95 |
| 74 | Eritrea | 95 |
| 75 | Guyana | 95 |
| 76 | Italy | 95 |
| 77 | Kiribati | 95 |
| 78 | St. Lucia | 95 |
| 79 | Palau | 95 |
| 80 | Poland | 95 |
| 81 | Sao Tome and Principe | 95 |
| 82 | Suriname | 95 |
| 83 | Costa Rica | 94 |
| 84 | Dominica | 94 |
| 85 | Dominican Republic | 94 |
| 86 | United Kingdom | 94 |
| 87 | Ireland | 94 |
| 88 | Kyrgyzstan | 94 |
| 89 | United States | 94 |
| 90 | Germany | 93 |
| 91 | Spain | 93 |
| 92 | Georgia | 93 |
| 93 | The Gambia | 93 |
| 94 | Croatia | 93 |
| 95 | Lesotho | 93 |
| 96 | Moldova | 93 |
| 97 | Netherlands | 93 |
| 98 | New Zealand | 93 |
| 99 | Sudan | 93 |
| 100 | Slovenia | 93 |
| 101 | Uganda | 93 |
| 102 | Armenia | 92 |
| 103 | Bulgaria | 92 |
| 104 | Colombia | 92 |
| 105 | Estonia | 92 |
| 106 | Kenya | 92 |
| 107 | Cambodia | 92 |
| 108 | Lithuania | 92 |
| 109 | Malawi | 92 |
| 110 | Burkina Faso | 91 |
| 111 | Canada | 91 |
| 112 | Comoros | 91 |
| 113 | Algeria | 91 |
| 114 | Finland | 91 |
| 115 | Iceland | 91 |
| 116 | North Macedonia | 91 |
| 117 | Myanmar | 91 |
| 118 | Nepal | 91 |
| 119 | Uruguay | 91 |
| 120 | Burundi | 90 |
| 121 | The Bahamas | 90 |
| 122 | Honduras | 90 |
| 123 | Nauru | 90 |
| 124 | Sierra Leone | 90 |
| 125 | San Marino | 90 |
| 126 | Eswatini | 90 |
| 127 | Zambia | 90 |
| 128 | India | 89 |
| 129 | Namibia | 89 |
| 130 | Tuvalu | 89 |
| 131 | Zimbabwe | 89 |
| 132 | Guinea-Bissau | 88 |
| 133 | Mexico | 88 |
| 134 | Panama | 88 |
| 135 | Paraguay | 88 |
| 136 | Togo | 88 |
| 137 | Montenegro | 87 |
| 138 | Argentina | 86 |
| 139 | Guatemala | 86 |
| 140 | Romania | 86 |
| 141 | Austria | 85 |
| 142 | Ecuador | 85 |
| 143 | Solomon Islands | 85 |
| 144 | Vanuatu | 85 |
| 145 | Djibouti | 84 |
| 146 | Iraq | 84 |
| 147 | Liberia | 84 |
| 148 | Peru | 84 |
| 149 | Bolivia | 83 |
| 150 | Brazil | 83 |
| 151 | Lebanon | 83 |
| 152 | Timor-Leste | 83 |
| 153 | Cote d'Ivoire | 82 |
| 154 | Democratic Republic of the Congo | 81 |
| 155 | Marshall Islands | 81 |
| 156 | Mauritania | 81 |
| 157 | Senegal | 81 |
| 158 | El Salvador | 81 |
| 159 | Tonga | 81 |
| 160 | Mozambique | 80 |
| 161 | Cameroon | 79 |
| 162 | Indonesia | 79 |
| 163 | Niger | 79 |
| 164 | Benin | 76 |
| 165 | Republic of the Congo | 75 |
| 166 | Micronesia | 75 |
| 167 | Madagascar | 75 |
| 168 | Pakistan | 75 |
| 169 | Vietnam | 75 |
| 170 | South Africa | 74 |
| 171 | Bosnia and Herzegovina | 73 |
| 172 | Ethiopia | 72 |
| 173 | Mali | 71 |
| 174 | Gabon | 70 |
| 175 | Laos | 68 |
| 176 | Afghanistan | 66 |
| 177 | Philippines | 65 |
| 178 | Yemen | 65 |
| 179 | Haiti | 64 |
| 180 | Papua New Guinea | 61 |
| 181 | Venezuela | 60 |
| 182 | Angola | 59 |
| 183 | Nigeria | 57 |
| 184 | Ukraine | 50 |
| 185 | South Sudan | 49 |
| 186 | Central African Republic | 47 |
| 187 | Syria | 47 |
| 188 | Guinea | 45 |
| 189 | Somalia | 42 |
| 190 | Chad | 41 |
| 191 | Samoa | 34 |
| 192 | Equatorial Guinea | 25 |