World Facts
Crime In America: States With The Most Murders
California has the most reported annual murders, with 1,861, followed by Texas at 1,316 and Florida at 1,049.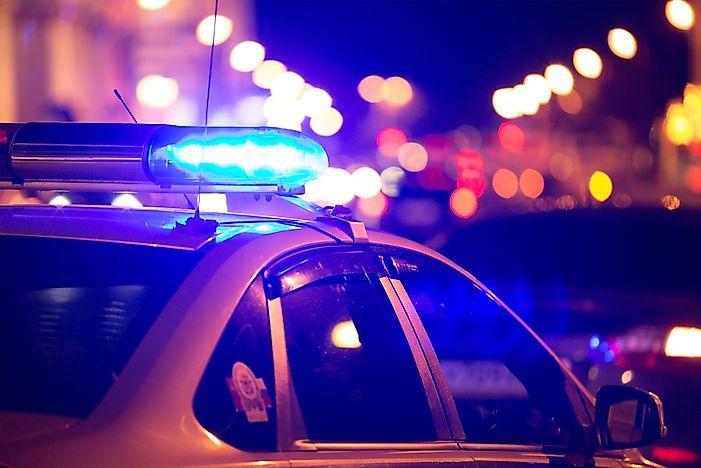 In many areas of the United States, the murder rate has been on a decline for the past few years. In California, for instance, 1,861 people were murdered in 2016, which is a decrease from the 1980s and 1990s when numbers were closer to 3,500. The number of homicides in the state had been declining gradually throughout the years, and it appears that this is a continuing trend. It is said that around 30% of murders in California are related to gang violence.
California, Texas, Florida, and Illinois Have the Most Murders
In 2016, Texas recorded 1,316 murders. This is a slight increase from measurements taken in 2010, which included 1,249 murders. Texas is one of 31 states in the country where capital punishment is legal.
In Florida, 1,149 murders took place in 2016. Although the overall crime rate of the Sunshine State has been decreasing over recent years, the murder rate in the state has actually been rising.
In 2016, 744 people were murdered in Illinois. Although this still places Illinois into the top five states by number of murders, its number is considerably less than its counterparts. This number is relatively similar to numbers reported in earlier years. Illinois abolished use of the death penalty in 2011.
American Murder Rates vs. the Rest of the World
Violent crime statistics, especially homicide and murder data, offer key insights into law enforcement in the Unites States, and inform nation-wide debates that surround crime policies. Although the number of cases has reduced in the past two decades, when viewed in global terms, U.S. murder rates remain still quite high in comparison to other developed nations.
Violent crimes, homicide, and murder significantly influence America's contemporary political debates, especially those concerning firearms regulation. The Second Amendment to the U.S. Constitution has been interpreted by many to give citizens the right to own and carry firearms, though this reading of the law and other gun regulations are hotly contested. When compared with most European countries, U.S. citizens have much easier access to firearms, and approximately 45 percent of Americans have a registered gun in their homes. The contribution of this ease of access to America's relatively high murder rates is a point of contention as well.
From the information presented within the table below, one can glean a picture of the United States's murder problem, and the disturbingly murder totals recorded in many of its constituent state. Approximately 60 percent of these murders and non-negligent manslaughter cases in the United States were carried out using a firearm, including shotguns, rifles, and handguns.
Crime In America: States With The Most Murders
| Rank | State | Total Deaths From Homicide |
| --- | --- | --- |
| 1 | California | 1,861 |
| 2 | Texas | 1,316 |
| 3 | Florida | 1,041 |
| 4 | Illinois | 744 |
| 5 | Pennsylvania | 658 |
| 6 | Georgia | 615 |
| 7 | New York | 609 |
| 8 | Michigan | 571 |
| 9 | North Carolina | 517 |
| 10 | Maryland | 516 |
| 11 | Missouri | 502 |
| 12 | Ohio | 500 |
| 13 | Louisiana | 481 |
| 14 | Tennessee | 406 |
| 15 | South Carolina | 399 |
| 16 | Virginia | 383 |
| 17 | Indiana | 373 |
| 18 | New Jersey | 363 |
| 19 | Alabama | 348 |
| 20 | Arizona | 309 |
| 21 | Mississippi | 259 |
| 22 | Wisconsin | 240 |
| 23 | Oklahoma | 234 |
| 24 | Washington | 211 |
| 25 | Kentucky | 209 |
| 26 | Arkansas | 181 |
| 27 | Nevada | 178 |
| 28 | Colorado | 176 |
| 29 | District of Columbia | 162 |
| 30 | Minnesota | 133 |
| 31 | Kansas | 128 |
| 32 | Massachusetts | 128 |
| 33 | Connecticut | 117 |
| 34 | New Mexico | 117 |
| 35 | Oregon | 99 |
| 36 | Iowa | 72 |
| 37 | West Virginia | 70 |
| 38 | Delaware | 63 |
| 39 | Nebraska | 62 |
| 40 | Alaska | 59 |
| 41 | Utah | 54 |
| 42 | Montana | 36 |
| 43 | Idaho | 32 |
| 44 | South Dakota | 32 |
| 45 | Rhode Island | 29 |
| 46 | Maine | 23 |
| 47 | North Dakota | 21 |
| 48 | Hawaii | 19 |
| 49 | Wyoming | 16 |
| 50 | New Hampshire | 14 |
| 51 | Vermont | 10 |