World Facts
Countries With the Best Roads
The United Arab Emirates, Singapore, and Switzerland have the highest ranked roads in the world.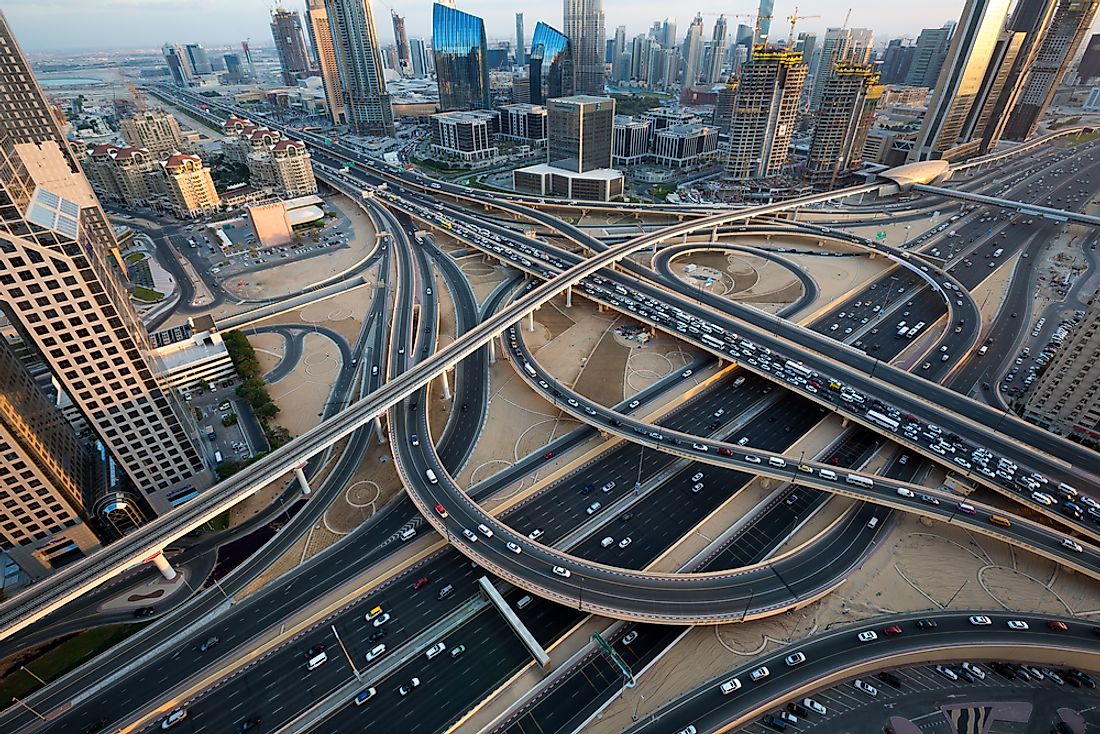 Since the dawn of civilization and the invention of the wheel, humanity has found the need to create paths and improve existing paths in order to facilitate easier and faster movement of people and goods. Modern societies have managed to improve the accessibility within and between regions through vast networks of roads and have improved the techniques used in road construction, such as the use of asphalt or concrete as a modern road construction material.
Accessing Road Quality
Road quality is determined by the extensiveness of a country's road network, as well and the condition of that network. The quality of the roads can vary from one country to another depending on these two parameters. Countries are ranked based on assigned scores which range from 1 to 7. A score of 1 indicates that the quality of roads is extremely poor, while a score of 7 means the quality of road infrastructure which is extremely good. The most recent Global Competitiveness Report on the quality of roads, as posted by the World Economic Forum, ranked the United Arab Emirates as having the best roads, with a total score of 6.4, while Mauritania was ranked last, with a score of 2 points. The quality of roads across the globe has been steadily improving, especially in developing nations in Africa and Asia, which are also reporting some of the highest rates of economic growth in the world. However, some developed nations have experienced a slight drop in the quality of infrastructure due to the recent financial crisis which has limited the amount of funds available for road maintenance.
Countries With the Best Roads
United Arab Emirates
The United Arab Emirates (UAE) ranks first globally in terms of road quality. This achievement has been attributed to sophisticated road infrastructural projects undertaken across the country, which are in line with the nation's Vision 2021 program. Despite having the highest quality of roads in the world, the country has not scored as favorably in terms of road safety and traffic congestion. It is estimated that an average driver spends at least 11% of their driving time held up in traffic. The Dubai Police control room received an estimated 15,000 emergency calls and recorded over 1,100 road accidents resulting from poor driving and bad weather.
Singapore
Singapore is ranked second globally in road quality, with a score of 6.3. The island nation has an area of 279 square miles and an impressive 5,642 lane-miles of roads. The impressive score is as the result of the government's decision to make significant investments in the nation's road infrastructure.
Switzerland
Switzerland is ranked third in road quality. The European nation is renowned throughout the world for its excellent infrastructure and also ranks first in terms of electricity supply and second in the quality of its railroad infrastructure.
Importance of Roads in the Global Economy
Experts have identified road infrastructure as a key factor in spurring economic growth and improving social welfare. Experts have also noticed an interesting correlation between a region's connectivity through infrastructure, such as roads, and poverty level.
Countries With the Best Roads
| Rank | Country | Road Quality Score |
| --- | --- | --- |
| 1 | United Arab Emirates | 6.4 |
| 2 | Singapore | 6.3 |
| 3 | Switzerland | 6.3 |
| 4 | Hong Kong | 6.2 |
| 5 | Netherlands | 6.1 |
| 6 | Japan | 6.1 |
| 7 | France | 6.0 |
| 8 | Portugal | 6.0 |
| 9 | Austria | 6.0 |
| 10 | United States | 5.7 |
| 11 | Taiwan | 5.6 |
| 12 | Korea | 5.6 |
| 13 | Denmark | 5.5 |
| 14 | Oman | 5.5 |
| 15 | Germany | 5.5 |
This page was last updated on November 15, 2018.
Citations
Your MLA Citation
Your APA Citation
Your Chicago Citation
Your Harvard Citation
Remember to italicize the title of this article in your Harvard citation.