World Facts
Giethoorn: the Village With No Roads
To help residents and visitors get around Giethoorn, all of the locales of this quaint Dutch village have been connected with canals and footbridges.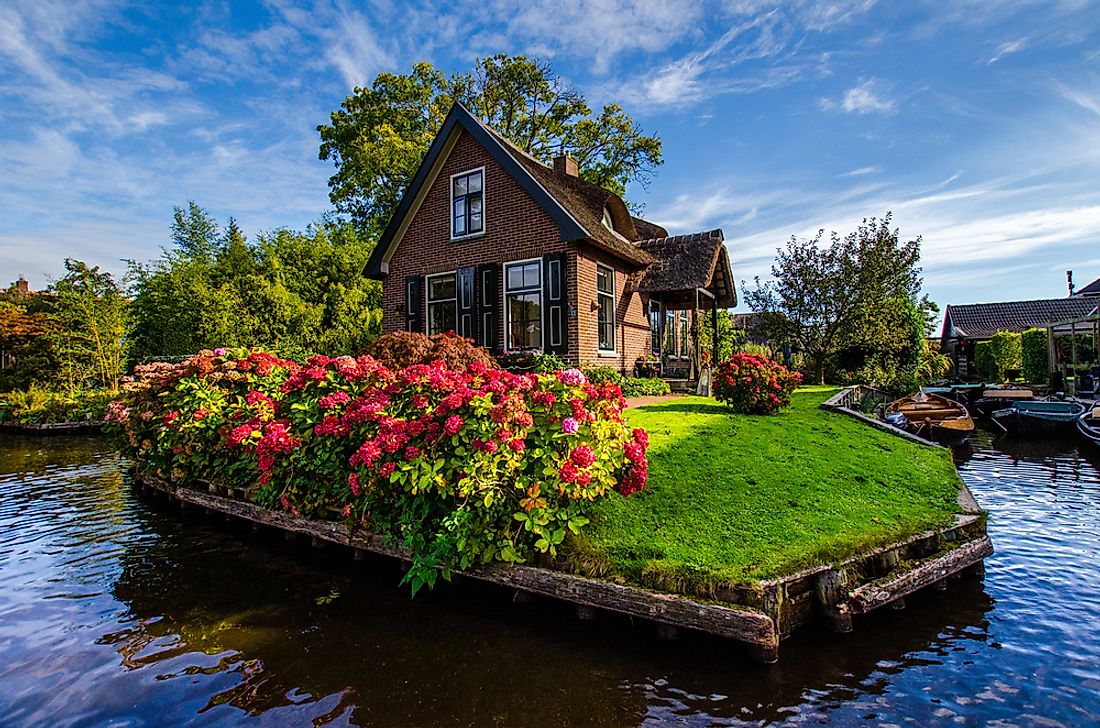 Where is Giethoorn, and Why is it So Unique?
The sleepy little village of Giethoorn is located in the northeastern Netherlands in the Dutch province of Overijssel. The village belongs to the Steenwijkerland municipality, and is situated 5 kilometers southwest of Steenwijk. Giethoorn is popularly referred to as the "Venice of the North" because of its striking similarity with the well-known Italian city of Venice in terms of its canals. Even though Giethoorn is only a small village, unlike the thriving city of Venice, both of these places have one thing in common, or should we say, they both lack one common thing which every modern city, town, and village of the world seemingly possesses: roads. Giethoorn completely lacks roadways, and instead every settlement in the village is connected by a maze of canals where typical Giethoorn boats ply to carry passengers and goods from one place to another. Footbridges over the canals are the only other mode of transport in the region.
History of Giethoorn
The Giethoorn Village was founded in the 13th Century, and was primarily occupied by a farming community. These farmers, while farming on their fields, unearthed large quantities of goat horns buried underneath the ground in the region. These horns were estimated to have belonged to the wild goats that were drowned in the Flood of 1170. The village then received its name "Geytenhoren", referring to the goat horns discovered here. The name was finally shortened to its present form of Giethoorn. The village's tourism potential came to notice after 1958, when the Dutch filmmaker, Bert Haanstra, shot his popular comedy, Fanfare, in this same village.
The Waterways and Homes of Giethoorn
The Giethoorn village is extremely picturesque, with 4 miles of canals and 50 short wooden bridges spanning the canals. The canals of the region actually represent pits dug by the villagers to extract peat and, in the long run, accumulated rain water to form numerous shallow lakes and ponds. "Whisper boats", a form of uniquely designed boats which run on electricity, quietly ply upon the canals of Giethoorn, and do not create any form of noise pollution in the village. The village is occupied by a small population of around 2,620 inhabitants, many of whom live on island homes connected by footbridges. Human-powered punts, canoes, and kayaks also skim across the waters of Giethoorn's many canals. Shops and restaurants along the village's canals all have their own docks for boaters to anchor their boats while they enjoy a sumptuous meal or splurge in shopping for local goods.
Giethoorn for the Tourists
Tourists can enjoy a number of activities in the Giethoorn Village. Kayaking or canoeing around the peaceful village, seemingly always surrounded by greenery and unique architecture, is extremely relaxing. Interesting shops selling fossils and crystals, a museum on scuba diving, and several restaurants serving regional delicacies in picturesque settings, are all major tourist attractions in the village. Interestingly, Giethoorn is often frequented by a large volume of Chinese tourists. In fact, every year between 150,000 and 200,000 Chinese tourists visit the village.
About the Author
Oishimaya is an Indian native, currently residing in Kolkata. She has earned her Ph.D. degree and is presently engaged in full-time freelance writing and editing. She is an avid reader and travel enthusiast and is sensitively aware of her surroundings, both locally and globally. She loves mingling with people of eclectic cultures and also participates in activities concerning wildlife conservation.
This page was last updated on March 13, 2019.
Citations
Your MLA Citation
Your APA Citation
Your Chicago Citation
Your Harvard Citation
Remember to italicize the title of this article in your Harvard citation.