Countries That Allow Dual Citizenship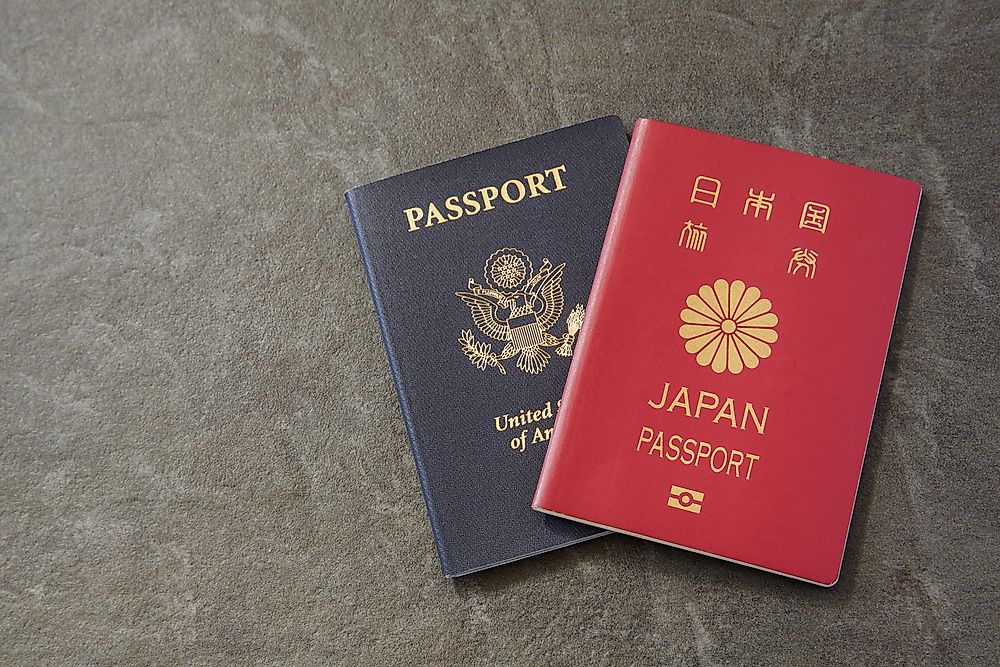 Dual citizenship, also known as dual nationality or multiple citizenship, is an individual's citizenship status that allows them to be a citizen of more than one nation at the same time under the laws of these nations. Numerous countries permit multiple nationalities, but they do not recognize the other citizenship within their territories. Some governments don't allow individuals with dual citizenship to hold public offices or serve on the police force or military.
Nations That Allow Dual Citizenship
Albania
The Albanian government recognizes dual nationality for both naturalized and native-born citizens. Albanians can acquire citizenship of other nations without losing their original citizenship unless the laws of the other country require them to renounce the Albanian citizenship to get the other. The state also offers foreigners Albanian citizenship without renouncing their county's citizenship. Foreigners who want to apply for Albanian citizenship must be over eighteen years old, have accommodation, and have resided in the country for over five years.
Argentina
Argentina accepts dual citizenship, but individuals with dual nationality are only recognized as Argentines when they are in Argentina. These individuals must enter the country using their Argentine passport when they are visiting for over ninety days. Unlike numerous other nations, the Argentines cannot renounce their citizenship; therefore they cannot acquire the citizenship of countries that require them to relinquish the Argentine citizenship. However, many states can waive this requirement if renouncing the citizenship of one's country is impossible.
Armenia
Dual citizenship was authorized in Armenia after the constitution was amended on February 26, 2007. All males with dual citizenship must serve in the military regardless of where they live as Armenian citizens. Foreign-born Armenians who do not know this law have gotten into trouble when they visited their home country. However, anyone who has reached 27 years old and has not served in the military can pay $4,500 to avoid prosecution. Armenian citizenship doesn't end just because an individual's passport has expired or if you have lived outside the country for a very long time.
Bangladesh
Bangladesh allows dual citizenship, and a citizen can only lose his/her dual nationality if he/she commits a crime within five years after becoming a citizen. All the citizens of Europe, Canada, Australia, the United Kingdom, and the United States of Bangladeshi origin can apply for a dual-national certificate. Anyone who is eligible for dual citizenship can apply for dual citizenship through a local embassy while the ones living in Bangladesh can apply through the Home Affairs Ministry.
Benefits of Dual Citizenship
Individuals with dual citizenship can receive the privileges and benefits offered by both countries, and this includes voting in both states and even holding public offices in some countries. Having dual citizenship makes it easy to travel between the two countries and it eliminates the need for visas. It makes it easy for you to visit both countries which can be beneficial especially if you are a student or doing business in both countries. Some nations restrict the ownership of land to only its citizens, but with dual citizenship, a person can own property in both countries.
Countries That Allow Dual Citizenship
| Rank | Countries That Allow Dual Citizenship |
| --- | --- |
| 1 | Albania |
| 2 | Algeria |
| 3 | Argentina |
| 4 | Armenia |
| 5 | Angola |
| 6 | Antigua and Barbuda |
| 7 | Australia |
| 8 | Barbados |
| 9 | Bangladesh |
| 10 | Belize |
| 11 | Belgium |
| 12 | Bolivia |
| 13 | Brazil |
| 14 | Canada |
| 15 | Cape Verde |
| 16 | Chile |
| 17 | Colombia |
| 18 | Costa Rica |
| 19 | Cyprus |
| 20 | Czechia |
| 21 | Denmark |
| 22 | Dominica |
| 23 | Dominican Republic |
| 24 | East Timor |
| 25 | Ecuador |
| 26 | Egypt |
| 27 | Fiji |
| 28 | Finland |
| 29 | France |
| 30 | Ghana |
| 31 | Greece |
| 32 | Grenada |
| 33 | Honduras |
| 34 | Hong Kong |
| 35 | Hungary |
| 36 | Iceland |
| 37 | Iraq |
| 38 | ireland |
| 39 | Israel |
| 40 | Italy |
| 41 | Ivory Coast |
| 42 | Jamaica |
| 43 | Jordan |
| 44 | Kenya |
| 45 | Lebanon |
| 46 | Latvia |
| 47 | Libya |
| 48 | Luxembourg |
| 49 | Macedonia |
| 50 | Maldives |
| 51 | Malta |
| 52 | Mauritius |
| 53 | Mexico |
| 54 | Morocco |
| 55 | Nauru |
| 56 | New Zealand |
| 57 | Palau |
| 58 | Pakistan |
| 59 | Palestine |
| 60 | Panama |
| 61 | Paraguay |
| 62 | Peru |
| 63 | Philippines |
| 64 | Portugal |
| 65 | Romania |
| 66 | Russia |
| 67 | Samoa |
| 68 | Serbia |
| 69 | South Africa |
| 70 | Sri Lanka |
| 71 | St. Kitts and Nevis |
| 72 | St. Lucia |
| 73 | Sudan |
| 74 | Sweden |
| 75 | Switzerland |
| 76 | Syria |
| 77 | Trinidad and Tobago |
| 78 | Tunisia |
| 79 | Turkey |
| 80 | Tuvalu |
| 81 | United Kingdom |
| 82 | Urugay |
| 83 | Vanuatu |
| 84 | Zambia |
| 85 | United States |