Canada is the second largest country in the world, covering a total area of about 6.2 million square miles. It consists of 10 provinces and 3 territories. Canada shares the world's longest land border with the United States. The country derives its name from Iroquoian word Kanata which means "village".
Canada is a multicultural nation that is ethnically diverse. Today, the country has a population of about 35 million, a significant number of whom are immigrants originating from different corners of the planet. Canada, just like any other country, has a culture that was shaped by history. Waves of migration have collectively blended to create a pleasant and unique custom, traditions , socio-cultural environment, and rituals.
Language
Canada is a bilingual country where French and English are both official languages at the federal level. French is the language of the majority in the province of Quebec, and is a significant language in provinces such as New Brunswick and Ontario. Other provinces primarily use English. New Brunswick is only province to appoint both English and French as official languages at the provincial level. A number of Canadians are bilingual, with some understanding of both French and English.
Apart from the two official languages, several other languages are spoken in Canada. These languages are as a result of migration to the country that has changed over the years. Spanish, Italian, German, Chinese, Arabic, Dutch, Cantonese, Hindi, and several other languages are the minority languages of Canada.
Religion
Just like many other developed countries, irreligion is growing in popularity in Canada. A majority of Canadians claim to be religiously affiliated but few observe religion. The country remains Christian dominated state but the number of people claiming no affiliation to religion has been on the rise since the 1980s. Nevertheless, Canada is tolerant to different faiths and beliefs as the country has no official religion.
About 67% of the population identifies with Christianity, with Roman Catholicism and Protestant Christianity being the major religions. The major protestant denominations are United Church of Canada, Baptist, Anglican Church of Canada, and Presbyterian. Minority religions include Islam, Buddhism, Hinduism, Sikhism, and Judaism.
The Arts
There are several programs that fund artists in Canada at all levels of government. The Governor General's Award is awarded to artist, musician, writer and cultural performance annually. Performing art center and theatre is spread across the country. The Shaw Festival and the Stratford Shakespeare Festival are also held annually. Toronto, Montreal, Halifax, and Vancouver are recognized as leading arts centers within the country.
Canadian Literature
Canada is home to a number of literary authors who produce work in either French or English. Some of Canada's most famous authors include Margaret Atwood, Alice Munro, Yann Martel, Robert Munsch, Leonard Cohen, and Timothy Findley.
Cuisine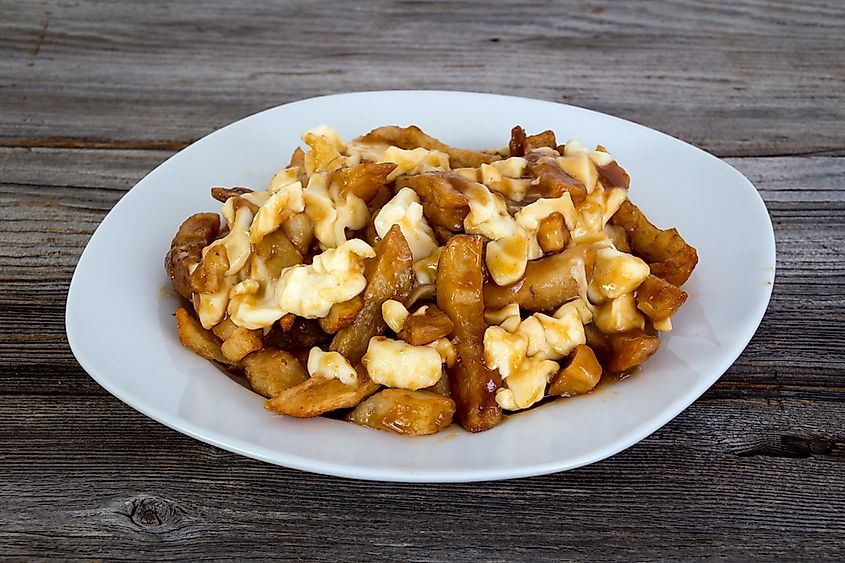 It is difficult to identify a particular cuisine and refer to it as a "Canadian cuisine" because the multicultural and multi-ethnic composition of the country has resulted in a wide range of foods and varying preparation techniques. When considering Canadian cuisine, most people think of the maple syrup and the Canadian bacon. Although these foods are uniquely Canadian, they are just but a few of the delicacies available in the country. The culinary styles of the country maybe unique but it is influenced by the styles in Asia, Europe, the United States, and the Middle East.
One of the food that is considered to be truly Canadian is "poutine". The original form was invented in the 1950s in Quebec and consist of French fries slathered in cheese curds and gravy. The recipe has since changed and adopted several ways of preparation to vary taste. Sushi pizza is common in the city of Toronto although neither pizza nor sushi are native Canadian cuisines; the combination of the two to form a single dish was invented in the city.
Sport
Sports are a very important part of the Canadian culture. Ice hockey and lacrosse are the popular sports although football, baseball and cricket also attract the significant number of spectators. Ice hockey is so prevalent in the country that it is simply referred to as "hockey". It is Canada's most successful sports in international competitions. Many children learn to play hockey at a very young age and competitions are held frequently including in high schools and colleges.