Sweden is a Scandinavian country located in Northern Europe. The country has a rich storied cultural past that today finds its place among the country's modern influences. The evolution of culture, customs and traditions over time were influenced by King Gustav III monarch and the reign of Queen Christina in the 1600s. 
Cuisine And Drinks
Common Swedish dishes are made up of meat, dairy products, bread, vegetables and fruits. Seafood is relatively common as the country is located next to the North and Baltic Sea. The ingredients of Husmanskost, a common dish, are pork, cereals, fish, milk, vegetables and onions. Common fruits in the country are apples and berries. Swedes generally take their breakfast (frukost) early in the morning, and then have a light lunch but heavy supper. They are known to be avid drinkers of coffee and milk.
Music And Dance
Traditional Swedish folk instruments include accordion, fiddle, harmonicas and clarinet. Dansband dance was adopted in the 1970s. Kulning and ballads are traditional folk songs. Sweden is a famous pop exporter of music such as ABBA. Johan Helmich Roman, Carl Michael Bellman, Joseph Martin Kraus and Hugo Alfven the violinists are well-known shapers of Swedish music. Other popular genres in Sweden include heavy metal, punk rock and hardcore punk.
Architecture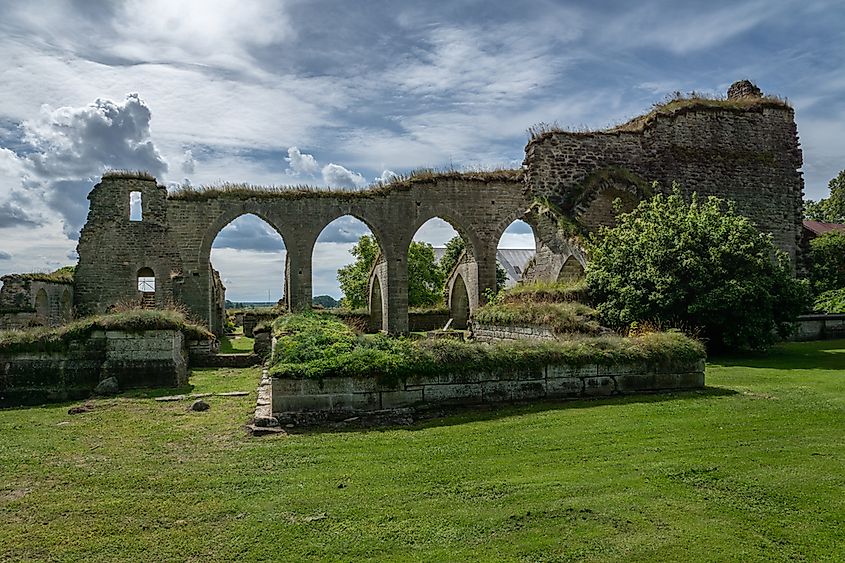 Swedish architectural work is displayed in monuments such as palaces, churches and townhouses. Stones were adopted as a building material in the 12th century when Romanesque churches such as Lund Cathedral and Alvastra monastery were built. A Gothic style was later introduced with bricks becoming the main building material. Most of the traditional middle age buildings have been renovated with a few like the city walls of Visby being preserved. Famous architects such as Simon De la Vallee and Nicodemus Tessin the Elder are considered the Swedish fathers of architecture. Stockholm Palace, Kalmar Cathedral and Katarina church are all famous designs. Cities were well planned with a central square and grid plan pattern of the streets. In the 19th and early 20th century, a national Romantic Style was adopted. The modern and postmodern architecture was adopted due to an increase in population.
Media
Media has a long history  in Sweden, dating back to 1766 when the law on freedom of the press was enacted. Public service companies dominate the sector. Major television channels include SVT and TV4 Gruppen. 
Literature
Among the oldest recorded literature in Sweden is the Rök Runestone. It was carved in the Viking Age around 800 AD. Latin was adopted after the conversion into Christianity in 1100 AD. By the 16th century, the Swedish language was made official and standardized leading to the flourishing of literature. With better education and secularism, notable authors such as George Stiernhielm the poet came up. Johan Henric Kellgren and August Strindberg are some of the early scholars and literature authors. Notable authors who have contributed to the flourishing of modern Swedish culture are Hjalmar Söderberg, Henning Mankell, Vilhelm Moberg and Nobel prize winners Selma Lagerlöf (1909) and Pär Lagerkvist (1951). Sweden has 7 Nobel Laureate due to their literature work. In recent times, literature has developed with children's literature, drama, detective novels and poetry gaining popularity.
Public Holidays
Public holidays are an important part of life in Sweden. Most businesses close at noon of the previous day. Christian, as well as the non-Christian holidays, are highly celebrated. Swedes begin celebrating holidays on the eve of the day. An Act of Parliament established the holidays.
Cinema
Award-winning movies have been acted and recorded in Sweden. Prominent cinema directors such as Victor Söjström, Ingmar Bergman, Roy Andersson, and Lasse Hallström have led the sector to international recognition. The Film Institute was established in 1963. The mandate was to develop, allocate funds, distribute films and market the sector internationally. Cinema is more publicized through the Guldbagge Awards that is held each year. The sector produces over 20 films every year.
Sports
Sweden is a sporting nation with over 50% of the population actively involved in various sports. Under the guidance of the Sports Confederation and the Olympic Committee, Sweden has been able to develop football, bandy, handball, athletics, equestrian sports motorsport, golf, ice hockey and gymnastics. Other sports that have gained popularity are cycling, mixed martial arts, tennis and orienteering. Sweden has hosted international sports and games. Huge crowds generally turn out to spectate. 
Fashion
The cold, harsh climate of Sweden dictates the mode of dressing. Attires worn must, therefore, be purposeful and practical. Lutheran background and the conservative society dictates simplicity. Attires are neutral toned, has less intricate details and not designed for the wearer to stand out. Sweden is a fashion center among the Scandinavian countries. Stockholm hosts an international Biannual fashion week. There are serious fashion designers like the Acne Studios in Stockholm whose brands are universal.
Art
The arts are an integral part of life in Sweden. Art in Sweden has existed for thousands of years as part of the Nordic art across Scandinavian countries. The government gives subsidies to artists making the sector have a huge production per capita. Stone monuments and numerous excavated objects are evidence of ancient art. Gothic art, Gustavian style, Karl Johan style and medieval art are some of the arts practiced in Sweden. The Modern expression of artistic work has been enhanced by painters like Albin Amelin, Philip von Schantz and Torsten Billman.
Various cultural and traditional artifacts are well preserved in museums. Sweden has numerous museums where the young generation can learn more about the traditions of their people.
Other Traditions
The people of Sweden have plenty of festivals and cultural activities in different seasons. The Walpurgis Night is observed as a custom on April 30th every year. Swedes gather around bonfires singing choral. The custom is performed to usher in spring at the end of winter. Midsummer feast is also another tradition observed between the 19th and 25th June on a Friday. There is a culture of leaving the urban areas and camp in the countryside and cottages. The Crayfish Party held in August is another tradition. Crayfish consumption is a cultural ritual surrounded by many accessories including colored lanterns.