Politics
British Prime Ministers Serving The Shortest Time In Office
13 British PMs held the office less than two years, while the shortest tenure of all lasted less than 4 months.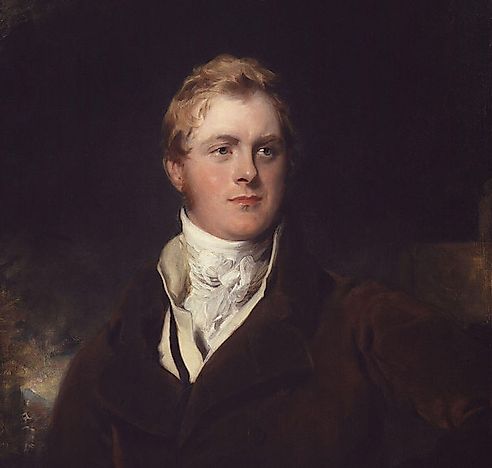 Over the years there have been Prime Ministers in the UK who served in office for the shortest time in history, and there are at least 13 British PMs who have been in office for less than two years, while the shortest tenure of all lasted less than four months. They include George Canning, Fredrick John Robinson, Bonar Law, and William Cavendish among others.
The Top Four Prime Ministers With The Shortest Times In Office
George Canning
George Canning served a total of 119 days in 1827. He was born on April 11th, 1770 to George Canning Sr. of Garvagh and Mary Ann Costello. His parents were not wealthy, and his father abandoned the family after his financial situation worsened. George Canning exhibited extraordinary intelligence and was adopted by his rich uncle, Stratford Canning, who was a wealthy merchant. Canning was well educated and graduated from Oxford in 1791 with a Degree in Law.
Canning developed interest in politics. His uncle was a Whig and had developed friendships with other prominent Whigs most of whom were wealthy aristocrats. Canning, however, due to his poor background had an uncertain future in the Whig party.
He had great admiration for William Pitt the younger leader of the "Tory Group" and when the two met, Canning shifted loyalty from the Whig Party. With the assistance of Pitt, Canning became an MP. He enjoyed a fast rise in politics attributed to his intelligence, wit, and oratory skills.
He was appointed Foreign Secretary in 1807, a post which made him famous. He out-smarted Napoleon by capturing the Danish Navy. He also attempted to remove the Minister of War, Castlereagh, from office and was wounded in a duel between them. He resigned this post but after Castlereagh's suicide in 1822, he resumed office. He was lauded mainly for preventing the French from annexing South America.
Canning succeeded Lord Liverpool as Prime Minister on 10 April 1827 through a coalition with the Whigs. Canning had become liberal as he supported the abolition of slavery and Roman emancipation. The name "Canningites" was coined for his ardent supporters.
His legacy is that of the 'lost leader' because he did not have enough time to accomplish much as Prime Minister. He died suddenly on 8 August 1827, of Pneumonia barely five months after he took office.
Frederick John Robinson, 1st Viscount Goderich
Frederick John Robinson was the successor of George Canning as Prime Minister serving only 130 days from August 31, 1827, to January 21, 1828. He was born an Aristocrat and was well educated. He was admitted to Lincoln's Inn in 1802 after graduating from St. John's College in Cambridge. He was not admitted to the bar however and did practice law.
Family Connections helped him enter into politics first as the private secretary to the Earl of Hardwicke. He was elected to Parliament in 1806 representing Carlow. He was elected as MP for Ripon a year after, a position he held until 1827.
He was joint paymaster- general between 1813 and 1817 under Castlereagh. He was present when the Treaty of Paris of 1814 was negotiated. He reluctantly introduced the Corn Laws in Parliament. The laws were unpopular since they proposed stopping wheat imports to England.
He was Chancellor of the Exchequer between 1823 and 1827 and improved the economy through reduction of tax and customs duties. Frederick was the leader of the Lords in 1827 and earned the title 'viscount'. He became Prime Minister on August 31, 1827, and was unable to unite a disintegrating coalition between the Whigs and the Tories. He resigned 130 days after.
Bonar Law
Andrew Bonar Law was born in September 1858 in Canada. He left school at the age of 16 to trade in iron. He became wealthy and entered politics as a Conservative. He was Member of Parliament for Glasgow, Bootle, and Dulwich. His rise in politics saw him nominated to become Leader of the Conservative Party on November 13, 1911, as a compromise nominee succeeding Arthur Balfour.
As leader of the opposition party, Law pursued tariff reform and opposed the Irish Home Rule, which divided an already disunited Party. He attempted to unite the party through negotiating a coalition with Asquith after WWI.
He was Secretary of State for Colonies between 1915 and 1916 and Chancellor of the Exchequer from 1916 to 1919. The conservatives elected to break off from the coalition and Law voted the Party Leader and Prime Minister. During his tenure, UK severed its diplomatic relations with France over the occupation of Ruhr by the French.
He served as Prime Minister for 211 days from October 23, 1922, to May 20, 1923. He made history by becoming the first Prime Minister born outside of the British Isles.
William Cavendish, 4th Duke of Devonshire
William was born in 1720 to aristocratic parents. He entered politics in 1741 as Member of Parliament for Derbyshire as a Whig. He was wealthy, and his financial position was elevated further when he married Lady Charlotte Boyle. She was the last of Richard Boyle's children who was the Earl of Burlington.
He was the Master of Horse in the royal household in 1751 and went to Ireland in 1755 as its Lord Lieutenant. Ireland was by this time keen to gain its independence from the UK. He came to the title of the 4th Duke of Devonshire after his father's death in 1755.
He was convinced by George II to assume office on November 16th, 1756. His primary focus was the military and during his tenure, a Militia Act was passed. He led the UK to victory during the Seven Years' War.He resigned on June 25th, 1757 after 225 days in office.
The Other Prime Ministers With Short Rules
Other UK Prime Ministers, who were in office for less than two years, include William Petty the second Earl of Shelburne, who served for only 266 days. John Stuart, the 3rd Earl of Bute, served for 317 days, Alec Douglas-Home was in office for only 362 days, while Lord William Grenville, 3rd Duke of Grafton served for 1.12 years. Augustus Fitzroy was in office for 1.29 years only while Archibald Primrose served for 1.3 years
Shortest Times In Office Among Prime Ministers Of The United Kingdom
| Rank | Prime Minister | Time In Office |
| --- | --- | --- |
| 1 | George Canning | 119 days |
| 2 | Frederick John Robinson, 1st Viscount Goderich | 130 days |
| 3 | Bonar Law | 211 days |
| 4 | William Cavendish, 4th Duke of Devonshire | 225 days |
| 5 | William Petty, 2nd Earl of Shelburne | 266 days |
| 6 | John Stuart, 3rd Earl of Bute | 317 days |
| 7 | Alec Douglas-Home | 362 days |
| 8 | Lord William Grenville, 1st Baron Grenville | 1.12 years |
| 9 | Augustus FitzRoy, 3rd Duke of Grafton, Earl of Euston | 1.29 years |
| 10 | Archibald Primrose, 5th Earl of Rosebery | 1.30 years |
| 11 | Charles Watson-Wentworth, 2nd Marquess of Rockingham | 1.31 years |
| 12 | Spencer Compton, 1st Earl of Wilmington | 1.37 years |
| 13 | Anthony Eden | 1.76 years |