World Facts
Biggest Robberies In World History
The United Kingdom, United States, and Iraq each make multiple appearance on the list of most prolific robberies.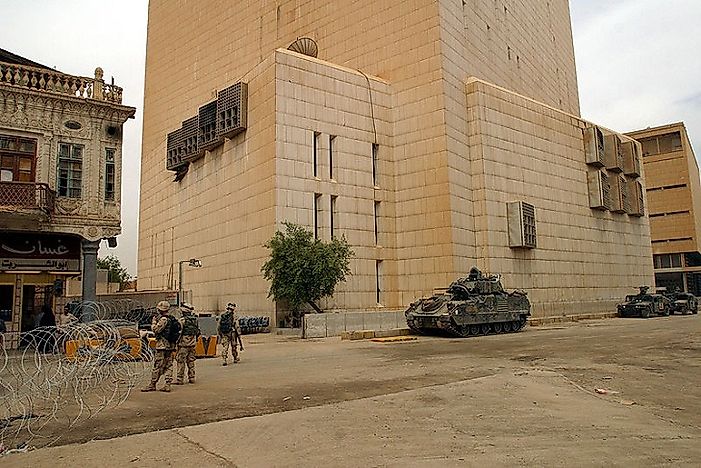 A look at 10 of the World's Most Valuable Robberies is outlined below. Placed in terms of the amounts stolen relative to 2016 U.S. dollars, those making the list incurred losses in the hundreds of millions USD in today's currency.

The World's Most Expensive Robberies

10: Harry Winston Diamonds. Paris, France.


As the afternoon faded into evening on December 5th, 2008 the customers and staff of the Harry Winston Diamond store in Paris, France were in for a surprise when a five member gang, led by Douadi Yahiaoui, entered the store dressed in wigs and dresses. After herding the staff and customers into a corner at gun point, no shots were fired but several were assaulted, the men proceeded to stuff diamonds and other jewelry into bags, taking almost all the jewelry. The men seemed to have an intimate knowledge of the store, calling the staff by their first names and knowing the location of the top secret storage boxes. With the value being $120.5 million the Harry Winston Robbery is dubbed the "steal of the century". Upon being caught and convicted, Douadi Yahiaoui was sentenced to 15 years in prison.


9: Antwerp Diamond Center, Antwerp, Belgium


Two years prior to the Antwerp Diamond Center robbery the leader of the robbers, Leonardo Nortarbarlolo rented an office space above the Diamond Center and posed as an Italian Merchant to gain cred, a security deposit box and a tenant ID card which granted 24 hour access to the building. Nortabarlolo led a group of five the weekend of February 15-16th, 2003 and pocked a cool $100 million in loose diamonds, gold and other jewelry. They even stole the security footage so they could not be identified, but then disposed of them near the scene along with a half-eaten sandwich that had Nortabarlolo's DNA on it and ended with him receiving a ten year prison sentence, but has been since released on parole. The police believed that he was the leader of the La Scuola di Torina (The School of Turin) which is a ring of Italian thieves. The items stolen were never recovered.

8: Schiphol Airport, Amsterdam, Netherlands


On February 25th, 2005 two men dressed as Royal Dutch Airline employees managed to stop the driver of a diamond delivery truck, hold him at gun point and make away with $172.4 million. They were never apprehended, though Police strongly suspect that the two men had inside help.

7: United California Bank, Laguna Nigel, California, United States


On March 24th, 1972 Amill Dinsilo led a group that consisted of his nephews, brother-in-law, brother, and two alarm experts to the United California Bank in Laguna, Niguel and made off with $30 million (which is around 172.4 million in today's money). The robbery was executed perfectly the only hitch was they had done a similar crime in Ohio only months earlier. When the police realized the two crimes were linked they checked transportation records and saw the entire group had been on the same flight to California. The police turned up a townhouse that was said to be the HQ and original searches revealed nothing until the dishwasher was checked. This lead to finding unwashed dishes with fingerprints all over them. Most of what was taken was recovered and Dinsilo self-published a book on the events called Inside the Vault with the help of his daughter.
6: Knightsbridge Security Deposit, Knightsbridge, England


Dubbed one of the largest robberies in the world the Knightsbridge Security Deposit found itself targeted by Valerio Viccei, a lawyers son who already had fifty armed robberies under his belt. On July 12th, 1987 two men entered the Security Deposit and requested to open a Security Deposit box, upon being shown to the vault they subdued the guard at gun point and then hung a sign saying the Deposit was closed. Authorities found a bloody fingerprint that was traced back to Viccei, who had fled to Latin America. Several of his accomplices were arrested on August 12th, 1987 and Viccei was caught when he returned to England to retrieve his Ferrai Testarossa, Police caught him as he drove away. Smashed his windshield and hauled him from the car. He was sentenced to 22 years and incarcerated in Parkhurt's on the Isle of Wight. In 1992 he was deported to Italy where he was to serve out the rest of his sentence at an open Jail in Pescara, where he lived the life he was accustomed to. Even ran a translation company. His death came on a day out from the prison during an armed altercation with the guards.


5: British Bank of the Middle East, Beirut, Lebanon

The robbery of the British Bank of the Middle East was executed by the PLO, a terrorist group that was hell bent on carving out a homeland for the Palestinian people, lead by Yasser Arafat on January 20th, 1976 and was assisted by Corsican locksmiths. The operation took 2 days, 6-15 people involved with $25 million pounds in gold, jewels, stocks and currency being taken. Some of the stocks stolen were actually sold back to the owners.
4. Dar es Salaam Bank, Baghdad, Iraq


The heist of the Dar es Salaam in Baghdad, Iraq seems to be a mystery even to the the authorities, who can not agree on just how many were involved but it is certain that it was executed by two of the guards that worked at the bank. Though the general suspicion is between two and three. It is also called one of the biggest heists since the Central Bank of Iraq in 2003.


3: Boston Museum, Boston, Massachusetts


Thieves disguised as cops found their way into the Boston Museum on March 18th, 1990 and made off with 13 pieces of artwork that together valued $500 million. The heist is called the single greatest property theft in history. There are empty frames hanging in the Dutch room of the museum in hopes of their return, which has yet to happen. The FBI are offering a $5 Million reward for information leading to their recovery.


2: Bank of England Treasury, London, England
On May 2nd, 1990, while carrying out a delivery, John Goddard was robbed at knife point and murdered. The robbery consisted of the theft of 301 treasury bills and certificates of deposit. Keith Cheeseman received 6 1/2 years in prison for his part and authorities believe that Patrick Thomas, a petty crook from South London, was the mastermind. Due to an informant the London City Police along with the FBI infiltrated and recovered all but 2 of the 301 Bonds taken.
1: Central Bank of Iraq, Baghdad, Iraq
Considered the biggest heist in History the Central Bank of Iraq found its self the victim of a heist when a handwritten note was presented from Saddam Hussein for $920 million to be withdrawn and given to to his son, Qusay Hussein. Qusay and another oversaw as the cash, boxes of $100 bills, were loaded into trucks and trailers during the course of what was a five hour operation.
Biggest Robberies In World History
| Rank | Setting | Value Stolen (in 2016 USD) |
| --- | --- | --- |
| 1 | Central Bank of Iraq, Baghdad, Iraq, March 18, 2003 | $1.305 Billion |
| 2 | Bank of England Treasury, London, England, May 2, 1990 | $849.5 Million |
| 3 | Boston Museum, Boston, Massachusetts, U.S.A., March 18, 1990 | $551.4 Million |
| 4 | Dar es Salaam Bank, Baghdad, Iraq, July 12, 2007 | $326.7 Million |
| 5 | British Bank of the Middle East, Beirut, Lebanon, January 20, 1976 | $245.0 Million |
| 6 | Knightsbridge Security Deposit, Knightsbridge, England, July 12, 1987 | $205.6 Million |
| 7 | United California Bank, Laguna Niguel, California, U.S.A., March 24, 1972 | $172.4 Million |
| 8 | Schiphol Airport, Amsterdam, Netherlands, February 25, 2005 | $145.2 Million |
| 9 | Antwerp Diamond Center, Antwerp, Belgium, February 16, 2003 | $130.6 Million |
| 10 | Harry Winston Diamonds, Paris, France, December 5, 2008 | $120.5 Million |
This page was last updated on April 25, 2017.
Citations
Your MLA Citation
Your APA Citation
Your Chicago Citation
Your Harvard Citation
Remember to italicize the title of this article in your Harvard citation.