Biggest Heists And Bank Robberies In American History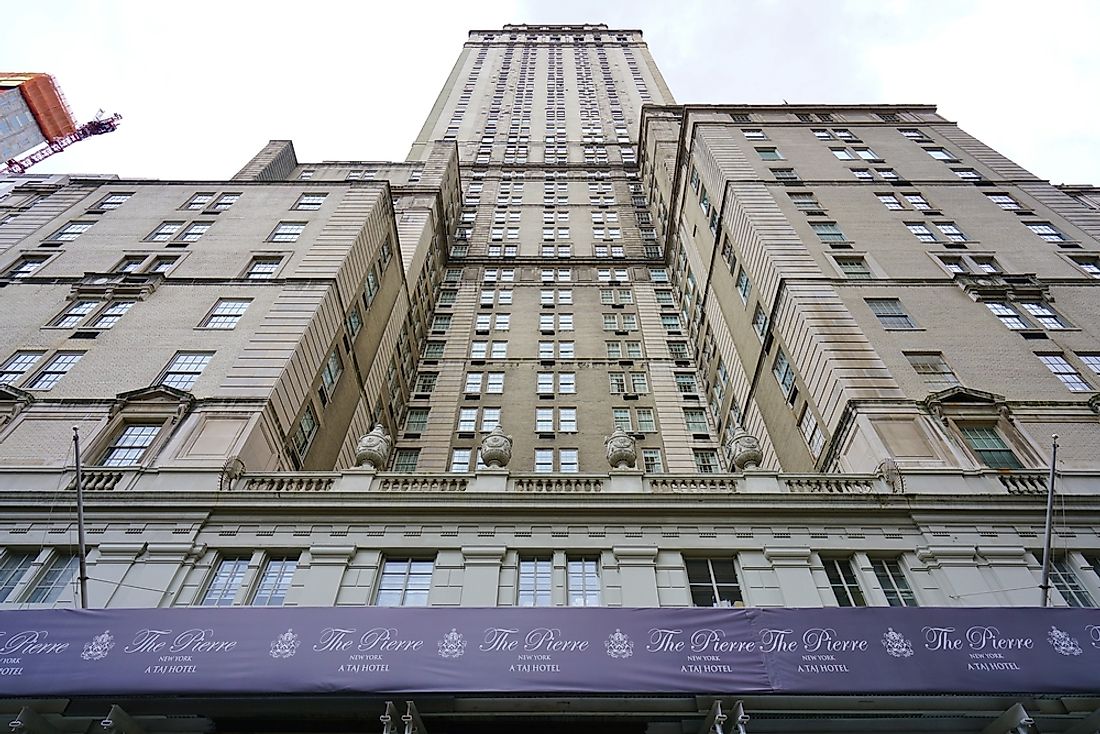 Ten of America's largest, and most notorious, robberies are detailed below. Interestingly enough, four occurred in New York City alone, and three of the ten in the year 1997. Even more curious to note is the fact that the two largest of all on our list went down within little more than a couple of months apart in the year 1972.
Top Ten Highest Value Bank Robberies in American History
#10 Wells Fargo, West Hartford, Connecticut, 1983
The Wells Fargo bank robbery was named White Eagle by the guerrilla groups responsible for the Crime. Los Maceteroes name of a guerrilla group who was seeking independence of Puerto Rico from the United States of America who broke in and stole $7 Million (which would total $16.9 Million in today's currency) from Wells Fargo in West Hartford, Connecticut. The group claimed that apart of the money was sent to a poor communities of Puerto Rico to fund education, food, clothing, housing and toys for children. Those prosecuting him stated that the money was used to finance Maceteroes. The FBI got their hands on around $80,000 of what was believed stolen when they conducted their searches of Boston and Puerto Rico. $1 Million was spent between the group, $2 Million was sent to Cuba, and $4 Million was secured in safety deposit boxes, savings accounts and farmhouse cellars across Puerto Rico. One of the leaders of the group, Juan Segarra Palmer was one of the leaders was sentenced to 65 years in prison. In 1999 he was one of the FLAN members who had their sentence commuted by President Bill Clinton. Filberto Ojeda Rios, another of the leaders and not physically present at his hearing, was sentenced to 55 years in prison. It is stated that Ojeda jumped bail because he didn't believed he would get a fair trial. Apparently Victor Manuel Gerena is still at large and has made it atop the FBI's Ten Most Wanted Fugitives.
#9 JFK International Airport, New York, New York, 1978
Known to history as the Lufthansa Heist the robbery took place December 11th, 1978 at the JFK International Airport in New York, New York. An estimated $5. 9 Million was stolen (which translates to $21.6 Million today). $5 Million of it was stolen in cash while $875,000 was in Jewels and at the time of the crime made it the largest cash robbery to happen in American History. The heist inspired three films: 10 Million Dollar Getaway, the Big Heist, and Goodfellas. It was rumored that American gangster, Jimmy Bruke, was the mastermind of the heist though was never formally charged. It has also entered history by being the longest crime to ever be investigated with the latest of the arrests being made in 2015.
#8. The Manhattan Company, New York, New York, 1935
The theft of $1.5 Million ($25.6 Million today) from the Manhattan Company in January of 1935 was linked to the $590,000 ($4 Million today) by then FBI Director J Edgar Hoover who also linked it to an international bank robbery ring that was based out of Southern France. Five were arrested in July of 1936 and four more were arrested between then and December of 1939. It ended with the arrest of John Philipp Spanos who had fled and eluded capture for four years as a fugitive in Greece.
#7 Loomis Fargo, Charlotte, North Carolina, 1997
Loomis Fargo in Charlotte, North Carolina found itself the target of a robbery on October 4th, 1997 by one of their vault security guards, David Ghantt and his girlfriend, Kelly Campbell who had been a former employee at the time. Along with Ghantt and Campbell were eight others including a former high school friend of Campbells, Steve Chambers and his wife, Michelle. Chambers had approached Campbell earlier in the summer of 1997 about pulling off a $17.3 Million Dollar heist (which translates to $25.9 Million today) at her former place of work. Campbell then brought the idea to the attention of her boyfriend. The plan was that Ghantt would commit the actual robbery and then flee to Mexico City where he would stay until he felt enough time had passed for him to reenter the United States, he would leave the majority of the money with Campbell and split it evenly when he returned with Campbell wiring him enough money to live on. When Loomis Fargo employees could not open the vault the next morning they called the authorities and because 95 % of the money handled at Loomis Fargo was money owned by banks it made the crime a federal offense. Ghantt was a prime suspect from the start and connecting him to Campbell was easy the hard part came connecting him to Chambers. Initially it was decided that they should spend the money frugally for a year or two to avoid suspicion, but Chambers believing that the FBI could not connect him to Ghantt choose to disregard that. They were apprehended when his wife made her bank suspicious by asking questions regarding how large a deposit has to be before they would alert the FBI. Ghantt was arrested March 1st,1998 when the FBI successfully traced a phone call. He was arrested at Playa del Carmen which is a resort near Cozumel. The next day the Chambers and Kelly Campbell were arrested. 95% of the money taken was recovered by the FBI.
#6 Sentry Armored Couier, New York, New York , 1982
On the evening of December 12th, 1982, 25-year-old Cristos Potamtsis, a guard for Sentry Armoured Courier, and a friend attempted to pocket a cool $11 Million ($27.4 Million today) while Christo was on shift that night. Christo was arrested February 2nd 1983 in San Juan while he vacationed at a private resort. Christo's partner in crime, 21 year old George Legaki's was arrested when he voluntarily showed up for questioning. The Police said that Legaki and Potamtsis were not alone in the crime.
#5 Brinks Building, Boston, Massachusetts, 1950
The $2.8 Million armed robbery of the Brinks Building in Boston Massachusetts on the evening of January 17th, 1950 consisted of $1,218,211.29 in cash and $1,577,183.83 in checks, money orders and other securities. It also went down in history as the "crime of the century" and was the work of an eleven member gang. Joseph "Big Joe" McGinnis was the leader of the gang and the one who came up with the idea to begin with. Doning clothing to the bank's uniform they also added rubber Halloween masks, gloves and rubber soled shoes. With their copied keys the gang came to the second floor of locked doors and bound, gagged and surprised those who were working at the time. Except for a box of Payroll for the General Electric company McGinnis and his gang took everything, including revolvers from the employees they had bound and gagged. They agreed to not spend the majority of the money for two years when the statue of limitations ran out. The majority of the gang was arrested five days before the statute of limitations ran out. Eight of them received maximum life sentences, all were paroled in 1971 except for McGinnis who had died in prison. Only $58,000 of the $2.7 Million was ever recovered
#4 Loomis Fargo, Jacksonville, Florida, 1997
On March 29th, 1997 Philip Noel Johnson, who worked as an armored car driver for Loomis Fargo, pulled off an $18.8 Million ($28.1 Million today) robbery after over powering two of his co-workers and leaving them at different areas. He hid most of the money in a storage shed in Mountain Home, North Carolina and then moved to Mexico City. He was arrested when attempting to re-enter the US and gave the customs worker need for suspicion. He was found with multiple passports. Almost all of the money was recovered and Johnson was convicted and sentenced to 25 years in prison.
# 3 Dunbar Armored Facility, LA California, 1997
The Dunbar Armored Car robbery has the honor of being named the largest cash robbery to have occurred in the United States with $18.9 Million ($28.3 Million today) being taken. It happened September 12, 1997 and was engineered by Allen Pace, who had been a regional safety inspector for Dunbar. While working he had time to take photographs and inspect the Armored Car depot and after recruiting 5 of his childhood friends they attempted the robbery. Upon realizing it was an inside job the police looked at Pace closely but found nothing, and the remainder of the gang were careful to keep their new wealth a secret. The error came when one of them paid a real estate associate with a stack of bills in their original binds. The associate went to the police. Pace was convicted and was sentenced to 24 years in prison and some of the money has never been recovered.
#2. Pierre Hotel, New York, New York, 1972
Samuel Nalo and Robert Comfort have gone down in history with their ability to pull of 1972's robbery of the Peirre Hotel in New York. The crime has been dubbed the "most successful hotel robbery" by Guinness World Records by pocketing $27 Million (which is $155.2 Million today). Both Comfort and Nalo had stolen $1,000, 000 in jewelry and cash from the Sherry Netherlands Hotel. Nalo was the main planner but Comfort was the main organizer. Along with Robert "Bobby" Germaine, an associate of the Lucchese crime family, Ali-Ben, a contract killer for the Turkish mafia, Al Green, Ali-Ben's brother in law who was also a jewel robber, Nick "the cat" Sacco, Alan Visconti, another associate of the Lucchese crime family, and a freelance, contracted killer named Donald Frankos the heist was pulled off at 3:04 among January 2nd, 1972 and 19 hostages were taken. Frankos apparently threatened to kill Nalo for ripping him off but was cheated of that chance by an unknown gunman in 1988, Comfort was killed by the mafia bosses he fenced some of the jewels to when he tried to retrieve them. Ali-Ben and Al Green escaped to Europe.The only survivor of the heist is Nick "The Cat" Sacco, who is currently imprisoned for another matter entirely. And that brings us to top of our list.
#1 United California Bank, Launga Niguel, California, 1972
On March 24th, 1972 Amill Dinsilo led a group that consisted of his nephews, brother-in-law, brother, and two alarm experts to the United California Bank in Laguna Niguel and made off with $30 million (which is around 172.4 million in today's money). The robbery was executed perfectly the only hitch was they had done a similar crime in Ohio only months earlier. When the police realized the two crimes were linked they checked transportation records and saw the entire group had been on the same flight to California. The police turned up a townhouse that was said to be the headquarters and original searches revealed nothing until the dishwasher was checked. This lead to finding unwashed dishes with fingerprints all over them. Most of what was taken was recovered and Dinsilo self-published a book on the events called Inside the Vault with the help of his daughter.
And that concludes our list of the top ten most notorious bank robberies in the history of the United States of America.
Biggest Vault Hesits And Bank Robberies In American History
| Rank | Setting | Value Stolen (in 2016 USD) |
| --- | --- | --- |
| 1 | United California Bank, Laguna Niguel, California, March 24, 1972 | $172.4 Million |
| 2 | Pierre Hotel, New York, New York, January 2, 1972 | $155.2 Million |
| 3 | Dunbar Armored Facility, Los Angeles, California, September 12, 1997 | $28.3 Million |
| 4 | Loomis Fargo, Jacksonville, Florida, March 29, 1997 | $28.1 Million |
| 5 | Brink's Building, Boston, Massachusetts, January 17, 1950 | $27.7 Million |
| 6 | Sentry Armored Courier, New York, New York, December 12, 1982 | $27.4 Million |
| 7 | Loomis Fargo, Charlotte, North Carolina, October 4, 1997 | $25.9 Million |
| 8 | The Manhattan Company, New York, New York, January of 1935 | $25.6 Million |
| 9 | JFK International Airport, New York, New York, December 11, 1978 | $21.6 Million |
| 10 | Wells Fargo Depot, West Hartford, Connecticut, September 12, 1983 | $16.9 Million |