Society
Biggest Cities In Uzbekistan
Tashkent is Uzbekistan's capital and largest city, housing almost 5 times as many residents as second place Samarkand.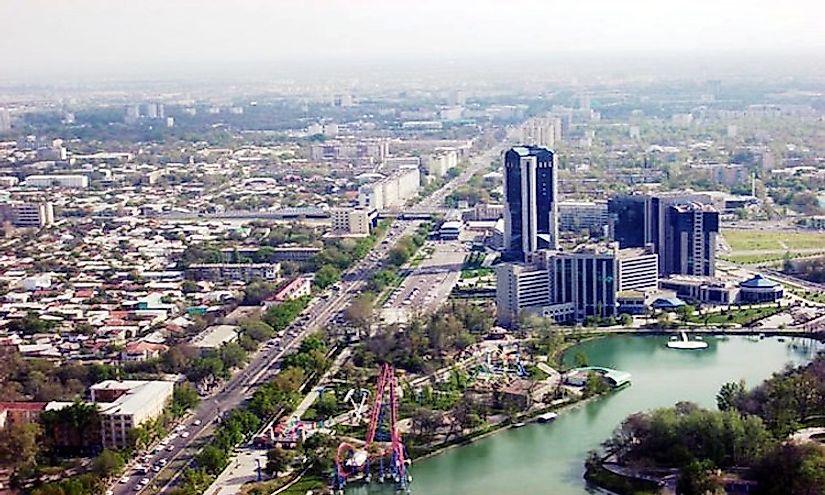 Biggest Cities In Uzbekistan
Uzbekistan is a country in Central Asia and borders Kazakhstan, Tajikistan, Turkmenistan, and Kyrgyzstan. Due to its old location on the Silk Road, Uzbekistan is home to cities which have both modern and medieval economic and cultural significance. Tashkent is Uzbekistan's capital and largest city, housing almost five times as many residents as second place Samarkand. According to 2015 figures, about 36.4% of total population lives in the urban areas.
Tashkent
The capital city of Tashkent boasts a population of 2,309,600. Excavations have pointed to fortifications dating to as early as the 1st century in the city. The city thrived as a vital trade center on the caravan routes headed to Europe and East Asia. The city was ruled by different dynasties such as the Arabs, Mongols, Timurids, and shaybanids until it was occupied by the Russians in 1865. The city continued to prosper and rapidly industrialized in the 1920s and 1930s under Soviet rule. Migration of Russians and Ukrainians during the WWII dramatically changed the demographics of Tashkent. Tashkent today is a multi-ethnic city, with Uzbeks being the majority ethnic group.
The city is the chief economic, transportation, and cultural center in Central Asia. Modern buildings rise next to monuments and structures from the Soviet era and the Timurid dynasty. Agricultural produce cultivated in the city include cotton, rice, wheat, melons and vegetables. Although an earthquake destroyed the city in 1966, educational institutions, museums, parks, and theaters were re-built in the city to make Tashkent an educational and cultural center in Asia.
Tashkent is a modern metropolis, complete with green spaces and a vibrant nightlife. Ancient mosques, mausoleums, and museums are some of the sights in Tashkent. The government of Tashkent established a permit system in a bid to curb rural to urban migration. Tashkent, unlike most of other Asian countries, has been spared of the proliferation of slum settlements.
Samarkand
Samarkand is the second largest city in Uzbekistan with a population of 504,423. Samarkand emerged as an important trade center due to its location on the ancient Silk Road. The medieval city was ruled by various dynasties such as the Arabs, Iran, and the Samanids. The city achieved great prosperity when it became the capital of the Timurid Empire. After a long period of decline, Samarkand was economically revived under Russian rule. Samarkand is largely an old city characterized by ancient mosques, madrassas, and mausoleums. Samarkand is a major cultural center in Asia, and it is listed as a UNESCO cultural world heritage site. Modern Samarkand is a major producer of silk, cotton, and wine. Industries such as agricultural processing, textiles, and metals are major players in Samarkand's economy. The largest ethnic group in the city is Tajiks, followed by a growing number of Uzbeks. Islam in the biggest religion in the city and Christianity is mainly practiced by immigrants such as Armenians and Russians.
Namangan
In eastern Uzbekistan is Namangan city with a population of 475,700. The city began as a settlement in the 15th century which became part of the Khanate state of Kokand in the 18th century. Namangan was a bustling Islamic center before Russian occupation, complete with numerous mosques and madrassas. It was also a vital trade center, and its economy surged with the establishment of factories in the city during WWII. Economic activities in the modern city include cotton production and processing and vegetables and fruits production. The city is characterized by green spaces and parks while the ruins of the medieval city of Aksikent are an important cultural site in the city. The city's population is mainly Tajiks and Uzbeks.
Andijan
Andijan city is the capital city of the Andijan region and has a population of 333,400. Medieval Andijan was one of the most prosperous cities of Fergana Valley, being strategically located on the Silk Road. The city mainly thrived in regards to arts and culture under the Timurid Empire. By the time Andijan came under Russian rule, it was a major producer of silk and cotton fabrics. Much of the city was destroyed by an earthquake in 1902. Andijan was rebuilt in the Soviet era to become a major industrial center in Uzbekistan. Modern Andijan has an automobile production plant alongside textile, chemical, food processing, electronics, machines, and cotton mill factories. The city is mainly renowned as the birthplace of Babur, who established the Mughal Empire in India. Uzbeks and Tajiks are the majority ethnic groups in the area. The city's numerous holy places are major sights in the region.
Other big cities in Uzbekistan in regards to population are Bukhara (328,400), Nukus (230,006), Qarshi (222,898), Ferghana (187,100), Jizzakh (152,642), and Navoiy (125,800). In line with Uzbekistan's impressive economic growth in the recent years, the country's cities are emerging as modern metropolises in Asia. Economic growth translates to a growing population and Uzbekistan's cities are projected to experience an increase in their individual populations.
| Rank | Biggest Cities in Uzbekistan | Population |
| --- | --- | --- |
| 1 | Tashkent | 2,309,600 |
| 2 | Samarkand | 504,423 |
| 3 | Namangan | 475,700 |
| 4 | Andijan | 333,400 |
| 5 | Bukhara | 328,400 |
| 6 | Nukus | 230,006 |
| 7 | Qarshi | 222,898 |
| 8 | Ferghana | 187,100 |
| 9 | Jizzakh | 152,642 |
| 10 | Navoiy | 125,800 |
About the Author
Benjamin Elisha Sawe holds a Bachelor of Arts in Economics and Statistics and an MBA in Strategic Management. He is a frequent World Atlas contributor. 
This page was last updated on April 25, 2017.
Citations
Your MLA Citation
Your APA Citation
Your Chicago Citation
Your Harvard Citation
Remember to italicize the title of this article in your Harvard citation.