Society
Biggest Cities In Slovakia
Bratislava, situated along the Danube River and bordering Hungary and Austria, is Slovakia's capital and most populous city.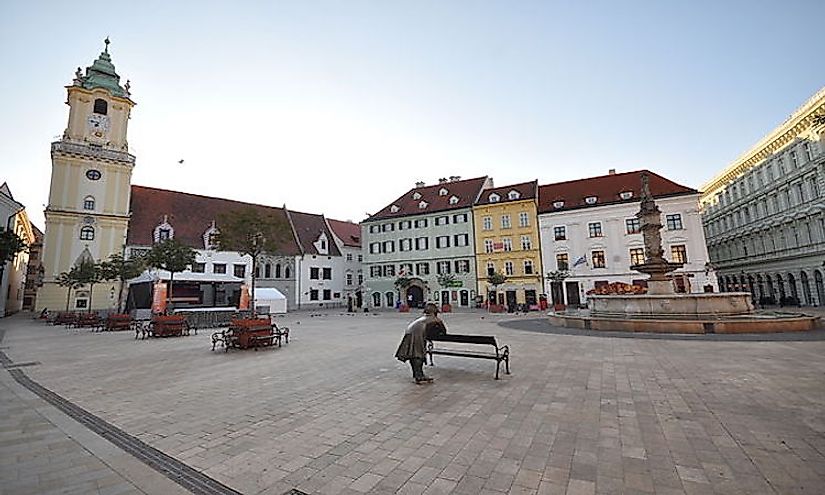 Slovakia has an even distribution of towns and cities especially in the main regions of the southwest where the capital is located. Bratislava is the largest city in Slovakia with a population of over half a million. It is the capital of Slovakia and the main administrative center of the country. Over two-thirds of the Slovakian population resides in mid-sized to small towns of under 50,000 people. This has made it easy to access services from providers in the small towns. Most Slovakian towns have a unique and profound history and culture that becomes the high-points of each town. On average, the mid-sized towns have a population of no more than 100,000 and are found spread all over the country's main regions.Here are some of the biggest cities in Slovakia.
The Most Populous Towns Of Slovakia
Bratislava
Bratislava is the most populous city in Slovakia with a population of 583,600. It is the capital city of Slovakia and located along the Danube river and bordering Hungary and Austria. The city is one of the fastest expanding cities in the European union with a booming industrial and commercial establishment. The tourism sector has come to life over the past years especially after the renovation of the old town. Bratislava is home to important cultural elements, museums, theaters, galleries, universities, financial institutions and government offices. As one of the fastest growing towns in Europe, you can easily connect with other major cities such as Vienna which is an hour's travel away.
Košice
Košice is the second largest city in Slovakia having a population of at least 355,047 people. It is the administrative capital of Eastern region of Slovakia and the main industrial hub.It houses major companies such as the US Steel giant plant. The city is located along river Hornád near the eastern reaches of the Slovak Ore Mountains. It is also near the Hungarian border. Košice is a culturally diverse city with several distinct ethnic groups such as Hungarians, Romani, Ukrainians, Germans, and Czechs. In 2013, together with Marseille, it was named the European capital of culture.
Žilina
This northwestern city is rapidly becoming one of the most important centers of international manufacturing. It is a mid-sized town with a population of 108,114 people, and the third most populous urban center in Slovakia. Žilina has a unique architecture that includes arcaded squares, representative of the native Slovakian designs. It is an important cultural center with numerous museums, 3D digital theaters and exclusive shopping outlets.
Prešov
Prešov is a regional administrative center of Eastern Slovakia. It has many tourist attraction centers such as the old town, castles, and pools. The old town is characteristic of various architectural styles such as Baroque and Gothic architecture. During the early renaissance period, it was a wealthy town with opal mines and salt mines which continue to exist even today.
Nitra
Located in western Slovakia, Nitra is home to the oldest historical remnants especially those related to the early establishment of Christianity. With a population of 80,524 people, it has turned its fortune to become the most successful agricultural center in Slovakia. It is also the fifth largest city in Slovakia.
The Problems Faced By Slovakia's Urban Centers
The Slovakian towns and cities are important cultural, industrial and historical centers that continue to grow and expand economically. This has posed increasing dangers to the environment especially since most towns are located near natural resources such as; Bratislava along river Danube, and Nitra at the foot of Zobor mountain. The continued growth of industry and expansion also contributes to various forms of pollution such as effluent seepage, noise and air pollution from industrial fumes.
What is the biggest city in Slovakia?
Bratislava is Slovakia's capital and most populous city with a population of 584,000.
Biggest Cities In Slovakia
| | | |
| --- | --- | --- |
| Rank | Biggest Cities in Slovakia | Population |
| 1 | Bratislava | 583,600 |
| 2 | Košice | 355,047 |
| 3 | Žilina | 108,114 |
| 4 | Prešov | 91,352 |
| 5 | Nitra | 80,524 |
| 6 | Banská Bystrica | 78,327 |
| 7 | Martin | 76,550 |
| 8 | Trnava | 65,578 |
| 9 | Trenčín | 56,365 |
| 10 | Poprad | 55,042 |
This page was last updated on April 25, 2017.
Citations
Your MLA Citation
Your APA Citation
Your Chicago Citation
Your Harvard Citation
Remember to italicize the title of this article in your Harvard citation.