Environment
Australia's Most Famous Geographical Features
Australia is land of many wonders, both natural and human-made.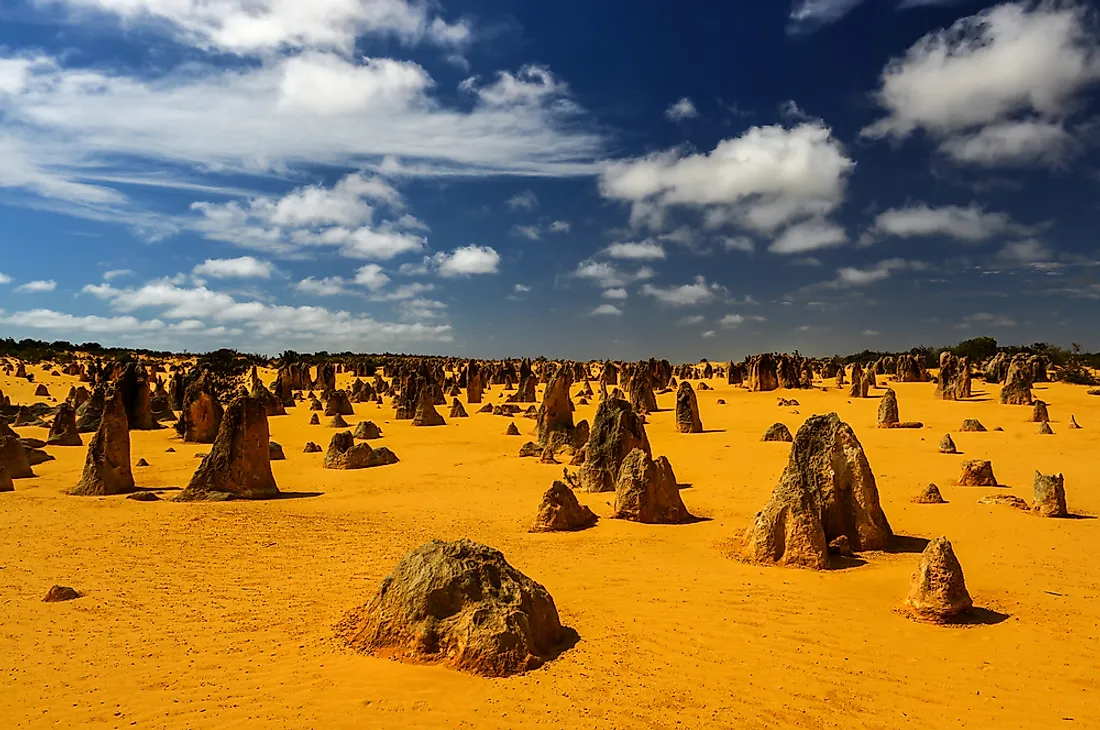 Australia is land of many wonders, both natural and human-made. It is a place of extremes and is endowed with forests, mountains, deserts, beaches, and many other natural treasures. The country has several geographical features that are globally famous for their beauty and ecological significance. Here is a list of the same:
10. Uluru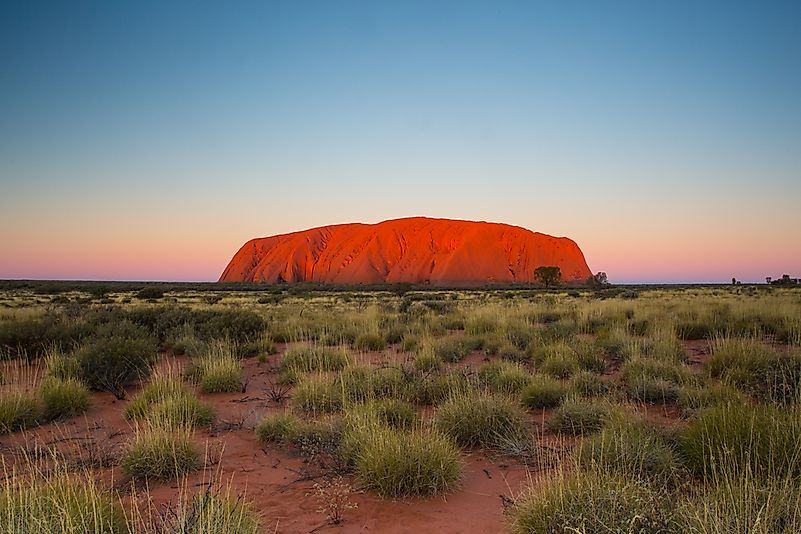 Uluru is a massive sandstone rock formation that is one of Australia's most noticeable geographic features. It is located in the southern part of the Australian state of the Northern Territory and is part of a UNESCO World Heritage Site. The sandstone formation is at an elevation of 2,831 feet above sea-level. The site is sacred to the indigenous Pitjantjatjara Anangu inhabiting the region. The Uluru features numerous springs, rock caves, and waterholes. The site is also famous for its ancient cave paintings. One of the most interesting facts about the Uluru is that is changes color at different times of the day and year.
9. The Pinnacles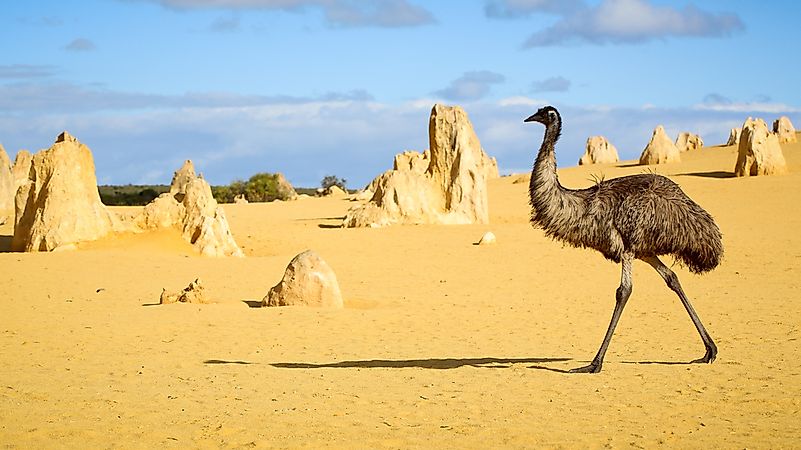 The Pinnacles is a stunning landscape of thousands of weathered limestone pillars in the Nambung National Park in Cervantes, Western Australia. The pillars vary in their shapes and sizes with some resembling pillars while others appearing like short tombstones. The pinnacles rise above the yellow sand base of the national park. Despite the aridity, the area is home to a variety of fauna like the Western grey kangaroos, Baudin's black cockatoos, emus, carpet pythons, sand goannas, etc.
8. Shark Bay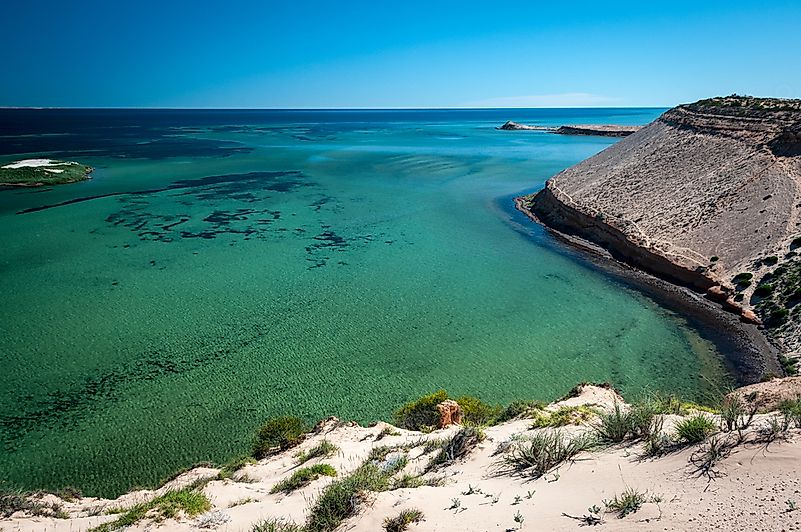 The UNESCO World Heritage Site of Shark Bay is located in Western Australia's Gascoyne region. Shark Bay is not a single geographical feature but a host of some of the world's most exceptional natural features. It has one of the world's largest and most biodiverse seagrass beds. Shark Bay is also famous for its stromatolites which are regarded as one of the oldest surviving life forms on the planet. The area is also home to a great diversity of marine fauna like dugongs and the Indo-Pacific bottlenose dolphins. There are over 230 bird species, 150 reptilian species, 26 species of threatened mammals, and more living in the region.
7. The Twelve Apostles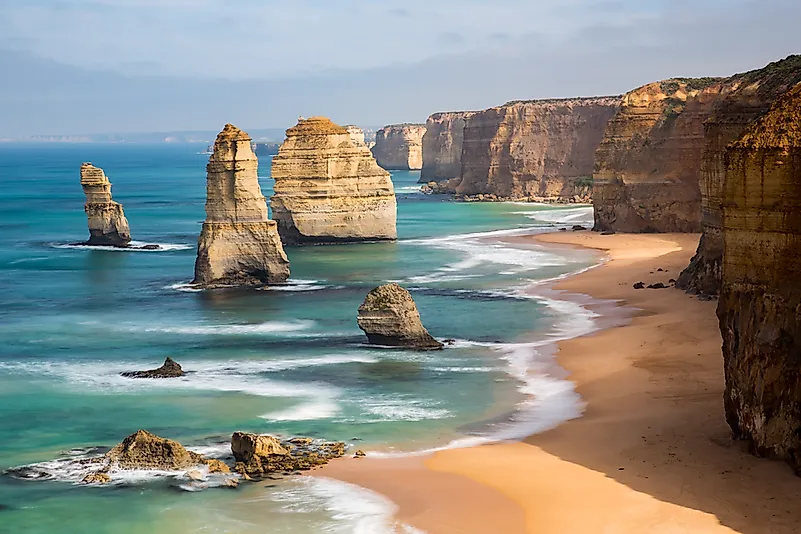 The Twelve Apostles refer to a collection of limestone stacks standing out on the beach off the shore of Port Campbell National Park in the Australian state of Victoria. Presently, there are only eight Apostles with the ninth one having collapsed in July 2005. The limestone stacks are erosional landforms formed by wind and wave action. It is one of the most visited natural tourist attractions in Australia.
6. MacKenzie Falls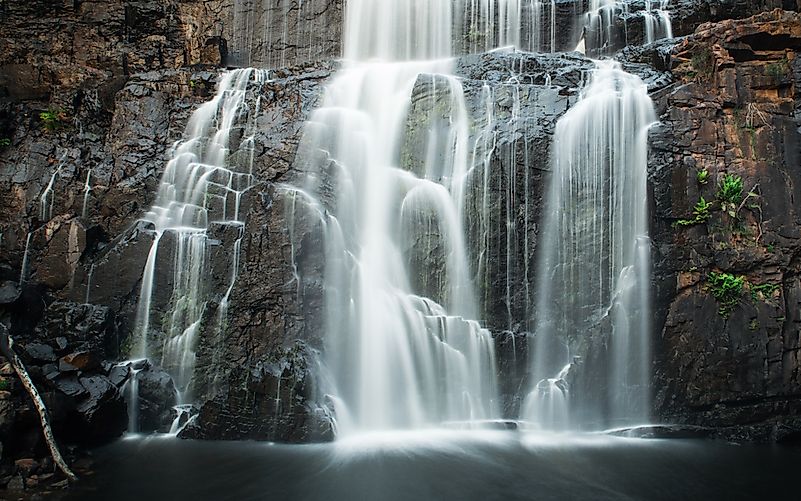 The MacKenzie Falls is the biggest waterfall in the Grampians National Park, Victoria, Australia. The water in the MacKenzie Falls drop down steep slopes of the cliff into a deep plunge pool below that then flow through a stunning gorge. Tourists can view the falls by taking a steep trail to its bottom or from a viewing platform at a greater height.
5. Kakadu National Park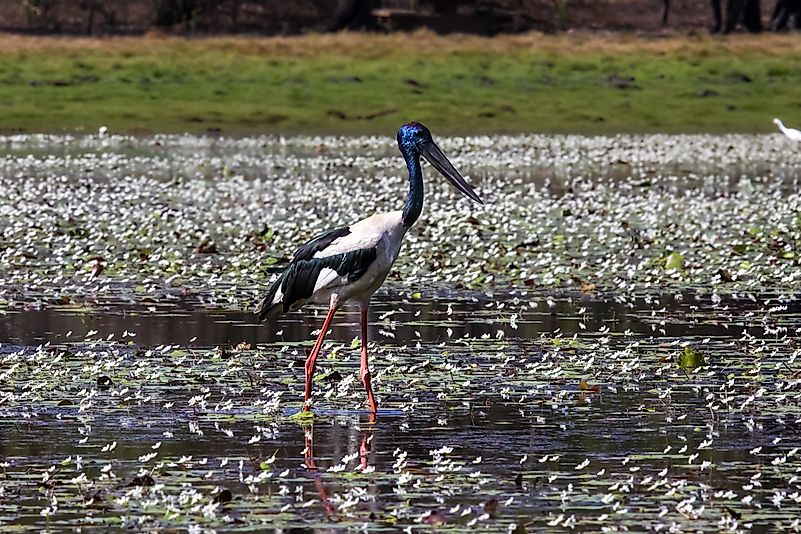 This protected area and UNESCO World Heritage Site is located in Australia's Northern Territory and has one of the country's most majestic landscapes. The Kakadu National Park is located in the Alligator Rivers Region of the state where it encompasses an area of 19,804 square km. The diverse environments of the national park support a great diversity of flora and fauna. Kakadu's flora features over 1,700 plant species. A range of threatened and endemic fauna are also found here. 74 species of mammals, more than 280 species of birds, 117 species of reptiles, and several species of amphibians and invertebrates are found in the park. Some of the most notable terrestrial and marine fauna include the wallabies, kangaroos, dugongs, brown bandicoots, black flying foxes, etc.
4. Blue Mountains
The Blue Mountains is another one of Australia's most famed geographic features as well as a UNESCO World Heritage Site. It is a region of mountain ranges and plateau escarpments located in New South Wales that extend off the Great Dividing Range. More than 400 different types of animals live here. Several tourist attractions render the Blue Mountains as an interesting tourist destination, named for the blue haze that seems to hang above the forest of eucalyptus trees. The Edge Cinema and the Giant Stairway allow tourists to enjoy panoramic views of the Blue Mountains. Other attractions include museums, bridges, caves, heritage railways, the Scenic Cableway, etc.
3. Bungle Bungle Range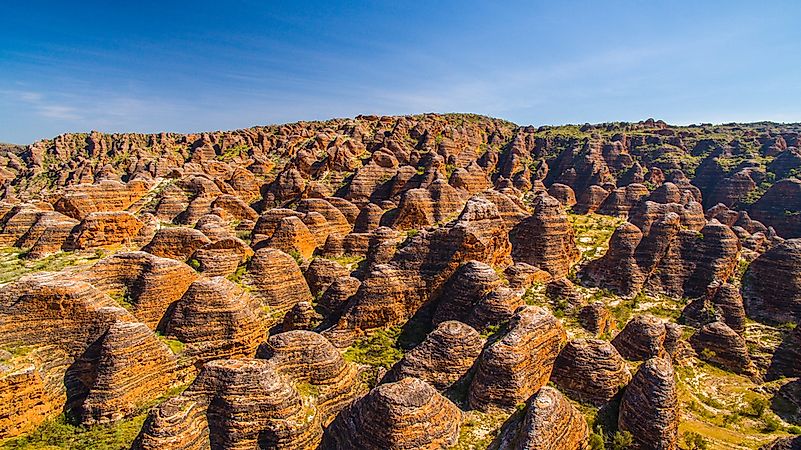 This interesting geographical landform is located in Western Australia's Kimberley region. It comprises of beehive-shaped towers made of conglomerates and red sandstone. Millions of years of erosion by wind from the Tanami Desert and rainfall has carved the domes of the Bungle Bungle Range. The rock formations also have an unusual orange and dark grey banding on their facades. The darker bands are present in the layers with more moisture where microbial colonies exist. The orange colored bands are rock layers stained with mineral deposits like iron and manganese.
2. Fraser Island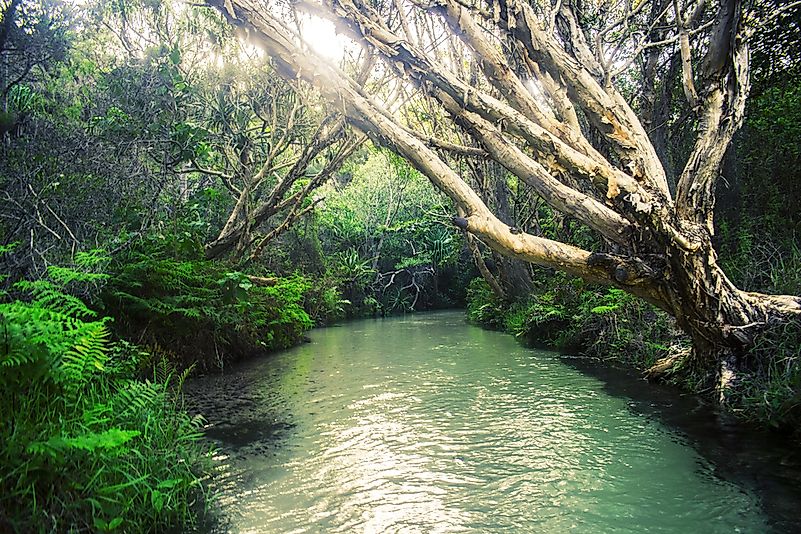 Fraser Island is located off Queensland's southeastern coast. In 1992, the Fraser Island was inscribed as a UNESCO World Heritage Site. It can be described as a land of wonders since it hosts an incredible variety of habitats including mangroves, eucalyptus woodlands, sand dunes, rainforests, etc. The island is home to abundant plant life, and a great diversity of birds, amphibians, and reptiles.
1. Great Barrier Reef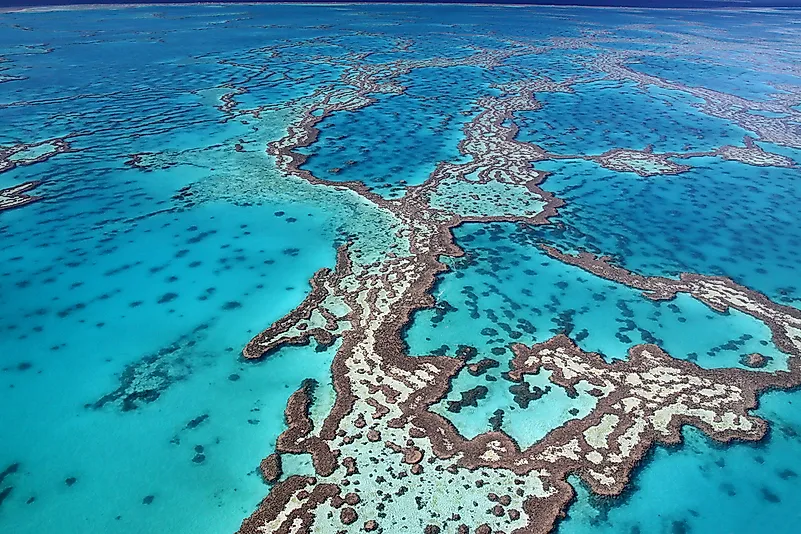 No list of Australia's wonders can be complete without mentioning the Great Barrier Reef. It is the only living thing that is visible from space. The Great Barrier Reef, although now in a highly threatened state, is the largest reef system on the planet. It is located off the coast of Queensland where it extends for a distance of 3,000 km. It is made up of 400 different types of corals and is home to thousands of species tropical fish and other marine fauna. It was inscribed as a UNESCO World Heritage Site in 1981.
About the Author
Oishimaya is an Indian native, currently residing in Kolkata. She has earned her Ph.D. degree and is presently engaged in full-time freelance writing and editing. She is an avid reader and travel enthusiast and is sensitively aware of her surroundings, both locally and globally. She loves mingling with people of eclectic cultures and also participates in activities concerning wildlife conservation.
This page was last updated on October 16, 2018.
Citations
Your MLA Citation
Your APA Citation
Your Chicago Citation
Your Harvard Citation
Remember to italicize the title of this article in your Harvard citation.